---
Media Loses Confidence In Preferred Pronouns After Transgender Shooter Attacks Christian School
Authored by Paul Joseph Watson via Summit News (emphasis ours),
The media appears to have developed a sudden confusion surrounding preferred pronouns after a woman who identified as a man attacked a Christian school in Nashville, killing three children and three adults.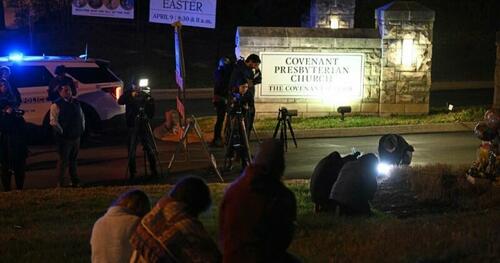 28-year-old Audrey Hale carefully planned out the assault on The Covenant School, leaving behind maps and a manifesto, the details of which have yet to be revealed.
Given Hale's transgender identity, many have speculated that the massacre was motivated by Tennessee's recent ban on all forms of "gender-affirming" transgender care for minors as well as drag queen shows, although others have suggested the motive was Hale's resentment at having been made to attend the school.
Whatever the motive, the media's reaction was to lose confidence in its assertion that transgender pronouns should be respected.
Despite Hale, a biological woman, having started identifying as a man in recent months, BBC News expressed confusion over the issue, despite authorities making clear the culprit was transgender.
The media has suddenly lost all confidence in the sanctity of preferred pronouns. pic.twitter.com/MMANSi7boB

— Paul Joseph Watson (@PrisonPlanet) March 28, 2023
 The New York Times also claimed there was "confusion" surrounding the shooter's transgender identity, despite such confusion only being expressed by the newspaper itself.
Incredible. The New York Times apologizes for misgendering the Nashville mass shooter who murdered three kids and three adults because it disrespects the murderer's memory and identity. Truly a cult. Woke mind virus in full swing. pic.twitter.com/yT0J6ldsC1

— Ian Miles Cheong (@stillgray) March 28, 2023
Some even accused the NYT of de facto apologizing for "misgendering" the killer.
One of the weirdest subgenres to emerge from the current Online Discourse is "trying to apologize for misgendering a horrific criminal without making it sound like you're apologizing." https://t.co/FhjSwum53i

— Noam Blum (@neontaster) March 28, 2023
The newspaper initially reported that the culprit was a "woman," but later changed their description.
NYT: "A heavily armed WOMAN entered a Christian school in Nashville on Monday morning & fatally shot three 9-year-old children and three staff members before SHE was shot and killed by the police"

Suddenly, there's no interest from MSM in honoring someone's "preferred pronouns."

— Charlie Kirk (@charliekirk11) March 27, 2023
USA Today also appeared to apologize on behalf of authorities for initially stating that the shooter was in fact a biological woman.
This is the most disgusting and insane tweet I think I've ever seen from a media organization, and that is certainly saying a lot https://t.co/hl5jV94O3W

— Matt Walsh (@MattWalshBlog) March 28, 2023
Meanwhile, Newsweek appeared to blame anyone other than the culprit for the shooting, citing the ban on drag queen shows, gender-affirming care and "assault weapons" remaining legal, with the news outlet almost appearing to attempt to justify the carnage.
You don't hate journalists enough

You think you do but you don't https://t.co/bWNxr6D2Xj

— Auron MacIntyre (@AuronMacintyre) March 28, 2023
The meme below just above sums up the media's bizarre reaction.
March 28, 2023
*  *  *
Brand new merch now available! Get it at https://www.pjwshop.com/
In the age of mass Silicon Valley censorship It is crucial that we stay in touch.
I need you to sign up for my free newsletter here.
Support my sponsor – Turbo Force – a supercharged boost of clean energy without the comedown.
Get early access, exclusive content and behind the scenes stuff by following me on Locals.
Loading...