---
Meta Recruiter Says She Was Paid $190,000 Per Year To Do Nothing
A former Meta recruiter who has 'reinvented herself as a career coach' says she was paid $190,000 per year to do nothing, according to the Wall Street Journal.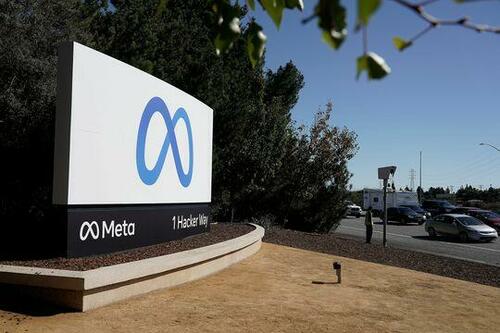 Tampa, Florida-based Madelyn Machado, 33, said that during a typical day she would log on around 11 a.m. when her West Coast colleagues would show up for work, sit in meetings from Noon until 3:30 p.m., and then check LinkedIn for an hour before logging off.
Ms. Machado, who held a position as a recruiter, says that after joining the company in September 2021, she spent much of her time in meetings that didn't accomplish anything, and that the parent of Facebook and Instagram had too many recruiters and not enough work for them to do. -WSJ
"We just don't hire anybody and, like, we still get paid," she said in a TikTok video, relaying what she says other recruiters told her, adding that the company didn't expect her to hire anyone in her first year, given that she was still learning the ropes.
"I do think a lot of these companies wanted there to be work, but there wasn't enough," she said of her six months at the company, which she says fired her for posting career advice on TikTok (and probably all that shit talking).
Machado isn't alone
Over the past few weeks, other former tech workers have posted similar experiences - saying they collected paychecks from large tech companies without much work.
Such confessions—which have drawn plenty of criticism online—aren't surprising, executives and industry professionals say. Tech companies that boomed during the pandemic were flush with cash, they say, and snapped up workers to build a deep bench and hoard talent from competitors, even if those workers weren't being fully utilized. -WSJ
"They were just kind of, like, hoarding us like Pokémon cards," a former Meta worker hired in April 2022 said in a recent TikTok video about her experience at the company. "I was like, am I being set up for failure?" said Britney Levy, 35, says she was hired as part of a yearlong training program dedicated to recruiting diverse talent, the Journal reports.
"They were hiring ahead of demand" according to Dartmough business school professor, Vijay Govindarajan, who says that a shortage of tech talent at the time contributed to an inflated sense of urgency that fueled recent hiring sprees.
"You want to hire ahead of others" when there's a shortage of talent, he said, adding that there was similar overhiring during the early 2000s.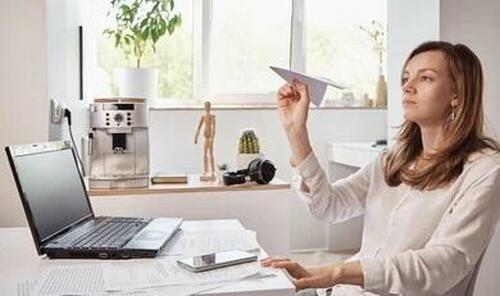 Former Facebook and Salesforce tech worker Derrick McMillen, 32, says that during his time at Salesforce he felt like 20% of employees were doing 80% of the work, while the rest did on-site yoga and took long lunches.
"There's this fluffy image of everyone's just so nice," he said. "But when the culture doesn't let you tell people they're underperforming, you end up with a team of slackers."
Tech companies have laid off over 168,000 people since the start of the year, according to Layoffs.fyi.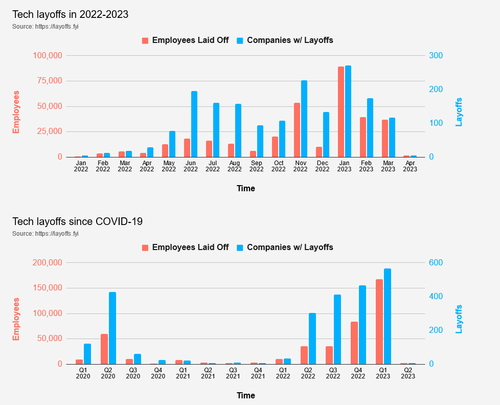 By industry, tech jobs in retail, consumer and transportation lead the pack when it comes to layoffs.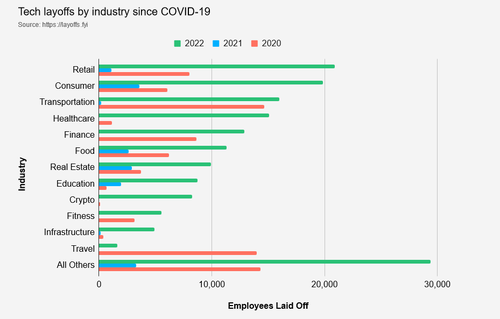 In November, Meta chief Mark Zuckerberg issued a mea culpa for overhiring, and their mistaken belief that consumer spending habits would shift towards online spending.
"People were job-hopping from jobs where they were doing nothing, working from home, to another where they were doing nothing, working from home, and got paid 15% more," said Thomas Siebel, head of the software company C3.ai Inc, who says that working full time from the office is essential to high performance and collaboration.
Loading...