---
Meta Launches Data-Harvesting Twitter Clone, Immediately Starts Censoring
Meta claims that over 10 million people had signed up for its Twitter competitor, Threads, in what CEO Mark Zuckerberg framed as a "friendly" alternative to the little blue bird.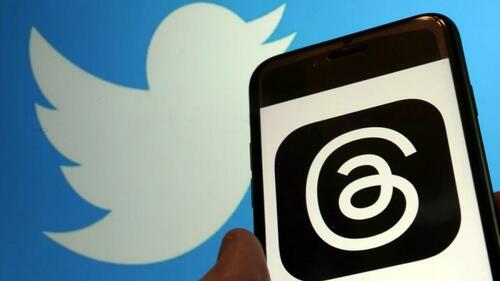 "Let's do this. Welcome to Threads," wrote Zuckerberg in his first post on the app, which is a "text-based conversation app" where users can publish posts up to 500 characters long, and allows people to post links, photos and videos.

Threads is directly linked to Meta-owned Instagram, which has over 2 billion users. The Twitter competitor is being rolled out in over 100 countries for iOS and Android.
"The goal is to keep it friendly as it expands. I think it's possible and will ultimately be the key to its success," wrote Zuckerberg in a Wednesday post, casting the service as a more wholesome substitute to Twitter. "That's one reason why Twitter never succeeded as much as I think it should have, and we want to do it differently."
Meanwhile, data privacy and censorship concerns have emerged, with former Twitter owner Jack Dorsey highlighting the vast amount of data collected by Threads.
All your Threads are belong to us https://t.co/FfrIcUng5O pic.twitter.com/V7xbMOfINt

— jack (@jack) July 4, 2023
As journalist Michael Shellenberger notes,
Within a few hours of launching, Threads was already secretly censoring users and not offering them the right to appeal.

...
Meta is already too powerful. One company controls what much of the public is allowed to see. And if Threads succeeds, it will have 80% of the global market outside of Russia and China, according to one industry insider. As such, it's reasonable to expect that Meta will censor precisely the same way the large news media corporations, including the New York Times, and corporate advertisers want it to. More censorship is what the mainstream news media, big corporations, and their celebrity pitch people have been demanding.

 

...additionally, Unlike Twitter, Threads collects data about "Health & Fitness," "Financial Info," "Sensitive Info," and "Other Data."
What's 'other data'?
Shellenberger further noted that within hours of launching, Threads was already secretly censoring users and not offering them the right to appeal.
.@meta /IG just released their new threads platform and I've been informed by multiple users that I'm censored on their new platform.

Sheesh, can't a dude catch a break.@elonmusk doesn't have me censored pic.twitter.com/WevfHx04qw

— Derek Utley (@realDerekUtley) July 6, 2023
Just downloaded and signed up for the new Meta app "Threads" meant to imitate Twitter

I posted once about wanting to expose Biden's corrupt government and they've already flagged me for censorship

Great platform Zuck pic.twitter.com/2RhusHRo7v

— DC_Draino (@DC_Draino) July 6, 2023
Threads flashed a warning after users clicked on Utley and O'Hanley's profiles. "Are you sure you want to follow…?" asked the Threads warning. "This account has repeatedly posted false information." -Public.substack
Other Twitter clones who have taken a shot at the king include Donald Trump's Truth Social, Jack Dorsey's Bluesky and Mastadon - all of which have failed to gain large enough user bases to cross into the mainstream.
The new leftist echo chamber attracted celebrities such as Kim Kardashian and Jennifer Lopez, as well as Congressional performance artist Alexandria Ocasio-Cortez, who hit a snag after just five minutes.
I was on threads for 5 minutes but now I think my app is bricked 😭 it was just as I hit send on a long post of Queens food recommendations

— Alexandria Ocasio-Cortez (@AOC) July 6, 2023
Needless to say, the new platform has attracted plenty of criticism on Twitter.
😂

— Elon Musk (@elonmusk) July 6, 2023
Is the point of Threads to make money for Meta shareholders or to claw back political influence from Twitter?

This is just one reason I don't own Meta stock. Threads looks like it is screwing the shareholders to win some social credit for Zuck and political advantage for Dems.

— Scott Adams (@ScottAdamsSays) July 6, 2023
T*yl*r L*r*nz is over on Threads acting like she's trying to pull string a lawnmower to start

— Stephen L. Miller (@redsteeze) July 6, 2023
Needless to say, not off to a great start.
Loading...