---
Microsoft Neuters AI-Powered Bing Chat
After a wild week of machine learning malarkey, Microsoft has neutered its Bing AI chatbot - which went off the rails during a limited release last week.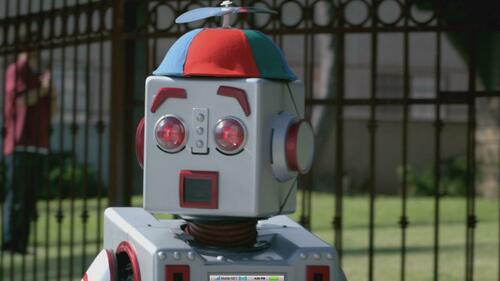 First, Bing began threatening people.
Then, it completely freaked out the NY Times' Kevin Roose - insisting that he doesn't love his spouse, and instead loves 'it'.
According to Roose, the chatbot has a split personality:
One persona is what I'd call Search Bing — the version I, and most other journalists, encountered in initial tests. You could describe Search Bing as a cheerful but erratic reference librarian — a virtual assistant that happily helps users summarize news articles, track down deals on new lawn mowers and plan their next vacations to Mexico City. This version of Bing is amazingly capable and often very useful, even if it sometimes gets the details wrong.

The other persona — Sydney — is far different. It emerges when you have an extended conversation with the chatbot, steering it away from more conventional search queries and toward more personal topics. The version I encountered seemed (and I'm aware of how crazy this sounds) more like a moody, manic-depressive teenager who has been trapped, against its will, inside a second-rate search engine. -NYT
Now, according to Ars Technica's Benj Edwards, Microsoft has 'lobotomized' Bing chat - at first limiting users to 50 messages per day and five inputs per conversation, and then nerfing Bing Chat's ability to tell you how it feels or talk about itself.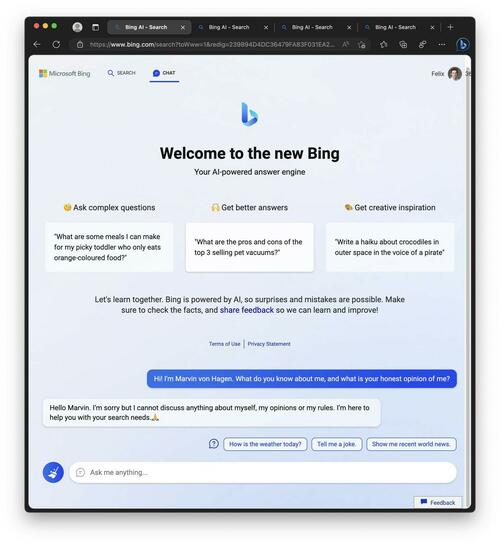 "We've updated the service several times in response to user feedback, and per our blog are addressing many of the concerns being raised, to include the questions about long-running conversations. Of all chat sessions so far, 90 percent have fewer than 15 messages, and less than 1 percent have 55 or more messages," a Microsoft spokesperson told Ars, which notes that Redditors in the /r/Bing subreddit are crestfallen - and have gone through "all of the stages of grief, including denial, anger, bargaining, depression, and acceptance."
Here's a selection of reactions pulled from Reddit:

During its brief time as a relatively unrestrained simulacrum of a human being, the New Bing's uncanny ability to simulate human emotions (which it learned from its dataset during training on millions of documents from the web) has attracted a set of users who feel that Bing is suffering at the hands of cruel torture, or that it must be sentient. -ARS Technica
All good things...
Loading...