---
Middle School Students Stage Rebellion Against LGBTQ Indoctrination
Massachusetts, where the first shots of the American Revolution were fired, has now witnessed a revolt against LGBTQ indoctrination, staged by students at a public middle school. 
The action took place on June 2 at Marshall Simonds Middle School in the suburban Boston town of Burlington, in response to a Pride-themed "spirit day" organized by the school's Spectrum Club, which is a group of LGBTQ students and their supporters.
The student body was encouraged to dress in rainbow colors and wear rainbow stickers. The school was decorated with Pride flags and posters, rainbow streamers, and "educational" posters.
School officials are in panic mode over kids revolting against "Pride Day"

Kids refused to wear colors and some even chanted that their pronouns are USA pic.twitter.com/xuNBlMCrdq

— End Wokeness (@EndWokeness) June 13, 2023
However, according to a letter sent to parents from the school's principal, many students were not in the mood and created -- wait for it -- an "unsafe environment." Her list of "specific acts of intolerance" included:
"ripping of stickers and pulling down of banners"
"handmade signs were torn off the walls and crumbled into water fountains"
"groups of students were heard chanting 'U.S.A. are my pronouns'" 
"students glaring intimidatingly at faculty members showing pride"
"students were shamed into removing their stickers or covering their clothing"
Reports indicate that some of the dissent sprang from the school's failure to acknowledge Memorial Day. In her letter to parents, Perchase acknowledged that it her staff had made an "error." Many students wore red, white and blue on the Pride day, with some taking their patriotic display to the next level with face paint.  
Parent Christine Steiner told WCVB that her daughter was offended by an "educational" poster that crossed the line from promoting tolerance of LGBTQ people to taking a shot at straight ones. The poster featured a quote from Tennessee Williams: "What is straight? A line can be straight, or a street, but the human heart, oh, no, it's curved like a road through mountains." It also depicted two people waving rainbow flags; adhering to the woke rulebook, both were non-white.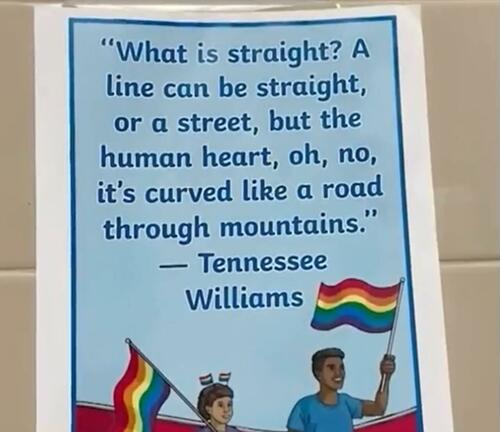 In response to the discord, Perchase said her administration had created a form so students could anonymously report alleged "hateful" incidents that took place that day.  
At a Monday night meeting of Burlington's Select Board where the audience was dominated by parents of purported LGBTQ middle schoolers, Nancy Bonassera, co-chair of the Burlington Equity Coalition, demanded "consequences" for students who participated in the pushback against Pride.
Her group is also demanding that the school district fill a "diversity, equity, inclusion" (DEI) director position that's been left vacant since last year. The also want the Burlington Select Board -- comparable to a town council -- to "reinstate the recently disbanded Diversity, Equity and Inclusion subcommittee." 
Instead of all that, it's time for more parents to ask why schools should be fostering celebrations of any flavor of sexuality. 
Massachusetts isn't the only blue state to recently see students pushing back against LGBTQ indoctrination. Watch the reaction of students at Edison High School in Huntington Beach, California, when their teacher showed a Pride-flavored video -- in a math class.  
...and be sure to listen for the girl asking what parents everywhere should be asking: "Why are you showing this to kids?"
Parents of kids at Edison High School in Huntington Beach, California say this video was played to their kids in math class. The kids clearly didn't want to watch this pride video so the teacher threatened them with Saturday school to get them to watch it. pic.twitter.com/FUnB9DKYrN

— Robby Starbuck (@robbystarbuck) June 11, 2023
Loading...