---
Minnesota Art Professor Fired For Showing Depiction Of Prophet Muhammad
A Minnesota adjunct professor was fired for showing a 14th-century panting of the Prophet Muhammad, despite taking extensive precautions before doing so.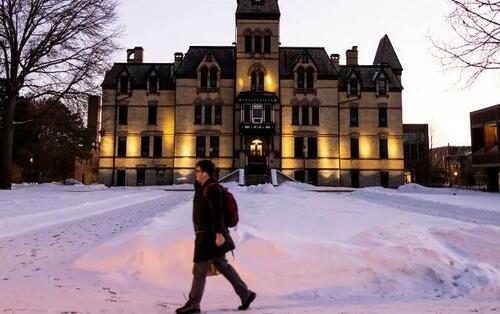 The now-former professor at Hamline University, Erika López Prater, warned students in the syllabus that images of holy figures, including the Prophet Muhammad and the Buddha, would be shown during the course. She asked students to contact her with any concerns, and said nobody did.
In class, she told students right before the unveiling that the painting would be displayed in case anyone wanted to step out.
Then, after showing the image, she was fired, the NY Times reports.
Officials at Hamline, a small, private university in St. Paul, Minn., with about 1,800 undergraduates, had tried to douse what they feared would become a runaway fire. Instead they ended up with what they had tried to avoid: a national controversy, which pitted advocates of academic liberty and free speech against Muslims who believe that showing the image of Prophet Muhammad is always sacrilegious.

After Dr. López Prater showed the image, a senior in the class complained to the administration. Other Muslim students, not in the course, supported the student, saying the class was an attack on their religion. They demanded that officials take action. -NY Times
School officials told López Prater that her 'services would not be needed' next semester, and told students and faculty in an email that the incident was clearly Islamophobic.
According to an email so-signed by Hamline president Fayneese S. Miller, respect for Muslim students "should have superseded academic freedom."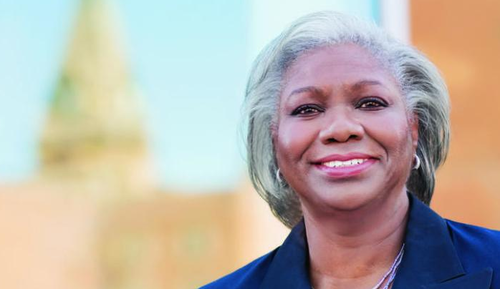 Meanwhile at a town hall, a Muslim who was invited to speak compared it to teaching that Hitler was good.
Free Speech Backlash
In response to the firing, an Islamic art historian wrote an essay defending López Prater and demanding that the university's board investigate the matter. An associated petition has received over 2,800 signatures.
Free speech groups such as PEN America called it "one of the most egregious violations of academic freedom in recent memory," and as the Times notes, "Muslims themselves debated whether the action was Islamophobic."
That doesn't matter to Miller, who defended the decision - saying: "To look upon an image of the Prophet Muhammad, for many Muslims, is against their faith," adding "It was important that our Muslim students, as well as all other students, feel safe, supported and respected both in and out of our classrooms."
The student who complained about the image, Aram Wedatalla of Sudanese origin, said she was blindsided by the image.
"I'm like, 'This can't be real,'" she said. "As a Muslim and a Black person, I don't feel like I belong, and I don't think I'll ever belong in a community where they don't value me as a member, and they don't show the same respect that I show them."
The image shown by López Prater is contained in one of the earliest Islamic illustrated histories of the world, "A Compendium of Chronicles," written by Rashid-al-Din during the 14th century. It's shown regularly in art history classes, and depicts a crowned Angel Gabriel pointing at the Prophet Muhammad and delivering the first Quaranic revelation.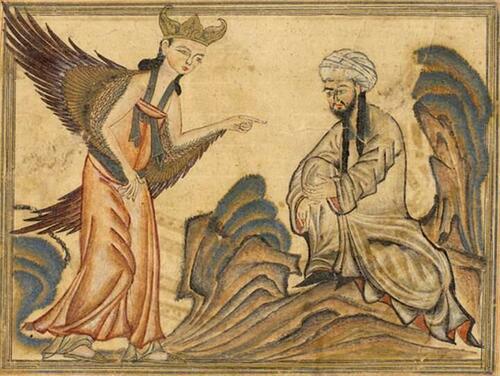 According to Christine Gruber, professor of Islamic Art at the University of Michigan who wrote the essay defending López Prater, the image is a "masterpiece of Persian manuscript painting."
[S]imilar paintings have been on display at places like the Metropolitan Museum of Art. And a sculpture of the prophet is at the Supreme Court.

Dr. Gruber said that showing Islamic art and depictions of the Prophet Muhammad have become more common in academia, because of a push to "decolonize the canon" — that is, expand curriculum beyond a Western model. -NYT
"My perspective and actions have been lamentably mischaracterized, my opportunities for due process have been thwarted, and Dr. Everett's all-employee email accusation that 'undeniably… Islamophobic' actions undertaken in my class on Oct. 6 have been misapplied," Prater told the student paper.
Mark Berkson, the university's department of religion chair and a professor of Asian religions, Islam, and comparative religion, wrote: "In the context of an art history classroom, showing an Islamic representation of the Prophet Muhammad, a painting that was done to honor Muhammad and depict an important historical moment, is not an example of Islamophobia."
"Labeling it this way is not only inaccurate but also takes our attention off of real examples of bigotry and hate."
Loading...