---
Mississippi Bans 'Gender-Affirming Care' For Minors
Authored by Katabella Roberts via The Epoch Times (emphasis ours),
Mississippi has become the latest state to ban health care professionals from providing "gender-affirming care" for transgender youth in what officials say will stop the attempt to "push a sick and twisted ideology" on children.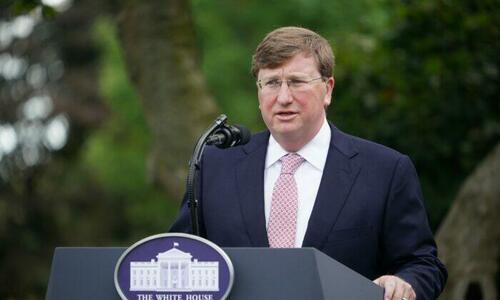 Mississippi Gov. Tate Reeves, a Republican, signed the GOP-led House Bill 1125, also known as the "Regulate Experimental Adolescent Procedures (REAP) Act" into law on Feb. 28.
Under the legislation, which is effective immediately, individuals in the state are banned from "knowingly engaging in conduct that aids or abets" the performance or inducement of gender transition procedures for Mississippians under the age of 18.
The bill also prevents public funds or tax deductions for prohibited gender transition procedures, noting that the direct or indirect use, grant, payment, or distribution of public funds to any entity, organization, or individual that provides gender transition procedures to individuals under the age of 18 is also prohibited.
It also puts in place enforcement procedures on the Mississippi State Board of Medical Licensure. Any health care professional found to be in violation of the ban will have their license to practice medicine in the state revoked.
'Sick and Twisted Ideology'
The measure, which also prevents Medicaid from reimbursing or providing coverage for gender transition for persons under the age of 18, allows for health care providers to be sued by their former patients, via their "parent or next friend" within 30 years.
"At the end of the day, there are two positions here. One tells children that they're beautiful the way they are. That they can find happiness in their own bodies. The other tells them that they should take drugs and cut themselves up with expensive surgeries in order to find freedom from depression. I know which side I'm on. No child in Mississippi will have these drugs or surgeries pushed upon them," said Reeves in a statement.
In a separate statement on Twitter shortly before signing the law, Reeves said there are individuals in the state who are "attempting to push a sick and twisted ideology that seeks to convince our kids they're in the wrong body and the solution is to drug, sterilize, and castrate themselves."
"To these radical activists I only have one thing to say: Not in Mississippi," the governor wrote.
The signing of the bill makes Mississippi the latest state to enact a ban on gender-affirming care after South Dakota Gov. Kristi Noem, also a Republican, signed a similar "Help Not Harm" bill into law last month.
Read more here...
Loading...