---
Nancy Pelosi Rejects 'Skinny' Stimulus Package, Says No Airline Bailout Without Broader Plan
Update (1134ET): now the market is starting to crack.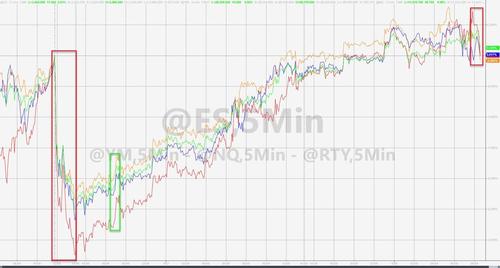 Perhaps because, in an ominous hint that the Dems may be plotting some kind of coup in the face of Trump's continuing illness, Pelosi told reporters that she would be happy to answer questions about the 25th amendment tomorrow.
>@mkraju just asked pelosi if it was time to invoke the 25th amendment@SpeakerPelosi said she'll talk about that tomorrow

Stay tuned, i guess?

— Jake Sherman (@JakeSherman) October 8, 2020
That doesn't sound good.
* * *
Update (1120ET): Pelosi's comments appear to have rattled the market's confidence in a post-election deal (since that's the only thing that matters, according to analysts) as US stocks have taken a sharp turn lower in the past few minutes, breaking back below 3440.
She added that she's still "hopeful" for a stimulus package, but with Senators Toomey and Lee urged the airlines to tap the "CARES" Act, opposition to a standalone airline bailout is now coming from both the GOP and the Dems.
Predictably, Airlines stocks are taking a beating.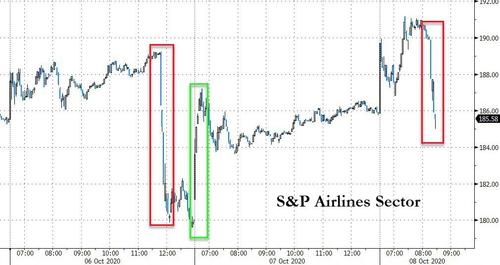 * * *
Update (1110ET): Nancy Pelosi has just definitively shut down hopes for a skinny bill during a Thursday morning huddle with reporters, which was billed as her weekly news conference.
The American people need a substantial stimulus package, not a handful of piecemeal bills that are together still inadequate, she said, though she added that she would be "happy to review" an airline bailout, so long as a broader package is also approved.
PELOSI SAYS NEED A SERIOUS AID BILL, NOT A `SKINNY' BILL
PELOSI SAYS STILL FAR APART ON STATE FUNDING
She also offered a few jabs at Trump, saying his decision to walk away from talks was "appalling", while reporters noted that Pelosi - unlike she has during other recent press conferences - kept her mask on during Thursday's conference.
Pelosi keeps her mask on during the press conference with reporters. This is a change. Members have been removing their masks when speaking to press. Capitol press corps has officially requested to leaders in both houses for members to leave masks on when talking to reporters

— Manu Raju (@mkraju) October 8, 2020
Pelosi ridicules Trump for calling himself a "perfect physical specimen." She says: "Specimen — did he say? Maybe I can agree with that."

— Manu Raju (@mkraju) October 8, 2020
Hmmm....we wonder why?
"I think the public deserves to know the health condition of the President," Pelosi says, demanding to know when his last negative test was to scrutinize the actions after the fact

— Manu Raju (@mkraju) October 8, 2020
Casting more doubt on the updates from Trump's medical team, who said he had been symptom-free for 4 days in a memo released yesterday, Pelosi told reporters that the public has a right to know about Trump's condition, and that we "need to know when Trump's last negative test was".
* * *
With US stocks on yet another tear Thursday morning as the market has become enamored with the misperception that no stimulus now means 2x the stimulus after the election (an election the outcome of which is still very much uncertain), Politico reports that Treasury Secretary Steven Mnuchin has floated the idea of restarting stimulus talks with Nancy Pelosi, despite the growing number of obstacles to getting a deal done.
Per Politico, Mnuchin isn't the only one urging Trump to consider restarting talks following his unprompted announcement earlier this week that he had ordered his administration to pull out of the talks, a comment that sent US stock futures plunging. The conversation reportedly occurred on Wednesday, as the GOP pushed for a industry-specific aide and enough money to send another round of stimulus checks.
🚨🚨NEW … Last night during a phone call w @SpeakerPelosi, @stevenmnuchin1 floated restarting stimulus talks. Said he'd have to convince @realDonaldTrump first.

They only substantively spoke about airlines, but @stevenmnuchin1 continues to be extremely motivated to get a deal.

— Jake Sherman (@JakeSherman) October 8, 2020
>@stevenmnuchin1 is, of course, not speaking for all Republicans in D.C., many of whom are VERY skeptical of a deal.

— Jake Sherman (@JakeSherman) October 8, 2020
There are SO MANY hurdles right now.

— Scotus process begins next week
— Senate GOP reluctance to a deal at the levels Pelosi wants.
— House is out.
— 26 days until Election Day.

PELOSI will speak at 10:45 a.m. in the Capitol.

— Jake Sherman (@JakeSherman) October 8, 2020
Mnuchin reportedly told Pelosi that he would need to convince President Trump first.
In other news, two GOP senators have released a statement arguing against the targeted bailouts for airlines and other industries that are being discussed as an alternative to an omnibus stimulus bill sought by the Dems. Several embattled lawmakers who are facing difficult reelection fights have come out of the woodwork to urge Trump to return to the negotiating table as millions of Americans are out of work, and airlines are on the verge of massive layofffs.
Most lawmakers who spoke to Politico were of the opinion that a deal likely wouldn't have materialized before the election. But now, Trump has positioned the GOP to take the political hit for failing to strike a deal. "It wasn't wise," one former Congressman said. There's reason to suspect Trump is having a change of heart: He's already walked back his decision by later urging Congress to pass standalone stimulus bills for airline relief, small business loans and more stimulus checks for workers/voters.
The airline bailouts, as we noted above, has already drawn resistence from two GOP senators. Even Lindsey Graham, one of the president's most reliable yes-men, urged Trump to give the talks another shot, while touting a House Problem-Solvers Caucus "bipartisan" solution which pledges $1.5 trillion.