---
Mnuchin 'Willing To Listen' On Stimulus As Pelosi Calls Trump Executive Orders 'Unconstitutional Slop'
After President Trump stepped in on Saturday with an Executive Order to temporarily extend stimulus benefits, Democrats on Sunday lambasted the move which undermined the urgency behind ongoing negotiations over the next bipartisan package.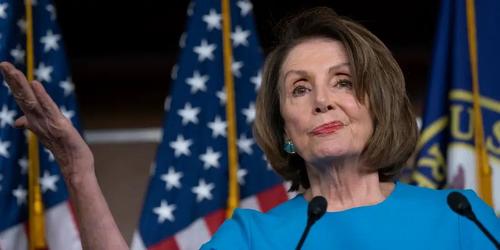 On Sunday, House Speaker Nancy Pelosi (D-CA) told "Fox News Sunday" that the executive orders were "unconstitutional slop," adding "We have to reach an agreement."
President Trump's meager executive actions do little for working families. Republicans must come back to the negotiating table, meet us halfway and work toward a compromise that will truly help American workers and families. #FamiliesFirst #FoxNewsSunday pic.twitter.com/vAvoLnKIoa

— Nancy Pelosi (@SpeakerPelosi) August 9, 2020
"Children are food insecure. Families are at the risk of being evicted. The virus is moving like a freight train," she added. "The kindest thing I could say is he doesn't know what he's talking about or something's wrong there — something's very, very wrong."
Senate Minority Leader Chuck Schumer (D-NY) called the EOs 'paltry,' along with 'unworkable, weak and far too narrow.'
"The event at the country club is just what Trump does -- a big show, but it doesn't do anything," Schumer told ABC's "This Week" on Sunday.
NEW: Pressed by @GStephanopoulos on the legality of President Trump's COVID-19 executive orders, Sen. Chuck Schumer declines to say if they're illegal: "I'll leave that up to the attorneys. It doesn't do the job." https://t.co/mXqSebBaMG pic.twitter.com/tGrDpne0ml

— This Week (@ThisWeekABC) August 9, 2020
As Goldman notes:
President Trump issued executive orders in the four policy areas that had been expected. The extra $400 unemployment payment is likely to last only a month, however. The payroll tax deferment would last through year-end, but consumers might be hesitant to spend extra income without a change in tax law. That said, both policies could put pressure on Congress to agree to a broader fiscal package. We continue to expect a package worth around $1.5 trillion to become law in August. The new executive orders create two deadlines around the end of the month, which could provide a new incentive for Congress to act.
Treasury Secretary Steven Mnuchin, meanwhile, says that if the Democrats have a new proposal, "I'm willing to listen."
On Fox, Mnuchin chided Democrats for their intransigence over weeks of talks, particularly on state and local government funding, which some Republicans have termed a bailout for Democratic states. He urged Pelosi to help pass a bill on "things we agree on" before returning to some of the most contentious issues. -Bloomberg
On Saturday, President Trump signed executive orders extending the federal unemployment boost by $400 per week, down from $600. He also temporarily deferred payroll taxes for certain workers, pursued eviction protections and student loan relief.
When it was suggested that Democrats may sue to stop the benefits from flowing, White House economic adviser Larry Kudlow told ABC "Maybe we're going to go to court on them. We're going to go ahead with our actions anyway," adding "Our counsel's office, the Treasury Department believes it has the authority to temporarily suspend tax collections. So we're banking on that."