---
Montana Governor Signs Bill Banning Tansgender Surgeries For Children
Montana Governor Greg Gianforte (R) on Friday signed legislation which blocks transgender surgical procedures for minors.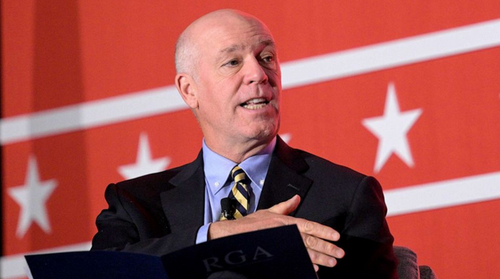 The "Youth Health Protection Act" - which will become law on Oct. 1, seeks to enhance the protection of minors from "any form of pressure to receive harmful, experimental puberty blockers and cross-sex hormones and to undergo irreversible, life-altering surgical procedures" prior to becoming a legal adult.
According to Gianforte's office, the governor is "committed to protecting Montana children from invasive medical treatments that can permanently alter their healthy, developing bodies."
Gianforte signaled his willingness to sign the bill on April 17 when he offered several amendments that make it clear that public funds could not be used to pay for hormone blockers, cross-sex hormones, or surgeries.

The Republican governor said he had met with transgender youth and adults and sympathized with their struggles. At the same time, he wrote in a letter to legislative leaders that any surgeries or treatments with hormones should wait until they're adults as the science around the impact of various gender transition procedures remains unsettled and continues to evolve. -Epoch Times
The bill's co-sponsor, State Sen. John Fuller (R) applauded the governor for "supporting the health and safety of Montana's children."
Opponents vow to sue
The ACLU and other opponents such as Lambda Legal have vowed to sue.
"Gender-affirming care is a critical part of helping transgender adolescents succeed in school, establish healthy relationships with their friends and family, live authentically as themselves, and dream about their futures," the organizations said in a statement.
"If this bill is signed into law, we will defend the rights of transgender youth in court, just as we have done in other states engaging in this anti-science and discriminatory fear-mongering," they added.
Doctors who opposed the bill are speaking up as well.
"My bottom line to families is that this care remains legal," said Dr. Kathryn Lowe, a Bozeman pediatrician and member of the Montana Chapter of the American Academy of Pediatrics, in a statement to the Montana Free Press. "To all the families who are panicking, who are moving, who are listing their houses to sell … we have great hope that [SB 99] will never take effect."
Earlier in the week, Montana lawmakers voted to bar state Rep. Zooey Zephyr, a transgender Democrat, from voting on the House floor after he broke decorum by telling legislators they would have "blood on [their] hands" if they backed the law.
Loading...