---
Montana Legislature Votes To Remove Trans Lawmaker From House Floor For Rest Of 2023
After a series of activist disruptions and bizarre rants, trans lawmaker Zooey Zephyr, who was initially censured, is now banned from the floor of the Montana State Legislature for the rest of 2023.  Zephyr (a biological male identifying as a trans bisexual woman), is a representative from District 100 of Montana centered in Missoula.  Being one of the few districts in the state with a dominant college culture and a majority Democrat population, the trans label helped Zephyr win easily in 2022.
The representative "came out" as trans only a couple years priors to his election, with little identifiable background other than some notoriety as a video game competitor. 
Montana is now considering a number of bills designed to protect children from trans indoctrination in schools, sexualized drag shows as well as banning sex-change surgeries and hormone therapies for kids.  It is one of many states acting to contain the political indoctrination of children by trans activists and the far-left.  Zephyr insinuated that should they pass bills such as SB 99 into law blood might spill.  He states "I hope the next time there is an invocation when you bow your heads in prayer, you see the blood on your hands." 
"Trans people exist," State Rep. Zooey Zephyr of Montana said, as she rebuked a bill that would ban gender-affirming care for transgender minors, adding that denying care is "tantamount to torture." Zephyr is the Legislature's first transgender lawmaker. https://t.co/Gr5rAT8dCp pic.twitter.com/he8Q2W3ats

— The New York Times (@nytimes) April 21, 2023
He also suggested that "forcing" children to go through puberty was akin to "torture."
The mantra of "blood on your hands" has become prominent after the recent mass shooting at a Christian school in Nashville, TN by transgender activist Audrey Hale.  The assertion being that conservatives (rather than the trans shooters) are the people responsible for any such events because they are passing laws to block trans surgeries for children.  Restrictions on gender based procedures and chemical therapies for minors are often compared to "trans genocide," ostensibly because the only way trans activists can perpetuate their numbers is for children to be converted.
The statement has been interpreted by Montana lawmakers as threatening language, leading to the decision to censure and then remove Zephyr.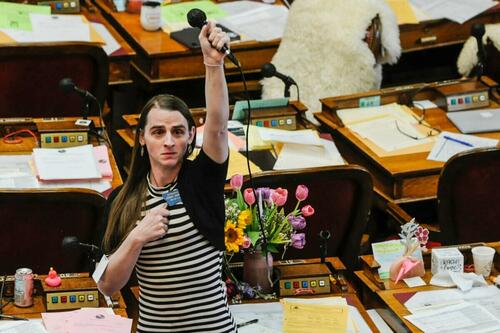 Media proponents argue that banning Zephyr from debating on the floor is censorship of a "marginalized voice", but the action is legal within Montana and Zephyr will still be able to vote on all bills remotely. Rules against the breaching of decorum on the house floor are a means to force legislators to present facts and evidence instead of utilizing personal attacks and rhetoric.  Montana's legislature determined that Zephyr broke decorum and acted unprofessionally.  
The event is perhaps a natural reaction to an ideology seen by many as "unhinged," with conservative states growing weary of activists trying to justify and rationalize the targeting of minors.  Democrats have been attempting to obscure the reality that most of the conservative bills they oppose revolve around protecting children, leaving adults free to make their own decisions.  Instead they have sought to conflate the legislation with "threats to democracy," making any meaningful debate almost impossible.     
Loading...