---
More Classified Documents Found At Biden's Delaware Home
Another day, another report of President Biden having classified documents scattered all over the place - as opposed to a safe at Mar-a-Lago.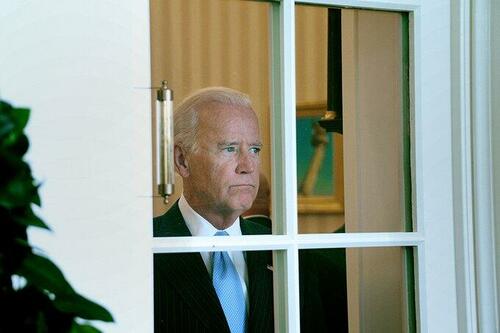 And of course as vice president when he took them, he had no authority to declassify - unlike a president.
In the latest 'document-gate' development, the New York Times reports that 'additional pages of classified information' were found at President Biden's Delaware home on Thursday, hours after a White House statement acknowledging that a classified document was found in a storage area 'adjacent to the garage' of his Wilmington home, which Biden's aides reportedly discovered the night before.
The news comes after Attorney General Merrick Garland appointed a special counsel this week to investigate Biden's handling of classified materials.
The Biden camp has pushed back against accusations that their failure to disclose the document find the day before the 2022 midterms amounts to election interference.
They also defended their decision not to be fully forthcoming about the matter. The White House has been criticized over its public disclosures, including why it did not reveal the discoveries much earlier, and why, when it acknowledged on Monday that some classified files had been found at Mr. Biden's office on Nov. 2, it had not indicated that more had been found at his house the next month.

Mr. Biden's lead personal lawyer, Bob Bauer, said in a statement on Saturday that Mr. Biden's legal team had tried to balance being transparent with "the established norms and limitations necessary to protect the investigation's integrity." -NYT
According to Biden's lead lawyer, DOJ investigators needed 'time' to complete their inquiry, and revealing certain details publicly before more information emerged could cause earlier statements to be "incomplete."
"That's your version of events," said White House spox Karine Jean-Pierre on Friday when asked if the White House did not disclose the original findings until they were reported by CBS News earlier this week. "Look, I want to very clear: There's a process here, we are going to respect that process," she added.
What a load of horseshit.
BREAKING: Peter Doocy (@pdoocy) of @FoxNews confronts @JoeBiden over classified documents. "What were you thinking?" WATCH. pic.twitter.com/NpU7SQH20I

— Simon Ateba (@simonateba) January 12, 2023
"The timing of the revelation of the document discovery is indeed curious," said former Rep. Chris Carney (D-PA), a longtime Biden ally and former intelligence officer, per The Hill. "President Biden must be accountable and accept responsibility for this awkward episode. The most important thing here is not preventing political embarrassment, it's protecting our nation's security."
"Look, this happened Nov. 2nd. Joe Biden said he would be the most transparent president in American history. Why are we just now learning this? CBS did a great job uncovering this or we would never know," said Oversight Chairman James Comer (R-KY) in a CBS interview earlier this week.
How many in Beijing is the question

— Andy Swan (@AndySwan) January 14, 2023
Loading...