---
"The More You Indict, The More We Unite!" - Black Social Media Erupts For Trump
For years, American leftists have yearned for the day they'd see a police mug shot of former President Donald Trump, confident it would decisively terminate his political career. 
Thanks to an indictment in Georgia that was clearly conceived and timed for maximum political damage, their wish was granted last week.
However, the spectacle has unfolded in a way that's surely causing a growing sense of horror among Trump's foes: Not only has his booking at one of Atlanta's nastiest jails galvanized typical Trump supporters, it's triggered a surge in support from inside an essential Democratic constituency -- black people. 
Considering how Democrats take black support for granted and routinely label Trump a racist and white supremacist, imagine the utter consternation they're feeling as they witness a social media eruption of black sympathy for Trump over an arrest that, for many blacks, parallels the mistreatment they perceive blacks have received in the American criminal justice system.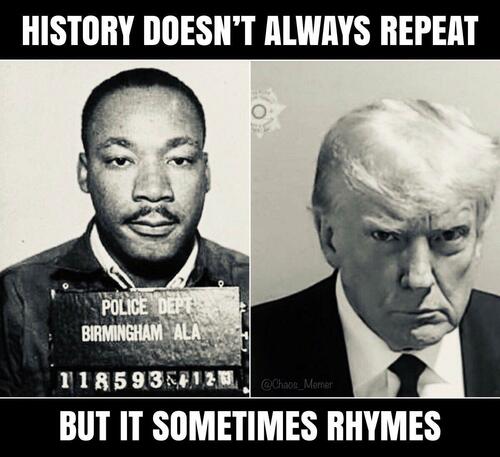 The first sign of trouble came when people calling themselves "Blacks for Trump" and "Niggas for Trump" posted themselves near the infamous Fulton County Jail on Atlanta's Rice Street. 
Blacks for Trump are on fire outside the Fulton County Jail.pic.twitter.com/vRanvDZ8wC

— Simon Ateba (@simonateba) August 24, 2023
Then we saw blacks lining the street to cheer on the former president's motorcade and shouting "Free Trump!" 
The mainstream media does not want you to see this. But you must! pic.twitter.com/XalABVZvdu

— Simon Ateba (@simonateba) August 25, 2023
The on-scene displays in Georgia were just a precursor to a social media wave of black Trump 2024 enthusiasm that's still rolling. "Trump is a brother now...I'm sorry, you go to jail in Zone 6 Atlanta, you a brotha," says this man. "Straight up. They f**ked up. Niggas like niggas that went to jail. They believe in that sh*t. We trust that." 
🔥🚨 Trump's arrest is only making him more popular in the black community!!

"Trump is a brother now."

"They f**ks with people that been to jail."

MUST WATCH & SHARE!! 🔥👇🏼 pic.twitter.com/LctpGLZzAf

— TONY™️ (@TONYxTWO) August 25, 2023
🤣🤣🤣🤣🤣🤣 @realDonaldTrump just reached the point where the Hood just like fuck the Government Bring Back Trump so we can feed our families and not take our money to feed other ppl families pic.twitter.com/coHGYocWgW

— 🇺🇸 🍊 Antoine Tucker (@montaga) August 25, 2023
"Every real nigga got to go to jail at least one time," says this man, who also warns that Democrats have "f**ked up" and will now face vengeance from a future President Trump. "You think he aint gonna spin the block?" 
Blacks for Trump - THEY GOING TO FAFO 👀 #BlacksForTrump #DonaldTrump #TrumpMugShot #Trump2024 #PresidentTrump #TrumpArrest #TrumpIndictment pic.twitter.com/DWcKSDVmlx

— HumanDilemma (@HumanDilemma_) August 26, 2023
Like many Americans of all colors, some of this man's motivation to vote for Trump springs from his entertainment value: 
THE NIGGAS FOR TRUMP MOVEMENT HAS BEGUN BABY!

🙌🏾 THANK YOU JOE BIDEN, WHAT A BIG WIN FOR TRUMP.#FJB #blackout #Blacks4Trump pic.twitter.com/IFLbsJuWdm

— Omarr Shabazz (@OmarrShabazz) August 26, 2023
"If you can't openly see that this is an attempt to make someone have to spend a bunch of money and fight cases while they run for presidency...you're just not being an objective human," says @mark_in_georgia: 
I feel that .. well it was farmers for Trump, blacks for Trump Hispanics for Trump now it's the folks that have been unjustly indicted and falsely accused for Trump. That includes there mothers fathers .and these people have are going to vote pic.twitter.com/nnd09gERjh

— @Gene Mitchell (@redrum_132) August 25, 2023
"Man, they deep-in-the-hood GANGSTAS hollering bout Trump 2024!" notes this enthusiastic black Trumper. 
"The more you indict, the more we UNITE"

"Gangstas- the HOOD's got this man's back. It's Trump 2024!" #WalkAway pic.twitter.com/7E3Re85q1w

— Brandon Straka (@BrandonStraka) August 26, 2023
In this set of man-in-the-street interviews, black men say Trump was better for their wallets. "Trump wanted us to get off our ass and get some money," says one man. "He put America first," says another: 
Trump 🇺🇸 pic.twitter.com/MBFzTsesXg

— wilder😎 (@wilderpatriot) August 25, 2023
This emotive gent in a convenience store hits a recurring theme: Anger about "bitch ass nigga" Biden relentlessly funneling billions of dollars into the Ukraine war as conditions in American cities deteriorate. 
Blacks for Trump - WE FUCKING WITH TRUMP!!! FU BIDEN!!! 👀#BlacksForTrump #DonaldTrump #TrumpMugShot #Trump2024 #PresidentTrump #TrumpArrest #TrumpIndictment #MAGA2024 pic.twitter.com/hxvWkpt6G3

— HumanDilemma (@HumanDilemma_) August 26, 2023
The genre is dominated by men, but here's an exception: a woman who longs for the days of Trump's Covid-era money handouts, specifically name-checking the "PPP boys" -- a reference to the much-abused Paycheck Protection Program.  
August 25, 2023
Clutch Williams highlights Democrat hypocrisy, saying, "These other presidents be sayin' good stuff to you, but doing bad stuff to you. Trump might be sayin some bad stuff, but he was doing some good stuff. Check the record!" 
🔥🚨BREAKING: Comedian 'Clutch Williams' just released a video supporting President Trump and goes as far to say that Donald Trump was one of the best Presidents we had in a long time. It appears that every lie is being revealed before our eyes. pic.twitter.com/zNSLbT6LGM

— Dom Lucre | Breaker of Narratives (@dom_lucre) August 26, 2023
....and this man says many in his audience voted against Trump but have had a change of heart. "At some point, many of y'all have changed your mind and you now support Trump but you doin' it on the sneak. Come on, y'all, let's own up to it so we can all support his man together." 
BOOOOOOOOOOOOOOOOOM!!!🔥🔥🔥 LET'S GO!!! pic.twitter.com/WIcgv3sEgq

— il Donaldo Trumpo (@PapiTrumpo) August 26, 2023
None of this is to say Trump will win the votes of a majority of blacks...but all it takes is a dent for the unintended consequences of Democrats' political prosecutions to turn the booking of Donald Trump from Democrat dream to Democrat nightmare.  
Loading...