---
Mother Finds Herself Under Military Scrutiny For Objecting To Sexuality Poster At School
Authored by Alice Giordano via The Epoch Times (emphasis ours),
A New Jersey mom continues to endure threats after a high-ranking military officer posted she was under investigation by security forces for objecting to student-made posters promoting terms like polysexual and pansexual at her local elementary school.
Angela Reading is a former school teacher and, until her recent resignation, a member of the Northern Burlington County Regional School board of education.
Reading told The Epoch Times that along with the U.S. Army officer's social media posts warning she was under investigation for "causing safety concerns for many families," North Hanover Township police chief Robert Duff contacted her and told her he had received emails from the military asking her to take her social media posts down about the sexuality posters.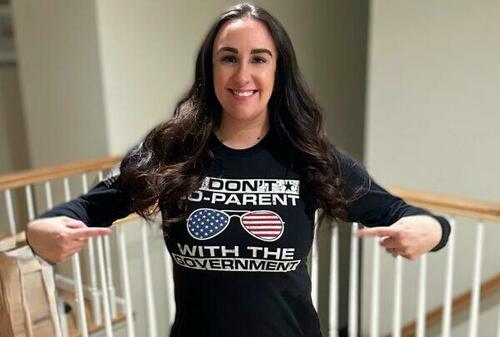 Reading said Duff originally said he would release the emails to her, but then reneged, telling her the military told him he couldn't because "they were classified."
Duff also refused to release them to The Epoch Times, saying he had no comment about the situation, and that "we should ask the military" about it.
No one from the nearby McGuire-Dix-Lakehurst Joint Base, a large Air Force installation that hosts five wings—where Army officer Christopher Schilling is stationed—responded to inquiries by The Epoch Times.
Schilling's rank had initially been reported in national news as lieutenant, but The Epoch Times has been able to confirm he is a major assigned to the 78th Training Command as an operations officer.
Schilling has also been reported by some national press as being a parent, but a school official—speaking on the condition of anonymity—said she wasn't aware of him having any children in the school district.
The Epoch Times has been unable to contact Schilling.
Fears Over Community Safety
The Army officer posted on Facebook that "the Joint Base leadership takes this situation very seriously and from the beginning have had the security forces working with multiple state and local law enforcement agencies to ensure the continued safety of the entire community."
Schilling also posted that one of Reading's children was in the 2nd grade, commenting that the posters were hung in a school for 4th to 6th graders.
"That literally gave me the chills," Reading told The Epoch Times, "that he was posting about kids and seemed to have detailed knowledge of them."
Reading said she was so terrified that she immediately pulled her children out of school out of concern for their safety.
Reading is the latest in a growing group of parents and other citizens across the United States who have become headline news after being accused of inciting violence for objecting to sexually explicit material in public schools.
Nicole Solas, from Rhode Island, was pictured on a front page news story labeled "Domestic Terrorists" for her objection to explicit LGBT sex education—including one curriculum that likened sexual preference to choosing a type of pizza in a middle school assignment.
Well-Organized Ambush
Virginia mom Stacy Langton's national notoriety began after she read from the book "Gender Queer," which she found in school's elementary school library, to the Fairfax County School Board.
Langton's microphone was shut off and she was reminded there were children in the audience.
Kari MacRae, a Massachusetts grandmother, was fired from her teaching job in another town, was pressured to resign from the Hanover school board, and was the subject of what appeared to be a well-organized ambush during an impromptu public comment session, after she objected to LGBT and CRT curriculum in the schools.
MacRae said she sympathizes with Reading.
"She is trying to protect not just her own child, but all the children, because she sees how this is going to impact future generations and she the need to stand up and say enough is enough," said MacRae. "There is a difference between inclusivity and indoctrination and that's what they are trying to do here."
Like MacRae, Reading too said she was blindsided by a packed auditorium of people who appeared to come from out of town to protest against her.
"The crazy thing is that all I basically said is that the poster was inappropriate," said Reading.
She also had only posted on a private Facebook group, made up mostly of conservative parents.
"All I can think is there must be a mole on there," she said.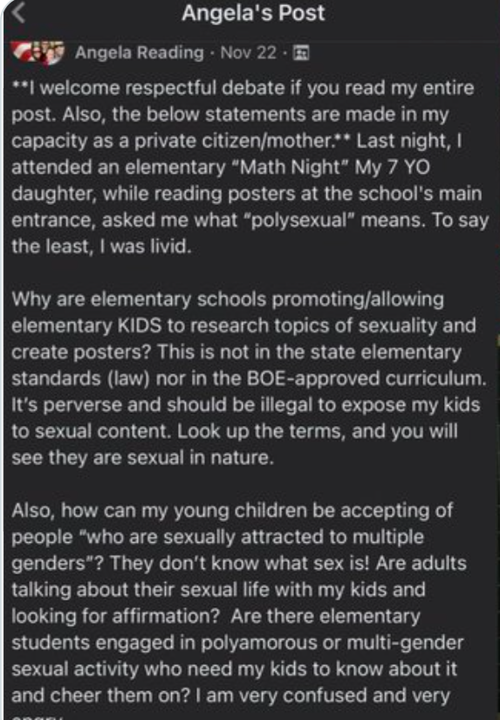 As for the poster in question, the collage, if still up it covers an entire wall at the Upper Elementary School (UES). It was hung just outside the entrance into the school's auditorium, which is used by the entire district for events.
The district was hosting a math night when Reading said her 7-year-old daughter, who is enrolled in a talented and gifted reading program, pointed out the poster and asked her what a "polysexual" was.
After doing some inquiring the next day, Reading said she was told the poster was for an "Inclusion and Diversity" in-class project and that the kids came up with their own terms, not the school or teachers.
Interestingly, as Schilling pointed out, the kids came up with "mostly sexual-themed posters" for the diversity project with little to no other subjects typically linked to the idea of diversity such as religion, ethnicity, body shape, and other visual characteristics.
"This giant poster is riddled with rainbows and all the LGBT flags," said Reading. "There's a flag for polysexuals, a flag for pansexuals, bisexuals, asexuals, gender queer, nonbinary, transgender, androgynous, gender fluid, and it was 4th to 6th graders who came up with this all by themselves?"
Facing Online Abuse
In the middle of the sexual-orientation flags is written in big letters "LGBT."
Reading said she found the poster appalling because the terms, by their own definition, are about "sexual attraction"—not appropriate subject matters for 9 to 11-year-olds.
It was only after she was told to "live with it" by school officials that she went online about the poster.
Reading has been repeatedly called a bigot and a hater on a variety of social media platforms, and in published news stories, and is the subject of a new change.org petition that has labeled her an extremist.
Schilling and Reading's array of critics have largely accused her of putting children from military families who live on the joint base in danger and went so far as to accuse her of "inciting violence" with her objection to the posters.
Superintendent Helen Payne, who released a statement about the case, did not respond to inquiries from The Epoch Times.
In her statement, Payne wrote that the school has "been in continuous close contact with the North Hanover police" over the issue.
"They are taking any risks very seriously, are aware of our concerns, and have been working on their end to provide any support we need."
Reading has, however, also won her share of support including from parents who have criticized Schilling for using his authority to threaten her.
In one of his posts Schilling wrote, "Most younger kids would only focus on the pretty colored flags. The few that ask about the words can easily be explained as "those words describe other types of families and change the subject. Much worse is on billboards or flags flying in people's yards …"
Backing For a Concerned Mother
In a statement to The Epoch Times, Gregory Quinlan, executive director of the Center For Garden State Families, took special aim at Duff for going along with the pressuring of Reading instead of protecting her and her First Amendment rights.
"Police chief Robert Duff clearly forgot what it meant when he took the oath of office to protect the U.S. Constitution. His job is to defend the rights of Angela Reading, not take them away," said Quinlan.
He also said anyone can see that Reading said nothing "that incited violence."
Read more here...
Loading...