---
Nancy Pelosi Sums Up TDS, Says Donald Trump Has A 'Right To Prove His Innocence'
Authored by Mike Shedlock via MishTalk.com,
"No one is above the law, and everyone has the right to a trial to prove innocence." Say what?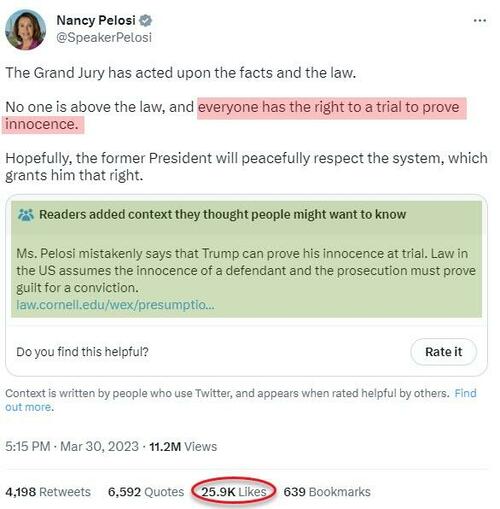 [ZH: 'New' Twitter provided some 'context' too in order to help Nancy understand]
The Right to Prove Innocence 
This is exactly backward. Under our justice system, no one has to prove innocence. The state must prove guilt beyond a reasonable doubt. You'd hope a former speaker would know the basics of law and be precise, especially in such an unprecedented and seemingly flimsy prosecution. https://t.co/AHo42dHTPC

— Justin Amash (@justinamash) March 31, 2023
Dear Nancy Pelosi 
It is a cardinal principle of our system of justice that every person accused of a crime is presumed to be innocent unless and until his or her guilt is established beyond a reasonable doubt. 
26,000 people liked that Tweet!
*  *  *
Loading...