---
NASA Awards Houston Space Firm $47 Million Moon Drilling Contract
NASA selected Houston-based company Intuitive Machine to land an ice-mining drill on the moon's south pole by December 2022.
The space agency agreed to pay Intuitive Machines $47 million to land Polar Resources Ice Mining Experiment (PRIME-1) on the moon in the first-ever mining mission to drill below the lunar surface, in search of water ice. A mass spectrometer will be used to determine how much of the ice changes from solid to vapor on the lunar surface vacuum. The data will assist NASA's rover, the Volatiles Investigating Polar Exploration Rover (VIPER), searching for water ice at the moon's pole to determine an area that will support a human presence in 2024. 
"We continue to rapidly select vendors from our pool of Commercial Lunar Payload Services (CLPS) program vendors to land payloads on the lunar surface, which exemplifies our work to integrate the ingenuity of commercial industry into our efforts at the Moon," said NASA's Associate Administrator for Science Thomas Zurbuchen.
"The information we'll gain from PRIME-1 and other science instruments and technology demonstrations we're sending to the lunar surface will inform our Artemis missions with astronauts and help us better understand how we can build a sustainable lunar presence," said Zurbuchen. 
Intuitive Machines will fly the 88-pound PRIME-1 to the moon no later than December 2022 on its NOVA-C lander as part of CLPS. The company is one of several space firms selected by NASA to conduct robotic missions on the moon.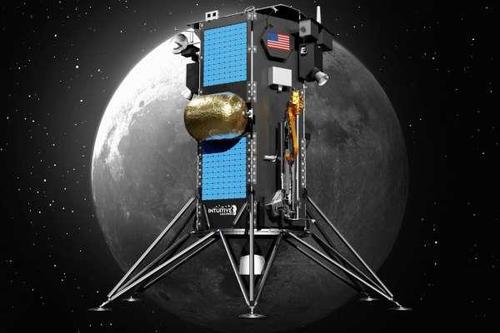 Intuitive Machines CEO Steve Altemus said in a statement that "laying the foundation to return humans to the moon is an incredible honor and even greater challenge... At Intuitive Machines, we're hungry for the pursuit of these audacious missions that will redefine what a small business is capable of."
PRIME-1 will drill down three feet below the lunar surface to search for buried water ice. According to NASA, it's not just water ice they're after; apparently, natural resources are abundant on the moon:
"PRIME-1 will give us tremendous insight into the resources at the moon and how to extract them," said Jim Reuter, NASA's associate administrator for space technology, in the NASA statement.
NASA Administrator Jim Bridenstine recently said the space agency is set to purchase rare-earth materials mined from the moon by private companies. Not too long ago, NASA discovered that underneath the lunar surface, there is an abundance of natural resources. 
Here's how moon mining could work:

The sequence of events appears to be once water ice is found, manned missions will be seen by 2024 - then shortly after that, mining operations could begin as early as 2025.