---
National Archives Apologizes After Telling Visitors To Cover Pro-Life Clothes To See Bill Of Rights
Authored by Bill Pan via The Epoch Times (emphasis ours),
The National Archives on Friday apologized for telling visitors that they must cover up or remove their pro-life attire while being in the chamber where the original copy of the Bill Of Rights is on display.
"As the home to the original Constitution and Bill of Rights, which enshrine the rights of free speech and religion, we sincerely apologize for this occurrence," said the National Archives and Records Administration (NARA), which maintains the National Archives Museum in Washington.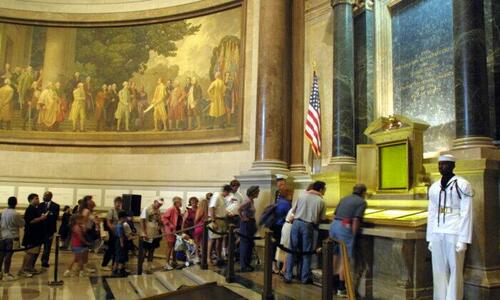 The apology comes after conservative law group American Center for Law & Justice (ACLJ), on behalf of four March for Life participants from three states, sued NARA for First Amendment violations. According to the complaint (pdf), each of them "separately and uniquely decided to visit the National Archives to view our nation's founding documents" on the morning of Jan. 20 while wearing various clothing with pro-life messages.
After entering the museum, however, the pro-life visitors were approached by security guards who took issue with their pro-life apparel.
Wendilee Lassiter, a law student at evangelical Christian Liberty University in Virginia, was wearing a black sweatshirt that read: "I am the post-Roe Generation: Law Students for Life" when she visited the National Archives Museum with a group of fellow students. Two security guards approached her, saying that she was "disturbing the peace" because her sweatshirt "will incite others" and "cause a disturbance."
When Lassiter asked, "I can't come in here unless I take my sweatshirt off?" One security guard replied by stating: "No, you can't." She ended up removing her sweatshirt for fear that she would be thrown out of the museum if she did not comply. Her fellow students also complied with the order.
The law student also alleged that she saw that morning at least two other visitors "freely walking around" while wearing what appeared to be pro-abortion apparel, with statements to the effect of "My Body, My Choice," and "Pro-Choice."
Another visitor, identified in the lawsuit as L.R., is a Catholic high school student from Michigan. A security guard "specifically instructed" L.R. that she "could not be wearing anything pro-life" and that she must cover her shirt reading "Life is a HUMAN RIGHT" until she left the chamber. She was also told to take a "Pro-Love is the New Pro-Life" button off her bag.
"L.R. immediately believed her constitutional rights were being violated by the very government officials tasked with protecting them," the complaint stated.
In response to the lawsuit, NARA emphasized that its policy "expressly allows all visitors to wear t-shirts, hats, buttons, etc. that display protest language, including religious and political speech."
"We are actively investigating to determine what happened," the federal agency said. "Early indications are that our security officers quickly corrected their actions and, from that point forward, all visitors were permitted to enter our facility without needing to remove or cover their attire. We have reminded all of our security officers at our facilities across the country of the rights of visitors in this regard."
The National Archives wasn't the only Washington museum trying to censor March for Life participants on Jan. 20, according to the ACLJ, which brought a First Amendment lawsuit against the Smithsonian for the same reason.
In that case, a group of Catholic students and parents from South Carolina tried to enter the Smithsonian National Air and Space Museum, only to be mocked by museum staff, who allegedly declared the facility to be a "neutral zone" where they could not wear pro-life hats.
According to the complaint (pdf), the students put their hats back on after passing through the entry point. This prompted museum staff to confront them and demand that they either "take them off or leave," with one of the staff members yelling at a student, "You need to take off your hats. We are a museum that promotes equality, and your hats do not promote equality."
The Smithsonian, likewise, apologized for the incident, admitting in a statement that "a security officer mistakenly told young visitors that their pro-life hats were not permitted in the museum."
"Asking visitors to remove hats and clothing is not in keeping with our policy or protocols. We provided immediate retraining to prevent a re-occurrence of this kind of error," the taxpayer-funded research institution said. "The Smithsonian welcomes all visitors without regard to their beliefs. We do not deny access to our museums based on the messages on visitors' clothing."
Loading...