---
National Geographic Magazine Lays Off Remaining Staff Writers: Report
Authored by Katabella Roberts via The Epoch Times,
Disney-owned National Geographic magazine has laid off the last of its staff writers and replaced them with freelancers, according to reports, making it the latest media outlet to slash jobs amid an uncertain economic environment.
Following job cuts earlier this year, just 19 members of the editorial department had remained at the publication, according to The Washington Post. The remaining staff members were reportedly notified of the upcoming terminations back in April.
The latest layoffs are the second within months as parent company Disney looks to cut costs. Back in September, the award-winning Washington-based magazine also reportedly laid off six top editors who specialized in an array of popular topics such as travel, science, and the environment.
A spokesperson for the publication confirmed the latest departures in a statement to TheWrap but stopped short of stating exactly how many staffers were let go.
"National Geographic will continue to publish a monthly magazine that is dedicated to exceptional multi-platform storytelling with cultural impact," the spokesperson said.

"Staffing changes will not change our ability to do this work, but rather give us more flexibility to tell different stories and meet our audiences where they are across our many platforms. Any insinuation that the recent changes will negatively impact the magazine, or the quality of our storytelling, is simply incorrect," they continued.
Multiple writers also confirmed their departure from the publication on Twitter, including Senior writer Craig Welch, who tweeted that National Geographic is "laying off all of its staff writers."
Gilbert M. Grosvenor managed National Geographic magazine that offered windows to the world from explorations of space to ocean depths. (Ralf Liebhold/Shutterstock)
Staffers Confirm Departures
Welch confirmed he is among those to depart.
"I've been so lucky. I got to work with incredible journalists and tell important, global stories. It's been an honor," he wrote.
Elsewhere, former writer Nina Strochlic tweeted that it had been an "epic run," adding that she and her colleagues had been "unbelievably lucky to be the last-ever class of staff writers."
Douglas Main, a senior writer and editor at the publication, also took to Twitter to share about his departure from the publication.
"National Geographic is laying off its staff writers, including me. It's been a wonderful five years—an honor and a joy. Very proud of the work that my colleagues and I have done here," he wrote, adding "We were informed about this a while ago."
Going forward, assignments will be contracted by freelancers or pieced together by the remaining editors, The Washington Post reports. The latest job cuts also eliminated the magazine's small audio department, the publication said.
Additionally, National Geographic will no longer be sold on newsstands throughout the United States starting next year as part of further cost-cutting measures, according to the Washington Post.
The Epoch Times has contacted National Geographic for further comment.
National Geographic had just under 1.8 million subscribers at the end of 2022, according to the Alliance for Audited Media.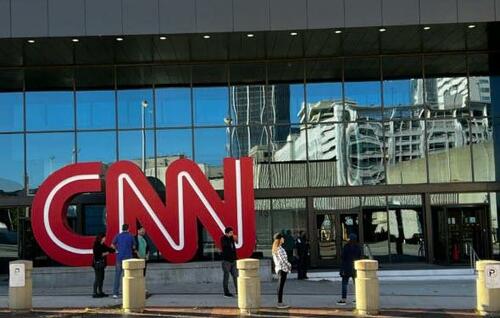 The CNN center is seen in downtown Atlanta, Ga., on Oct. 16, 2021. (Daniel Slim/AFP via Getty Images)
More Media Layoffs
The magazine is predominantly owned by Disney, which acquired a majority stake in the publication in 2019 as part of a $71 billion deal to purchase 21st Century Fox assets.
Back in November, the publication's new editor-in-chief Nathan Lump told Axios that the company had no plans to slash its monthly print magazine publishing schedule but would be investing more in social media— sharing more short-form videos across platforms like TikTok and Instagram—in an effort to modernize.
"We feel good about our monthly cadence," Lump said at the time. "Our incredible social reach is largely based on our strength on Instagram, which is based on our strength in photography, which is great," he said.

"But obviously, we know that video is driving a lot of engagement in social, and that's where a lot of growth is in terms of engagement and users and social platforms. And so we need to put a lot more emphasis there," Lump added.
The latest job cuts at the award-winning magazine come amid a string of layoffs in the media industry.
In November, CNN launched a second round of layoffs, and a month later in December, Buzzfeed said that it planned to cut 15 percent of its workforce. Most recently, Buzzfeed revealed it is shutting down its news division entirely as part of those cost-cutting efforts.
The VICE Media Group (VMG) has also laid off more than 100 employees and canceled its flagship "Vice News Tonight" program. In May, the company filed for Chapter 11 bankruptcy protection.
A string of other publications, including Bloomberg, Gannett, Insider Inc., NPR, The Hollywood Reporter, The Washington Post, and Fox, have also announced job cuts in an effort to save costs as digital advertising revenue has plummeted and operating costs have surged.
Loading...