---
Philly Imposes Wednesday Night Curfew To Try And Prevent 3rd Night Of Chaos
Update (1500ET): As Philly braces for a 3rd night of unrest following another police shooting of a black man, the city is imposing a curfew at 2100.
BREAKING: #Philadelphia is issuing a 9 p.m. citywide curfew Wednesday following a second night of protests and looting, sources say https://t.co/RKkjXEeH4L

— CBS Philly (@CBSPhilly) October 28, 2020
National guard were called in last night, though Trump has offered federal assistance as well.
* * *
Update (1030ET): Press Secretary Kayleigh McEnany just tweeted out a statement.
Our statement on the riots in Philadelphia ⬇️ pic.twitter.com/bfgPJDn9C2

— Kayleigh McEnany (@PressSec) October 28, 2020
* * *
After 30 officers were wounded on Monday evening, including one who remains hospitalized with a broken leg after being hit by a truck, thousands of looters massed in downtown Philadelphia on Tuesday for a second night of chaos, where entire big box department stores were emptied of merchandise, while officers were attacked and at least one reporter was badly beaten.
Fewer police were injured on Tuesday, possibly due to the fact that they gave the worst of the rioters a wide berth, at one point reporting that there were several thousand people in the afflicted area of West Philadelphia, looting stores and carrying off everything from food to big-screen TVs.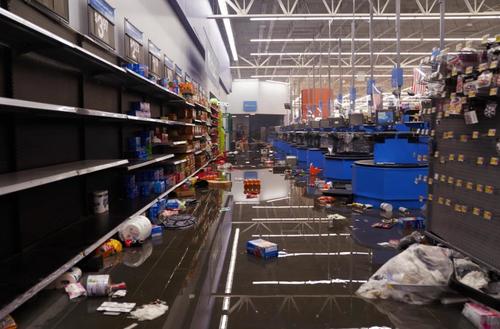 Some on social media couldn't help but make light of the situation (after all, humor is one of the most effective coping mechanisms).
https://t.co/5azVNSSLO7 pic.twitter.com/ZtaZqCw7xM

— Julio Rosas (@Julio_Rosas11) October 27, 2020
Of course, it's not a riot without copious video of masked thieves pouring out of department stores clutching whatever merchandise they could grab.
This is America. This is your country. These are your fellow citizens who share with you all of the attendant rights and responsibilities of living in the greatest country in the world. Think about that. What would you tell them if you were there? pic.twitter.com/WBHfXmauyq

— 🇺🇸Lionel🇺🇸 (@LionelMedia) October 28, 2020
At one point, the rioters stopped to terrorize a Jewish neighborhood.
Black Lives Matter rioters in Philadelphia threaten, assault, and chase out Jewish residents claiming "you don't live here" and call them members of the "Synagogue of Satan." pic.twitter.com/pKEssPeGLi

— Ian Miles Cheong (@stillgray) October 28, 2020
The driver of a stolen car recklessly slammed into another driver, tipping over a truck, before the occupants of the stolen vehicle quickly scurried away.
As a CVS was being looted in Philadelphia, the driver of a suspected stolen car rams right into a truck that was stopped at the intersection and tipped it over. The occupants of the car promptly fled the scene following the collision. pic.twitter.com/iLSAnnXP1q

— Ian Miles Cheong (@stillgray) October 28, 2020
Philly's national guard mobilized Tuesday in response to the prior night's unrest, and the police department said even more officers were on the streets. Some reported that a U-Haul was driven up to a Wal-Mart in Philly, where it was quickly filled with merchandise.
Looters are reportedly carrying TVs & other electronics out of a Walmart in Philadelphia; other reports say some looters have loaded U-Haul trucks with stolen goods https://t.co/5qDujKMZ5v

— Breaking News Global (@BreakingNAlerts) October 28, 2020
Notably, PA's Dem Governor Tom Wolf broke with other democratic governors and ordered in the guard without hesitation, a clear sign that he's aware the unrest could impact the results of the upcoming presidential race, in which Philly is a critical swing state (some say whoever wins Philadelphia will carry the day).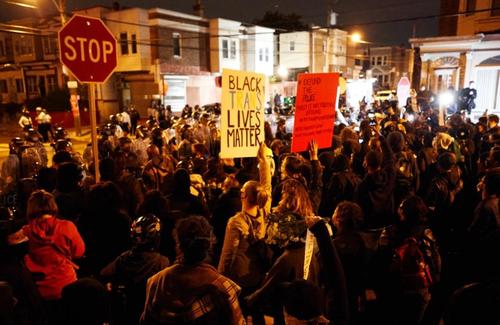 In a statement, the White House denounced the violence and looting as yet another consequence of Democratic officials
Philly's Mayor Jim Kenney yesterday urged everybody to withhold their judgment pending an investigation, though he acknowledged that the footage of the incident was alarming and presents "difficult questions."
Like many of you, I viewed the video of the tragic shooting of Walter Wallace, Jr. that occurred yesterday. It presents difficult questions that must be answered. The Officer Involved Shooting Investigation Unit of @PhillyPolice will conduct a full investigation.

— Jim #MaskUpPHL Kenney (@PhillyMayor) October 27, 2020
Meanwhile, the official account for the Philly police tweeted throughout the night, first warning citizens to avoid the area of Castor and Aramingo where most of the looting took place.
Outside West Philly (where a certain Fresh Prince was memorably born and raised), about 1,000 other looters hit shops in the Port Richmond neighborhood in the northern section of the city.
*Alert* A large crowd of appx 1000 is looting businesses in the area of Castor and Aramingo. Avoid the area

— Philadelphia Police (@PhillyPolice) October 28, 2020
The Philadelphia Police Department is requesting that all residents in the 12, 16, 18, 19, 24, 25, and 26th Districts remain indoors except when necessary. These areas are experiencing widespread demonstrations that have turned violent with looting.

— Philadelphia OEM (@PhilaOEM) October 28, 2020
At least one lucky individual capitalized on the heat of the moment to propose to his now-fiance.
So many dynamics in one clip... This is America. https://t.co/GBVxKJZBJI

— Where the cookies nshit? (@HimDownstrz) October 28, 2020
The violent protests broke out hours after Philadelphia cops shot and killed 27-year-old Walter Wallace Jr. on Monday, after his family summoned police to the house once again for help dealing with his mental health issues. At one point, he advanced on police with knife, after refusing orders to drop it, provoking police to open fire. Police officials said the men weren't armed with tasers due to budget cuts. Video of the incident went viral on social media. The man's father told the press that his son had been shot at least ten times, though he denounced the violence and looting.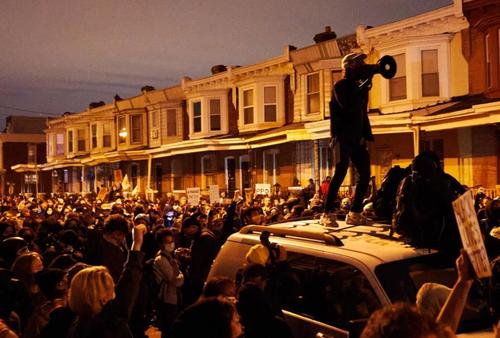 At least 90 people have been charged in the violent protests so far, police said Tuesday, and that number could rise as investigations continue and the unrest intensifies.
BlazeTV reporter Elijah Shaffer was badly beaten after being jumped by "BLM rioters" while filming inside a store that was being actively looted.
He published footage of the encounter, and its aftermath, below.
BREAKING: I was jumped by BLM rioters while they were looting more than a dozen stores,

including Wal-Matt, T-Mobile, & 5-below

Though in pain, I didn't stop reporting because

Americans need to see what the corporate media refuses to show
pic.twitter.com/VI5hl8uV3C

— ELIJAH SCHAFFER (@ElijahSchaffer) October 28, 2020
PHILADELPHIA: This is the footage I was recording when BLM assaulted me.

Other journalists were filming but I was the only white person in the store

I do believe I was targeted for being white as they accused me of being a white supremacist

& did not attack people of color pic.twitter.com/Gji7uHq0gB

— ELIJAH SCHAFFER (@ElijahSchaffer) October 28, 2020
Reporter @ShelbyTalcott took these images shortly after I was assaulted by the BLM rioters https://t.co/sO1sEAyHnH

— ELIJAH SCHAFFER (@ElijahSchaffer) October 28, 2020
Here is the video of the assault by BLM rioters https://t.co/LBpy0jgtUw

— ELIJAH SCHAFFER (@ElijahSchaffer) October 28, 2020
Unfortunately, Philly wasn't the only American city brutalized by riots last night. To recap.
Tuesday recap:
- Philly looted, several killed, journalists assaulted, Jews abused
- Brooklyn trashed by rioters, police run over
- Dodgers fans loot semi-truck in LA, rioting
- Seattle rioters assault drivers
- DC rioters attack precinct, riot over man who died in police pursuit

— Ian Miles Cheong (@stillgray) October 28, 2020
And that was just in the US: In Nigeria, demonstrations continued as international support for a burgeoning police reform movement after soldiers opened fire on protesters a few nights ago.