---
Native American Tribe Demands Justice For Man Shot 38 Times By US Border Patrol Agents
Authored by Allan Stein via The Epoch Times (emphasis ours),
Yvonne Nevarez remembers her late uncle Raymond Mattia as a proud Tohono O'odham Nation member who always took a stand against injustice.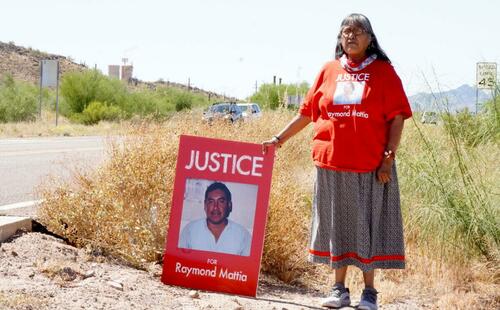 He was a kind, respectful, peace-loving man, she said, making his shooting death by U.S. Customs and Border Protection (CBP) agents even harder to accept.
"I'm angry. I can't believe it. I don't want to believe it. Our lives will never be the same," Nevarez said, struggling through tears.
"He was like a dad to me. And now, he's gone."
Family members say that on May 18, Mattia contacted tribal police to report illegal migrants trespassing on his property in Meneger's Dam Village, a remote southern border community of the Tohono O'odham Nation reservation about 52 miles from Ajo by car.
During a brief encounter with CBP agents, family members say Mattia was shot approximately 38 times for reasons as yet unknown.
"It was literally at his doorstep," Nevarez told The Epoch Times at a protest gathering near the Ajo Border Patrol Station in Why, Arizona, on May 27.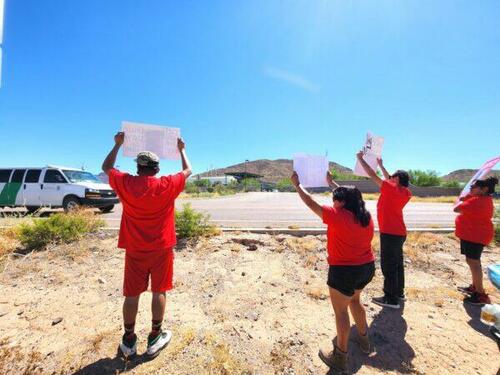 Tribal members and supporters held another demonstration in Tucson on the same day.
"We feel that how they took his life was unjust. There's no justification for it," Nevarez said.
The family released a statement calling the shooting a "grievous" incident as "it is apparent what happened."
"Raymond called for help and, in turn, was shot down on his doorstep. Raymond's rights were violated by the authorities whom we trust to protect our Nation. Improper and unprofessional actions of the agencies involved were witnessed by family members present near the crime scene.
"Loved ones sat in agony, not knowing of Raymond's condition until they were told that he had passed away hours later. Raymond lay in front of his home for seven hours before a coroner from Tucson arrived.
The statement added, "In our eyes and hearts, we believe Raymond was approached with excessive and deadly force that took his life. He was a father, brother, uncle, friend, and an involved community member. Raymond always fought for what was right, and he will continue to fight even after his death. This is not an isolated incident, but it should bring awareness of the oppression our people live through."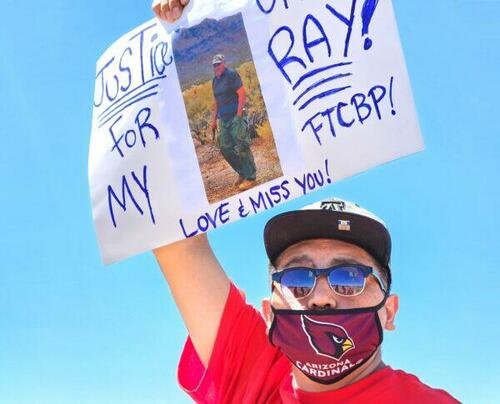 The family has launched a GoFundMe page to raise $10,000 in legal defense fees.
So far, the effort has garnered $2,954.
CBP Responds
On May 22, CBP issued a statement detailing the events leading to Mattia's death.
The statement said that at 9:04 p.m., the U.S. Border Patrol Tuscon Sector Tactical Operations Center notified the Ajo station that the Tohono O'odham Nation Police Department had requested assistance responding to a report of shots fired near Mattia's property.
At least 10 CBP agents met with tribal police at the local recreation center to coordinate a joint response.
At 9:32 p.m., a tribal police officer and several CBP agents arrived near Mattia's residence and "spread out while searching for the man."
"The officer and agents encountered an individual approximately 103 meters (about 337 feet) northwest of their parked vehicles, outside a residence, at approximately 9:03 p.m."
At that point, Mattia allegedly "threw an object" at the police officer as they approached.
The object landed "a few feet" from the officer.
"Shortly after the individual threw the object, he abruptly extended his right arm away from his body, and three agents fired their service weapons, striking the individual several times."
"The individual fell to the ground, and the officer and agents slowly approached the man," according to the statement.
The statement made no mention of whether Mattia was armed or whether warnings were given before he was shot down.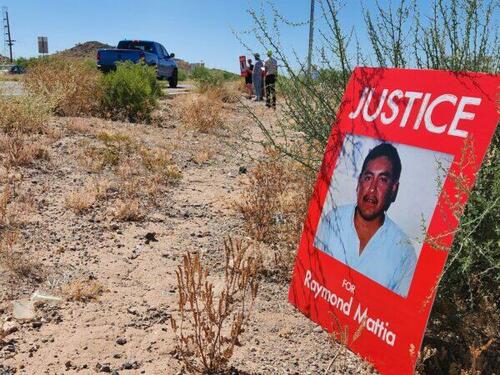 Resuscitation Efforts Fail
Agents began administering CPR after they could not detect a pulse and requested emergency medical services.
However, there was no air life evacuation available due to bad weather. The agents continued administering CPR without success.
Mattia was pronounced dead at a Pima County hospital at 10:06 p.m. The medical examiner's office took custody of the body pending an autopsy on May 19, the statement added.
The agents involved in the shooting will remain on administrative leave according to standard practice while authorities investigate the "use of deadly force."
"All three agents who discharged their weapons and seven additional agents activated their body-worn cameras during the incident."
The statement added the CBP is "committed to the expeditious release of the body-worn camera footage of this incident as soon as is appropriate to do so without impacting the ongoing law enforcement investigation."
The Tohono O'odham Police Department and FBI are currently investigating. CBP said the agency's National Use of Force Review Board would review the incident following the investigation.
Tohono O'odham police referred the matter to the department's public information officer Matt Smith, who did not return a phone call or text requesting comment from The Epoch Times.
At the May 27 protest in Why, family spokeswoman Ofelia Rivas said tribal members have reported many negative encounters with an "aggressive" Border Patrol in the past.
"This has been going on for quite a while," Rivas told The Epoch Times. "The Border Patrol claims to have supreme authority on the reservation."
Read more here...
Loading...