---
NBC-WSJ Poll Gives Biden 14 Point Lead... By Massively Oversampling Democrats
A new Wall Street Journal / NBC News poll released on Sunday gave former Vice President Joe Biden a 14-point lead over President Trump, suggesting that "the debate - is having a material effect on Mr. Trump's political standing."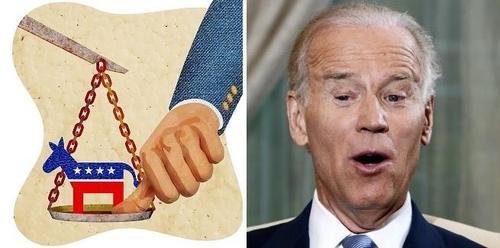 Another factor having a 'material effect' is the poll's egregious oversampling of Democrats - with 45% of those asked identifying as either "Strong Democrat" , "Not very strong Democrat" , "Independent/lean Democrat" - vs. the 36% of those asked identifying as the same degrees of Republican.
13% of those asked are "Strictly Independent."

Last month, the same poll 'only' oversampled Democrats by +3, which The Journal uses to illustrate Biden's lead 'jumping' from an 8-point advantage last month.
Wow! How did this happen? I'll explain:

The poll sampled 35% DEM, 27% REP, 38% IND. So a DEM+8 vs REP.

The last poll sampled DEM+3.

So they changed the weighting by 5 points and now report "OMG BIDEN IS UP ANOTHER 6 POINTS FROM THE LAST POLL!"

It's a fraudulent industry. https://t.co/cbfc0cYK88

— Raheem Kassam (@RaheemKassam) October 4, 2020
This has happened over and over during the election.
Meanwhile, as The National Pulse notes, polls which don't oversample Democrats have Trump in the lead, such as a Sunday Express/Democracy Institute poll:
The Express' David Maddox reported:
The monthly Democracy Institute Sunday Express poll for the Presidential election shows that Mr Trump is still on course for victory with 46 percent of the popular support compared to his Democrat rival Joe Biden's 45 percent.
The poll was completed after the news broke that President Trump and his wife Melania have been infected by Covid-19.
But 68 percent said the illness would not affect their vote while 19 percent said they were "more likely" to support Trump and only 13 percent "less likely".
Almost two thirds said they felt sympathy and concern for the President while 38 percent said him getting the disease was "karma" in an indication of the current divisive nature of US politics.
Crucially, Mr Trump's lead in key swing states including Florida, Iowa, Michigan, Minnesota, Pennsylvania and Wisconsin remains at 4 percent by 47 percent 43 percent.
This gives a projected Electoral College split of 320 to Trump and 218 to Biden.
While other polls have Biden ahead, the Democracy Institute, which correctly predicted Brexit and Trump's win in 2016, only considers people who identify as "likely voters" rather than all registered voters and also asks about the so called shy vote.
You'd think the polling industry would have learned its less from 2016, yet here we are - with Nate Silver's FiveThirtyEight putting Biden's chances of winning at 81.2%, according to Readspike.
Maybe this year he should wear a hat?