---
Nearly 1,000 Arrested In "Unprecedented" UK-Wide Crackdown On Cannabis Farms
Authored by Alexander Zhang via The Epoch Times,
Nearly 1,000 suspects have been arrested and cannabis plants worth £130 million seized in a largest-ever UK-wide crackdown on cannabis farms, the National Police Chiefs' Council (NPCC) said on Thursday.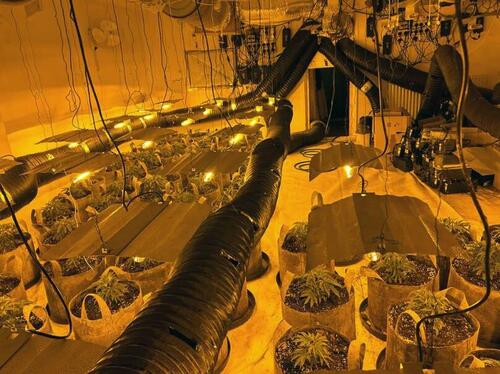 The "unprecedented" police action—codenamed Operation Mille—was aimed at unearthing and disrupting organised crime groups and their illegal revenue streams, and was the "most significant national operation of its kind ever run across UK law enforcement," said the NPCC.
All 43 police forces across England and Wales were involved in the operation along with Regional Organised Crime Units and partner agencies.
From 1,013 raids on large-scale cannabis grows throughout June, nearly 200,000 cannabis plants with an estimated street value of £115-130 million were seized, along with 20 firearms, £636,000 in cash, and 26 kilogrammes of cocaine.
Undated handout photo of cash seized as part of Operation Mille, issued on July 6, 2023. (National Police Chiefs' Council via PA Media)
Some 967 suspects were arrested for offences including cannabis cultivation, money laundering, and weapons offences. More than 450 were later charged.
Steve Jupp, the NPCC lead for serious and organised crime, said: "We know that organised networks involved in cannabis production are also directly linked to an array of other serious criminality such as Class A drug importation, modern slavery, and wider violence and exploitation.
"This operation not only successfully disrupted a significant amount of criminal activity, but the intelligence gathered will also help inform future law enforcement across the country."
'Key Source of Illicit Income'
Police said that large-scale cannabis cultivations is a "key source of illicit income for organised gangs."
"The links between serious crime and those involved in cannabis cultivation are clear, with the drugs trade fuelling gang violence as groups compete for territory and look to hunt out their opposition," said the NPCC.
Mr. Jupp said:
"Cannabis-related crime is often thought to be 'low level.' However, there are clear patterns around the exploitation and violence organised crime groups are using to protect their enterprises.

"We also frequently find that cannabis production is just one aspect of their criminal operations and that they are complicit in wider offending which blights our communities."
Cannabis factories also present a "very real local threat," said the police, as they often cause damage to the properties they are based in—the buildings can become dangerous as a result of fire risks, unlawful abstraction of electricity, fumes, and water damage.
Illegal Immigrants
The Epoch Times reported in February that there had been a growth in cannabis factories in Britain as criminals decided to cultivate the drug in Britain, rather than trying to import it.
But there has also been a rise in violence linked to the cannabis trade, with seven people killed in the last five years in England and Wales in incidents linked to break-ins or attempted burglaries at houses or factories which have been converted into cannabis farms.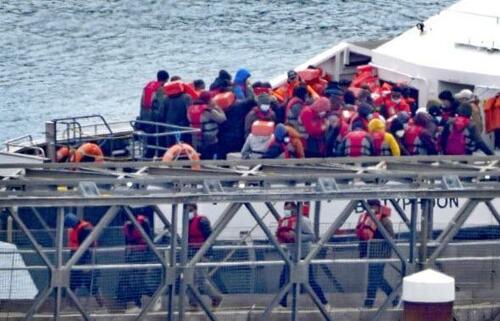 A group of illegal immigrants are brought by a Border Force vessel to Dover, Kent, on May 19, 2023. (Gareth Fuller/PA Media)
Organised crime gangs have been trafficking illegal immigrants from Albania to Britain to work in cannabis factories.
The National Crime Agency said last year that Albanian gangs were working with Iraqi Kurd people-trafficking syndicates and were "effectively bringing in the labour force for the cannabis grows."
Ged McCann, a senior NCA intelligence manager, said Albanians had wrested control of the cannabis farm industry from Vietnamese gangs and said many of the illegal immigrants who were put to work in the cannabis farms were in "debt bondage" to criminal gangs.
Last month, seven men were jailed for trafficking illegal immigrants from Albania to Britain to work in cannabis factories.
The Albanians were hidden in special compartments in the cabs of Romanian lorries which crossed the English Channel by ferry from Dunkirk to Dover.
According to the Metropolitan Police, the Albanian illegal immigrants paid the gang between £20,000 and £24,000 in cash to travel to the UK, sums which would be paid back by working in the cannabis factories.
Loading...