---
NeoCon John Bolton Urges GOP To Purge Trumpism
Authored by Clifford Cunningham via PlanetFreeWill.news,
Former National Security Adviser John Bolton, a prominent NeoCon who became a harsh critic of President Trump after leaving his administration, has called on the GOP to purge the "taint" of Trumpism from the party.
"There has to be a serious conversation in the Republican Party about how to remove the taint of what Trump has done, how to repair the damage," he said during an interview with MSNBC's Katy Tur.

"And while I think the damage is considerable, I think it can be repaired, and it should be repaired. And it should be — from the purely limited perspective of the party, it should be the highest priority going forward."
To accomplish this goal, Bolton called on the Republican Party's establishment to exercise more control over the candidate nomination process, ensuring the candidate ultimately nominated has "real character" and "a real philosophy, as opposed to people like Donald Trump."
Bolton's suggestion that the Republican Party should nominate candidates that hold ideological views counter to President Trump is interesting given almost 72 percent of Republican voters believe the party should be more like Trump as opposed to the average Republican member of Congress.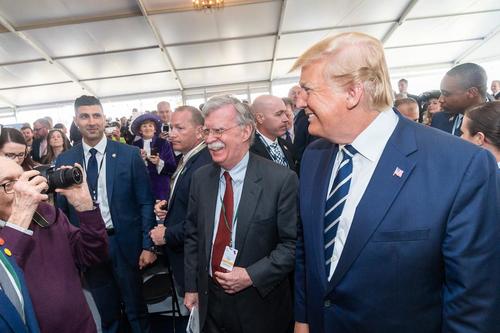 President Donald Trump joined by former WH National Security Advisor Ambassador John Bolton participate in a meet and greet with active duty U.S. Service Members stationed in the United Kingdom June 5, 2019 (White House/Flickr)
Despite President Trump having won more votes than any Republican presidential candidate in history, Bolton argued Trump's presidency was "an aberration in American politics" and suggested those Republicans who objected to the certification of the Electoral College "should be held accountable."
"I think individual Republicans are going to have to make decisions whether they support individuals who have participated in this effort to stop the election from being certified. And I think there's a lot that remains to be seen from their behavior," he declared.
Trump recently criticized Bolton on Twitter after Bolton highlighted media reports claiming Trump was considering a declaration of martial law to stay in office, calling Bolton "one of the dumbest people in Washington."