---
Netanyahu Pauses Judicial Overhaul To "Avoid Civil War" As Rival Protest Groups Clash
Update(1346ET): In a much anticipated 8pm (local) speech, at a moment hundreds of thousands of protesters are in the streets, Prime Minister Benjamin Netanyahu confirmed in a televised speech that he will pause his ultra-controversial judicial overhaul plans which many say would destroy Israeli democracy and court independence.
He emphasized that he is aware of the deepening divide and tensions in society as a result of the legislation, but called the anger in the streets the product of an "extremist minority" that is "tearing Israel apart." The crisis not only resulted in massive national strikes on Monday, but escalated to the point of growing numbers of refusals of recruits and soldiers to serve in the Israeli Defense Force's reserve units, putting the country's security in peril. According to Netanyahu's words as reported in the Times of Israel:
The premier says he has repeatedly called for dialogue on the overhaul plan and says there "must not be a civil war," saying there is a severe crisis in Israeli society.

"When there's an option to avoid civil war through dialogue, I take a time-out for dialogue," he says, adding that "out of national responsibility," he is delaying the final readings of a divisive judicial appointments bill — under which the coalition would take almost complete of their appointment of all Israel's judges — until the next Knesset session a month from now.
⚡️Ben Gvir arrives at anti-left demonstrations in Jerusalem pic.twitter.com/3UFf2PPg3g

— War Monitor (@WarMonitors) March 27, 2023
Reportedly many thousands of right-wing 'counter-demonstrators' have been taking to the streets, including in front of Knesset, to confront the much larger crowds which stand against the judicial overhaul. Crucially, Netanyahu signaled that he will eventually move forward with pushing through the legislation: 
He says "most" of his coalition allies support the move, stressing that the overhaul will end up passing in one form or another.
⚡️Right-wing activists are on their way to the Knesset in support of judicial legislation, and there they will confront the left pic.twitter.com/OBYiatiydI

— War Monitor (@WarMonitors) March 27, 2023
While the large-scale demonstrations are likely to continue for the time being, they are going to drop off in intensity, also as some of the major national strikes will likely be called off: 
Both the Histadrut labor union and the local council umbrella group call off their sweeping protests planned for tomorrow, in the wake of Prime Minister Benjamin Netanyahu's announcement that he is delaying the judicial overhaul legislative push.

However, organizers of anti-overhaul protest immediately say they will keep the demonstrations going until the plan is scrapped entirely.
Something I have never thought will be discussed in a White House briefing https://t.co/AuPwueg68x

— Barak Ravid (@BarakRavid) March 27, 2023
Within hours before Netanyahu's speech, the White House issued an unusual statement, considering Israel has long been thought of as Washington's most stable and dependable ally.
"President Biden is not concerned that Israel will deteriorate to a civil war," NSC spokesman John Kirby said.
It seems Ben Gvir also got some concessions from Bibi for accepting to support a postponement, including the formation of a National Guard under Ben Gvir's Ministry of National Security pic.twitter.com/ozM6Tp3jte

— Michael A. Horowitz (@michaelh992) March 27, 2023
* * *
Amid the ongoing huge Israeli protests, which are being widely described as the country's largest in history, embattled Prime Minister Benjamin Netanyahu is expected to imminently announce he's suspending his coalition's judicial overhaul legislation. He also for the first time warned the country against falling into violence. 
Upon his signaling that he will now back down from the controversial overhaul (at least temporarily) - seen as a sweeping power grab - and after banks and shops closed in a nationwide strike, the shekel appreciated against the dollar and Israeli shares immediately rose. The shekel in early morning trading rose more than 1% to 3.55 against the dollar on reports there will be a U-turn.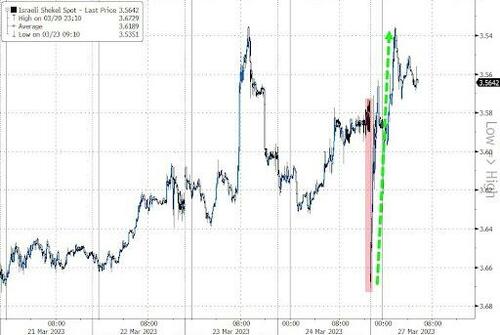 The protests, which have been gaining steam and spreading for days, hit epic proportions Sunday and overnight into Monday with the shock firing of Defense Minister Yoav Gallant due to his calling for the suspension of the judicial overhaul legislation while asserting the plan would "created an internal rift that poses a clear and immediate threat for Israel's national security."
Chaotic scenes have emerged showing over 100,000 Israeli demonstrators blocking Tel Aviv's main highway, with thousands also gathered in front of Netanyahu's Jerusalem residence. The situation is still dangerous, according to Times of Israel: 
IDF Chief of Staff Herzi Halevi issues a public letter addressed to all active and reserve servicemen, saying that Israel "has never known such days of external threats combining with an internal storm."

"This is a time for responsibility," he writes amid huge nationwide protests following the firing of Defense Minister Yoav Gallant.
He essentially said the overhaul plan is not worth a civil war.
The Israeli embassy in Washington has announced closure amid protests abroad and reports of staff leaving their posts in protest...
the israeli embassy has closed today "until further notice" https://t.co/Fo7iTH5uW1

— Jake Sherman (@JakeSherman) March 27, 2023
Even McDonald's locations in Israel closed down at all locations in the country due to private sector workers joining municipal employees in the protest strike. 
Protests erupted across Israel after Netanyahu fired Defense Minister Yoav Gallant who had called to freeze the planned judicial overhaul.

Thousands of angry protesters took to the streets at 150 locations around the country according to police. pic.twitter.com/EO8OsiDq8M

— Middle East Eye (@MiddleEastEye) March 27, 2023
But while dissent and chaos has been unleashed even within the prime minster's own Likud party, given some officials have gone on public broadcast stations to show their disapproval of the judicial overhaul, some powerful ministers are still vowing to follow Netanyahu's lead.
According to the latest from Axios, "In a dramatic turn later Monday, Justice Minister Yariv Levin, who had also threatened to resign, issued a statement stressing that he would respect any decision Netanyahu makes regarding the judicial overhaul. He also said he would work to stabilize the coalition in order to prevent the government from collapsing. Levin's announcement gave Netanyahu important backing for suspending the legislation."
CHAOS IN ISRAEL:
- Large protest in Israel - 700,000 people are actively protesting (growing).
- The IDF have raised their "alert" due to the loss of control within the country.
- General strike declared.
- PM Netanyahu fired Defense Minister Gallant. pic.twitter.com/LHAxxe5luG

— Global: Military-Info (@Global_Mil_Info) March 26, 2023
For the first time in history, Israel's main union, as well as leaders from the banks and the entire business sector, have declared general strike demanding that the government stop the plan to overhaul the judicial system.
Today (3/27), the Histadrut, Israel's largest labor union, instructed all government employees to go on strike, including Israel's diplomatic missions around the world. The Embassy of Israel will be closed today until further notice and no consular services will be provided.

— Elad Strohmayer (@EladStr) March 27, 2023
And the unprecedented pressure has appeared to work, at least for now.
Loading...