Authored by Karl Evers-Hillstrom via OpenSecrets.org,
President Donald Trump's reelection effort faces an onslaught of attack ads from well-funded groups run by disaffected Republicans. And one of the most prominent of these Never-Trump groups isn't disclosing its sources of funding. 
Defending Democracy Together has spent $11.5 million on independent expenditures opposing Trump or backing Democratic nominee Joe Biden. Organized as a 501(c)(4) nonprofit and thus not required to disclose its donors, it's the top spending "dark money" group of the 2020 election cycle so far.
Through its project Republican Voters Against Trump, the nonprofit runs an onslaught of unconventional ads featuring Republicans who plan to vote against Trump in November. In addition to paying for TV ads and billboards in swing states, Defending Democracy Together has spent nearly $5.2 million on online ads aiming to spur Republicans to vote for Biden.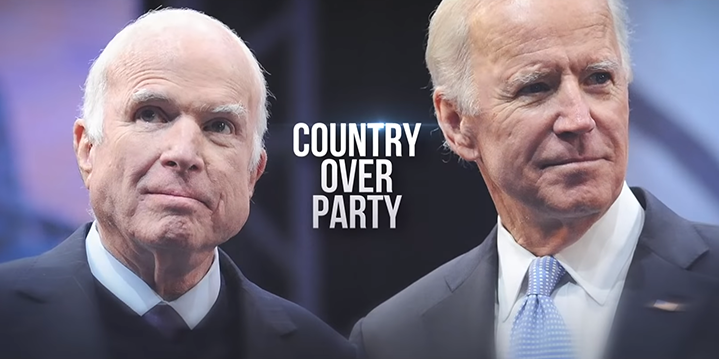 It also has a Republican Voters Against Trump super PAC that has spent $4.2 million to influence the presidential race. The PAC ads feature opinions from Republicans who say they regret voting for Trump in 2016. It also ran a Spanish-language ad comparing Trump to foreign dictators. That group is expected to reveal its donors before Election Day, but like other super PACs it could dodge true disclosure by reporting its allied nonprofit as its only donor.
One of the group's most prominent ads puts the spotlight on Olivia Troye, who advised Vice President Mike Pence on homeland security, counterterrorism and the coronavirus pandemic. Troye left the Trump administration in August. One month later, she endorsed Biden for president and attacked Trump over his handling of the pandemic. 
"If the president had taken this virus seriously, or if he had actually made an effort to tell how serious it was, he would have slowed the virus spread, he would have saved lives," Troye said in the ad released last month. 
Republican Voters Against Trump recruited several former Trump administration officials to publicly endorse Biden. Miles Taylor, former chief of staff of Trump's Department of Homeland Security, publicly rebuked Trump in a recent ad. Elizabeth Neumann, another former high-ranking DHS official, appeared in another ad in late August and said Trump "absolutely failed" to protect Americans from COVID-19. 
Through its various Facebook pages, particularly Republican Voters Against Trump and Republicans for the Rule of Law, Defending Democracy Together has spent big to target voters in swing states with these videos. It spent $1.1 million in Pennsylvania, $811,000 in North Carolina, $744,000 in Arizona and $690,000 in Wisconsin on Facebook ads since January, according to OpenSecrets' online ads section.
Pennsylvania and North Carolina are seen as tipping point states in the presidential election. Republican Voters Against Trump announced last month it would buy TV ads and erect more than 100 billboards in Pennsylvania, the state Trump surprisingly flipped in 2016. The group put up similar billboards in North Carolina, where Biden is hanging onto a narrow lead over Trump.
Defending Democracy Together is run by Bill Kristol, a prominent Republican Trump critic who ran the conservative Weekly Standard magazine. Kristol's new website, The Bulwark, is a project of the 501(c)(3) Defending Democracy Institute and is one of few conservative news sites that has a reputation of being harshly critical of Trump. 
According to Form 990 filings showing grants distributed by other nonprofits, Defending Democracy Together received $1.6 million from Democracy Fund Voice, a nonprofit funded by eBay founder Pierre Omidyar. It also received $75,000 from the Hopewell Fund, a nonprofit with ties to the top dark money donor of the 2020 election cycle, the liberal Sixteen Thirty Fund. Still, the vast majority of its funding comes from sources unknown to the public. 
Defending Democracy Together has partnered with The Lincoln Project to turn Republican voters against Trump. As part of their initiative Operation Grant, the two groups are aiming to mobilize anti-Trump Republicans in swing states such as Ohio. The Lincoln Project has spent nearly $32 million on ads attempting to unseat Trump and his allies in Congress, placing it among the top spending outside groups. Its most recent offensive comes in Texas, where it plans to spend $1 million to target Republican voters who may be souring on Trump.
Whether these initiatives are working is an open question. Trump's approval rating among Republican voters remains high. Even in a recent CNN poll that had Trump down 16 points to Biden nationally, 88 percent of Republican respondents said they had a favorable opinion of the president. On the other hand, Trump is losing independents at a rapid rate, including many of those who might have voted for a Republican in other years.