---
New Student Loan Rule To Cost $361 Billion; Study Shows Debt Forgiveness Benefits The Wealthy
Authored by Andrew Moran via The Epoch Times,
A new rule proposed by the Department of Education could cost up to $361 billion over the next decade, while a separate study says President Joe Biden's landmark student loan forgiveness plan benefits the wealthy.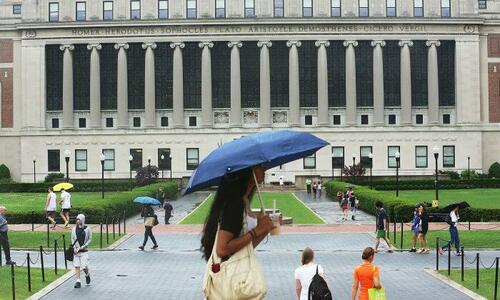 The White House recently confirmed that more than 16 million people were approved for its student loan forgiveness program. Since October 2022, approximately 26 million people have applied for student debt relief. The borrowers will be approved for the aid if the initiative survives a legal challenge in the Supreme Court in February.
The administration's program would forgive up to $10,000 for borrowers with federal student loans and up to $20,000 for Pell grants recipients. Individuals earning less than $125,000 and families with incomes below $250,000 would be eligible. In total, 95 percent of all student loan borrowers would qualify for forgiveness.
"More than 40 million Americans would qualify for one-time student debt relief," the White House tweeted on Jan. 30.

"Nearly 90% of the relief going to out-of-school borrowers would go to those earning less than $75,000 a year. This relief is currently on hold because of lawsuits brought by opponents of the plan."
This comes as the Department of Education proposed a rule to overhaul one of its income-driven repayment plans by cutting borrowers' payments to a specific percentage of their discretionary income. The plan—known as REPAYE—would slash monthly costs for undergraduate borrowers by as much as half. It's estimated that the average graduate from a four-year university could see savings of as much as $2,000 per year.
But this could cost hundreds of billions of dollars over the next 10 years, says a new study.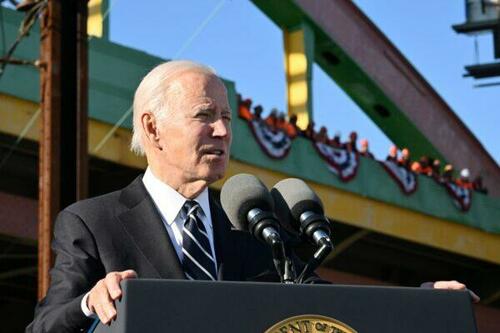 President Joe Biden delivers remarks at the Baltimore and Potomac Tunnel North Portal in Baltimore on Jan. 30, 2023. (Mandel Ngan/AFP via Getty Images)
According to the Penn Wharton Budget Model, a nonpartisan organization at the University of Pennsylvania's Wharton School, it's projected that the concept could cost taxpayers between $333 billion and $361 billion. By comparison, the Education Department estimated that it would cost $137.9 billion.
The gap is caused by the government planning for enrollment to remain "static," but the Penn Wharton projections show that there would be an acceptance rate of as high as 75 percent of eligible loan volume.
"Taking this factor into account, our estimates provide a range of potential budgetary cost for the government over the 10-year budget window starting in 2023," the study authors said in a statement.

"Higher costs emerge at higher take-up rates."
This would be in addition to the administration's one-time cost of direct loan forgiveness that it projected would come with a price tag of $469 billion.
Student Debt Relief is 'Regressive'
A separate University of Virginia report learned that the federal government's present student loan payment pause had benefited high-income individuals more than anyone else. The study revealed that the top half of earners garnered 70 percent of the benefit, and the top quintile, which accounted for 16 percent of student loan borrowers, enjoyed close to 30 percent.
Put simply, the program, which has received nine extensions, is believed to be more regressive than Biden's debt cancellation efforts.
Previous studies have also concluded that the administration's debt cancellation plan supports high-income households.
"The benefits of the payment pause tie directly to the balances, monthly payments, and the interest rate on the loans. Each of these components contributes to the net regressive impact of the payment pause continuation," the report stated.

"Continuing to extend the student loan payment pause is expensive and regressive. It costs at least $5 billion per month and delivers the bulk of the benefits to upper-income families. In addition, these many extensions threaten the government's future credibility to administer student loan programs or, indeed, any government lending initiative."
The paper recommends restarting student loan payments immediately, arguing that additional extensions might result in more pressure on the federal budget and the student loan system.
In October 2020, the Brookings Institution, an economic research think tank, concluded that high-income households benefited the most from canceling student loan debt.
The highest-income 40 percent of households owed nearly 60 percent of outstanding education debt and represented 75 percent of payments. Conversely, the lowest-income 40 percent of households maintained a fifth of the outstanding debt and accounted for 10 percent of the payments.
"It should be no surprise that higher-income households owe more student debt than others," the think tank wrote.

"Students from higher-income households are more likely to go to college in the first place. And workers with a college or graduate degree earn substantially more in the labor market than those who never went to college."
Economists also aver that student loan debt relief is "net regressive," according to a November 2020 Chicago Booth poll. Moreover, they believe that it would "exacerbate U.S. economic inequality," adding that a preferable policy would be offering "targeted relief."
Former Treasury Secretary Larry Summers posted a series of tweets in December 2021 that stated that student loan debt reduction is "regressive," warning that it would also add to inflationary pressures.
Loading...