---
New York Democrats Urge Biden To Fast-Track Illegal Alien Work Permits
Authored by Bryan Jung via The Epoch Times,
Top New York Democrats have called on President Joe Biden to grant work permits to unemployed illegal aliens residing in NYC.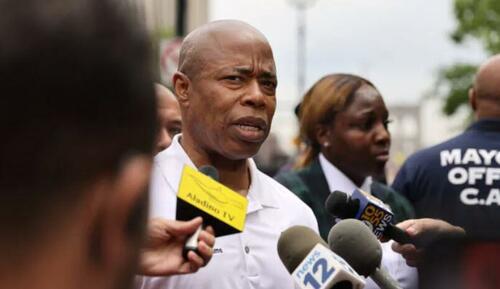 Mayor of New York City Eric Adams, Gov. Kathy Hochul, Reps. Dan Goldman and Jerry Nadler of New York held a May 22 press conference in Brooklyn with progressive labor and business leaders, reported Politico.
The leading New York Democrats asked the White House to issue special federal work permits for the large numbers of illegal immigrants who have flooded into the state since 2022.
They called for Biden to expedite the process by issuing executive orders without waiting for Congress to allow the illegals, who are currently on public assistance, to be able to work and alleviate financial pressure on social services.
"Without legislation, we can get this done," said Hochul, referring to the unlikelihood that such a bill to authorize work would pass.
New York State is among the top ten states with the highest unemployment rates in the nation, with a labor participation rate of 60.8 percent, according to government data.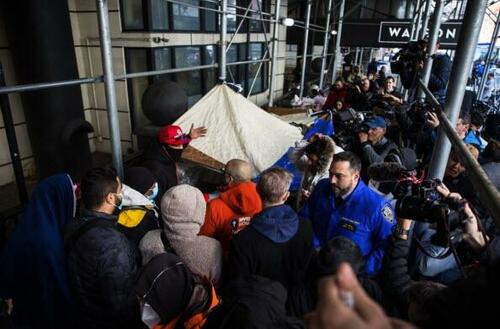 Illegal immigrants speak with NYC Homeless Outreach members as they camp out in front of the Watson Hotel after being evicted in New York City on Jan. 30, 2023. (Michael M. Santiago/Getty Images)
NY Democrats Disagree
New York Democrats have challenged the national party's silent stance on illegal immigration policy for the first time, a key issue for millions of voters in the 2024 presidential election.
Republicans have made the border crisis a primary talking point for next year's race, and Democrat strategists fear that infighting on the matter could weaken Biden's chances.
The Biden reelection campaign booted Adams from the president's National Advisory Board in retaliation for publicly criticizing the administration's handling of the crisis along the southern border.
"The president and the White House have failed this city," Adams said last month at a media event, signaling a split in party ranks.
He added that the state's budget could not handle the crisis and blamed the "national government" for turning "its back on New York City."
"Every service in this city is going to be impacted by the asylum seeker crisis," said Adams.
The mayor had been a member of the reelection committee for barely a month after he initially joined the campaign in March.
Hochul, who has been less critical of Biden, remains on the panel of powerful Democrats advising his reelection efforts.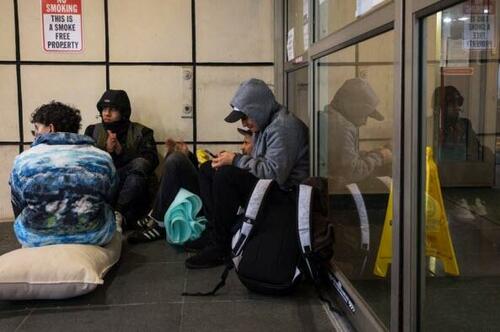 Immigrants camp out in front of the Watson Hotel after being evicted in New York City on Jan. 30, 2023. (Michael M. Santiago/Getty Images)
More Financial Aid Wanted
Meanwhile, Adams also called on Biden to send more federal aid to New York, as the city continues to take in thousands of illegals from the U.S. border region every week.
The $30.5 million federal aid approved for New York earlier this month to alleviate the crisis was insufficient, he told CBS's "Face the Nation."
"We've spent over $1 billion. We're projected to spend close to $4.3 billion if not more," said Adams.

"When you look at the price tag, $30 million comes nowhere near what this city is paying for a national problem."
New York City has asked the federal government for an additional $650 million to assist the illegals who have arrived in recent months.
Adams said the city had received more than 70,000 migrants from the Southern border since last year, with more than 42,000 of them on public assistance.
The mayor issued an emergency order in May, suspending the city's right-to-shelter law, citing the influx of illegals overwhelming the shelter system.
Adams said that the Biden administration should better coordinate where the illegals are brought after they enter the country.
Biden Admin Reluctant Over Permits
A White House official rejected the plea, saying that certain populations are already eligible for work permits and pointed to the administration's use of Temporary Protected Status.
"We need Congress to act," the official said, reported Politico, adding, "only they can reform and modernize our decades-old immigration laws."
A group of migrants from Texas waits in line outside Port Authority Bus Terminal to receive humanitarian assistance in New York on Aug. 10, 2022. (Yuki Iwamura/AFP via Getty Images)
Adams and Hochul called for expanding Temporary Protected Status, a program allowing certain aliens to work legally in the United States, to broader categories of applicants.
Non-citizens who arrive in the United States have to wait 180 days after applying for the required paperwork.
The state claims a shortage of immigration judges and thousands of vacancies across municipal agencies in the city.
The New York Farm Bureau, an industry group, backed the Democrats' call for expedited work visas.
"There are good opportunities to be a part of our valuable food system, and we will continue to work with the NYS Department of Agriculture and Markets along with Cornell's Agricultural Workforce Development program to find a pathway forward," the group's president David Fisher said in a statement.
However, most state Republicans were steadfast in opposition to this move to authorize illegals to take local jobs.
"Kathy Hochul continues her policy incoherence. At the same time she calls for illegal and asylum-seeking migrants to receive work permits, she and her fellow Democrats oppose work requirements for able-bodied American adults without dependents for food stamps and other public assistance," said David Laska, a New York State GOP spokesman.
NY State Republicans
Meanwhile, NY State Senate Republicans announced a new bill requiring detailed disclosure of the $1 billion in state aid to address the crisis.
They also introduced two separate bills that would ban the housing of illegals on school grounds after Democrats attempted to place them in city school gyms and state university campuses, much to the outrage of local parents.
"It's hard for me to believe that we have come to a point in this country and this state's history … that we need a law to protect New York state students, from kindergarten all the way through college, to protect them from the governor of New York state," Sen. Andrew Lanza (R-Staten Island) told Politico.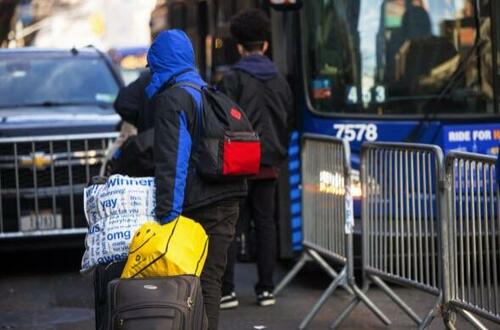 Illegal migrants carry their belongings to a bus after accepting relocation after being evicted from the Watson Hotel in New York City on Jan. 30, 2023. (Michael M. Santiago/Getty Images)
Twenty-four counties in New York have issued a state of emergency to block illegals in NYC from coming to their communities.
However, NYC buses filled with border crossers are still being dumped in the Catskills and Poughkeepsie, despite local objections.
Adams claimed that the city had notified local officials ahead of the moves and that they paid for their room and board.
Dutchess County Executive William O'Neil said that the county never received information from Adams about the 80 or so migrants who were left at a local hotel and the owners' secret deal with the city to house them.
"Despite requests to NYC for information, the county has no information about these individuals, including their identities, how long they'll be in our community, or the total number of people," said O'Neil.
O'Neil said the county will take the city to court, joining other counties in that fight.
"New York City has shown no willingness to coordinate or collaborate with Dutchess County, and New York State has been complicit in exacerbating the issue," he said.
Meanwhile, Adams has called on other towns and cities to help look after the illegal migrants.
"We have 108,000 cities, villages, towns," Adams said on CBS's "Face the Nation" adding, "if everyone takes a small portion of the [migrants] and if it's coordinated at the border to ensure those who are coming here into this country in a lawful manner, is actually moved throughout the entire country, it is not a burden on one city."
Loading...