---
New York's 'Right To Shelter' Law Now Has Mayor Adams Saying "Go Away"
Authored by Mike Shedlock via MishTalk.com,
After having rolled out the welcome mat, New York City Mayor Eric Adams now tells illegal immigrants to look elsewhere.
A Right to Shelter
The Wall Street Journal explains Why New York Is a Magnet for Migrants
More than 81,000 migrants have come to New York from the southern border since last spring. On May 13, Mayor Eric Adams deemed the Roosevelt an arrival center for migrants. Most of its occupants are families, but it functions mainly as an intake center for new arrivals. It delivers a "range of legal, medical, and reconnection services, as well as placement, if needed, in a shelter or humanitarian relief center," according to a city press release.

The city has at least 176 emergency shelters in such places as school gyms and churches, and the number keeps growing.

"Because Chicago, Philadelphia, etc. don't have a right to shelter—anything like New York's—New York has the much larger migrant crisis," says Stephen Eide, a senior fellow at the Manhattan Institute.

On May 23 Mr. Adams petitioned a state judge to modify the city's right-to-shelter obligations under the 1981 consent decree in Callahan v. Carey. He specifically asked for language that would ease the city's obligations if it "lacks the resources and capacity to establish and maintain sufficient shelter sites, staffing, and security to provide safe and appropriate shelter." Mr. Adams later said in a statement: "It is in the best interest of everyone, including those seeking to come to the United States, to be upfront that New York City cannot single-handedly provide care to everyone crossing our border."
Self-Imposed Sanctuary City Crisis
Also consider Eric Adams and the Self-Imposed Crisis of a Sanctuary City
Mayor Eric Adams last week groused that local hotels and shelters are overrun with migrants whose care will cost the city about $5 billion this fiscal year. As New York politicians do, he's begging the feds and ordinary city-dwellers to open their wallets. "This is not Mayor Adams's job. This is the job of the people of the city of New York," he said last week. "We need every New Yorker that has something to offer to play a role."

Apparently, paying the nation's highest taxes isn't enough. Mr. Adams recently floated the idea of sheltering migrants in private homes. How rich considering that city regulations set to take effect next month will effectively prohibit New Yorkers from renting out their apartments on Airbnb. The home-sharing site estimates the new "de facto ban" will eliminate 95% of its revenue in the city.

Naturally, the result will be higher demand and prices for rooms at hotels, including those where the city is paying $256 a night on average to shelter migrant families. Some hotels, like a Holiday Inn Express in Brooklyn, are making upward of $300 a night housing migrants. This doesn't include the cost of food, medical care and social services, which adds another $127 a day per migrant family.

Meantime, to prevent evictions from soaring rents, the City Council last month voted to expand housing vouchers, which will cost as much as $36 billion over five years. State Comptroller Thomas DiNapoli last week warned the city could face a $40 billion budget shortfall over the next three years—most of which doesn't stem from costs of caring for migrants.

What Mr. Adams wants is for Americans in the rest of the country to help underwrite the city's progressive folly. Sorry, not our job.
Go Elsewhere
The BBC reports Adams now is handing out flyers at the Mexican border telling illegal immigrants 'We Have No More Room'.
New York City plans to distribute fliers at the southern border warning migrants there is "no guarantee" they will receive help if they come there.

Mayor Eric Adams announced the plan on Wednesday, arguing the city could not handle any more migrants as it has taken in 90,000 since April last year.

"We have no more room," said the leader of America's biggest city.

Republican-led states have been transporting migrants to Democratic-run areas in protest at border policies.

As a part of the plan, Mr Adams, a Democrat, also announced that single adult migrants will only be able to stay in the city's shelters for 60 days and will need to reapply for a space after that.

Critics of Mr Adams' new plan argue it violates the city's right-to-shelter rules, which guarantee temporary housing for those in need. Mr Adams has attempted to weaken those rules amid the influx of migrants.
Mayor Adams' Flyer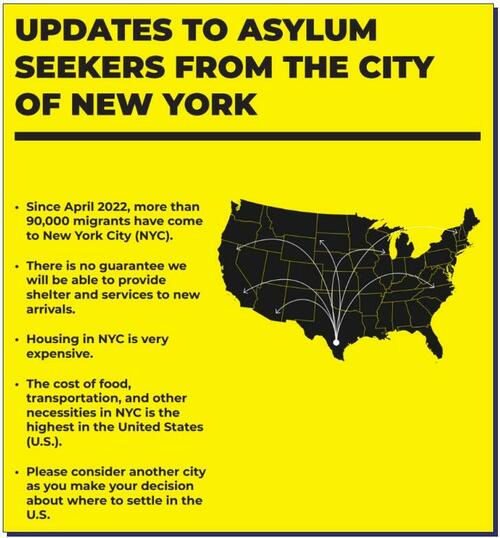 The flyer is in Spanish and English.
No Guarantees?!
"There is no guarantee we will be able to provide shelter and services to new arrivals."
Say what?
What happened to the right to shelter?
Lesson of the Day
When you give people rights that don't exist, expect problems, and lots of them.
For starters, the city faces a $40 billion budget shortfall.
Not to worry, Adams has a plan "This is not Mayor Adams's job. This is the job of the people of the city of New York," said Adams.
If you live in New York City, I advise having a plan to get the hell out as soon as you can. This applies to California and Illinois too.
Big Tech Should Pay Its "Fair Share", the Best Way is to Leave California
Regarding California, please see Big Tech Should Pay Its "Fair Share", the Best Way is to Leave California
Regarding Illinois, we escaped just over three year ago.
Escape Illinois
On July 10, 2020 I noted It Takes 3 Weeks to Escape Illinois
"Everyone is leaving. No one is coming," a U-Haul agent told us a few weeks ago.

Illinoisans Leave State in Record Numbers, and So Are We

On January 2, 2020 I announced Illinoisans Leave State in Record Numbers, and So Are We

I am pleased to report we loaded our U-Haul rental yesterday and I am on the road driving to our new home in Utah. 

Right now we are just a few hours  into the trip, but we have crossed the state line and are now in Iowa.
It took three weeks to leave Illinois because one-way out U-Hauls were booked up that much in advance.
*  *  *
Loading...