---
Newsom Calls For DOJ Probe Into Florida's Transporting Of Illegal Immigrants To California
Authored by Caden Pearsen via The Epoch Times,
California Gov. Gavin Newsom on Thursday penned a letter to U.S. Attorney General Merrick Garland calling for an investigation into the recent transport of illegal immigrants from Republican-led border states under "deceptive representations."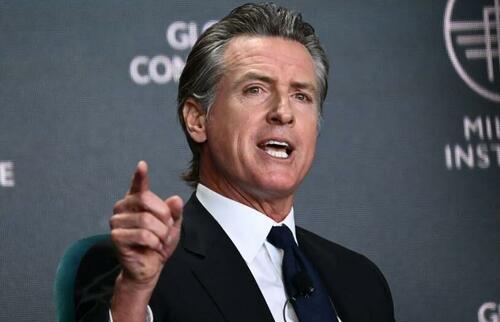 In the letter, Mr. Newsom and his co-signatories say that illegal immigrants purportedly seeking asylum in the United States have been transported from Texas to Martha's Vineyard, Massachusetts and Sacramento, California under false pretenses in a program funded by Florida.
The letter is co-signed by California Attorney General Rob Bonta and Bexar County Sheriff Javier Salazar of Texas.
They acknowledge that it's common for local jurisdictions and nongovernmental organizations "to facilitate onward travel from the border." But their letter describes the recent efforts to move illegal immigrants to California and Massachusetts as a "scheme" in which, "according to news reports, recruiters deceived migrants into taking flights to these particular locations based on promises of jobs and shelter."
The letter cites "recent reporting by the Los Angeles Times and other outlets" purporting that some of the illegal immigrants who arrived in Sacramento on June 2 and 5 "may have been similarly induced by deceptive representations about access to jobs, housing, or other services."
A number of Democrat-led cities declared themselves sanctuary cities for illegal immigrants in response to former President Donald Trump's immigration policies.
Mr. Newsom's letter emphasizes that while ongoing investigations into potential violations of state laws are still underway, the Department of Justice possesses the "unique capability" to conduct investigations in cases like the one they allege, which spans "no fewer than five states."
Last month, Mr. Bonta characterized the transport of illegal immigrants from Texas to California as "state-sanctioned kidnapping" and suggested the possibility of criminal charges against Florida.
'Unconscionable'
Last September, Florida Gov. Ron DeSantis, a Republican who is currently running for president in 2024, transported around 49 illegal immigrants from San Antonio, Texas to Martha's Vineyard. In June, Florida admitted to sending two flights carrying illegal immigrants to Sacramento.
This action, taken as a form of protest against what Republican lawmakers describe as President Joe Biden's lax immigration policies, saw several GOP governors bus or fly thousands of illegal immigrants to so-called sanctuary cities led by Democratic officials.
"It is unconscionable to use people as political props by persuading them to travel to another state based on false or deceptive representations. We urge USDOJ to investigate potential violations of federal law by those involved in this scheme," the letter reads (pdf).
The letter asks the DOJ to open criminal and civil investigations into the matter.
The Bexar County sheriff's office recently revealed that it had submitted a criminal case to the district attorney concerning the flights to Martha's Vineyard, claiming that the illegal immigrants were deceived and persuaded to accept the free travel based on false promises, according to the letter.
California's attorney general, Mr. Bonta, has pledged to investigate any potential misconduct by Florida officials in connection with the flights that arrived in Sacramento. DeSantis defended these flights, arguing that sanctuary jurisdictions like California share the blame for the illegal immigration crisis.
The letter did not mention or discuss the actions of Texas Gov. Greg Abbott, who has also transported numerous illegal immigrants by bus to cities such as Chicago, Washington, D.C., and New York City.
Mr. DeSantis has criticized the lack of federal action in safeguarding U.S. sovereignty and territorial integrity. In June, he specifically targeted sanctuary jurisdictions, suggesting that they should bear the consequences of the ongoing illegal immigration crisis.
"These sanctuary jurisdictions are part of the reason we have this problem because they have endorsed and agitated for these types of open border policies. They have bragged that they are sanctuary jurisdictions," Mr. DeSantis said.
Since Biden took office, there has been a significant increase in illegal immigration at the U.S.–Mexico border. Additionally, Florida has experienced arrivals by boat at its maritime border, with individuals coming from countries like Haiti.
Nevertheless, certain sanctuary cities, such as New York and Chicago, have faced challenges in handling the influx of illegal immigrants who are being sent to them by border states.
Loading...