---
Newsom Fills Feinstein's Empty Senate Seat With Wealthy Black Lesbian From Maryland
In 2021, California Governor Gavin Newsom (D) vowed to replace any Senate vacancies with a black woman.
On Sunday, he did just that following the death of Sen. Dianne Feinstein (D), appointing the first black lesbian to ever openly serve in Congress.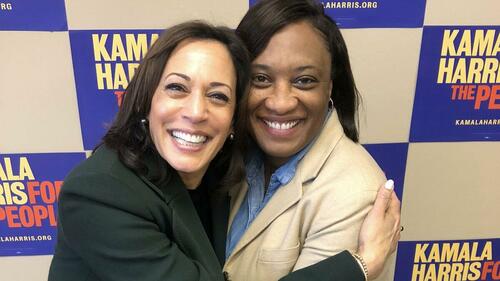 Laphonza Butler, president of of pro-abortion organization EMILY's List who served as a senior adviser to Kamala Harris' very failed 2020 presidential campaign, and currently a resident of Maryland, was announced as Feinstein's replacement in a Sunday night announcement by Newsom.
Butler will finish Feinstein's term, which runs until 2024, after which she may face off with Rep. Adam Schiff (D-CA), who had been hoping Feinstein would live till the election so he could slide into the Senate.
"As we mourn the enormous loss of Senator Feinstein, the very freedoms she fought for — reproductive freedom, equal protection, and safety from gun violence — have never been under greater assault," said Newsom, adding "Laphonza will carry the baton left by Senator Feinstein, continue to break glass ceilings, and fight for all Californians in Washington D.C."
I'm proud to announce California's new United States Senator -- Laphonza Butler.

As we mourn the enormous loss of Sen. Feinstein, the very freedoms she fought for -- reproductive freedom, equal protection, and safety from gun violence -- have never been under greater assault.… pic.twitter.com/SOnbfVPmXj

— Gavin Newsom (@GavinNewsom) October 2, 2023
Butler was born in Magnolia, Mississippi, where she began her career as a union organizer. In 2009, she moved to California, where she served as president of SEIU United Long Term Care Workers, where she was instrumental in raising minimum wage, and hiking taxes on wealthy Californians. She also served as a University of California regent for three years, until she moved to Maryland in 2001.
After advising Kamala Harris on her 2020 campaign, Butler left SCRB strategies to become Airbnb's director of public policy and campaigns in North America. Wile working for Harris, she was hired by Uber during an organized labor dispute - when Harris's brother-in-law, Tony West, was Uber's chief legal officer.
Laphonza Butler tried to undercut Uber drivers' organizing efforts in order to engineer a backroom sweetheart deal for SEIU to represent them. She's a standard issue soulless party operative, and thus an appropriate choice for Newsom. https://t.co/QAv0ZyodWO

— Leighton 明 Woodhouse (@lwoodhouse) October 2, 2023
Many have made light of the fact that Butler doesn't actually live in California.
FPPC and FEC filings indicate that soon-to-be California Senator Laphonza Butler hasn't been a resident of the state for over two years. pic.twitter.com/IejF3ndnPO

— Rob Pyers (@rpyers) October 2, 2023
Are Californians so awful that you couldn't even find one of them to Rep their own state? Had to outsource to the president of a PAC 3000 miles away? Something tells me the people of CA will not be her priority, just like Dianne Feinstein. pic.twitter.com/RUwJatDlhM

— The Redheaded libertarian (@TRHLofficial) October 2, 2023
Congrats to the state of Maryland on finally obtaining three Senators.https://t.co/FuEm8IWa8u

— Ben Shapiro (@benshapiro) October 2, 2023
Newsom's pick of Laphonza Butler will be celebrated around identity (as a Black LGBT woman) but she also worked as a lobbyist for many corporate consultants. PG&E paid her firm to help fight regulation and Uber when it waged war on workers attempting to organize for better pay.

— Lee Fang (@lhfang) October 2, 2023
Loading...