---
'Never-Trump' Debate Moderator Has History Of Blaming 'Hackers' For Offensive Tweets
Update (1500ET): It seems this is not the first time Mr. Scully's Twitter account has been "hacked"...
Tweets from 2012 and 2013 pic.twitter.com/jdeKqq7UEW

— Yashar Ali 🐘 (@yashar) October 9, 2020
Perhaps the C-SPAN employee should be more careful going forward... fool me once...
*  *  *
Update (1255ET): It truly seems like the so-called establishment believes we are all f**king clueless idiots.
As Paul Joseph Watson notes, after numerous prominent figures accused Scully of exposing his anti-Trump bias, the C-SPAN host deleted the tweet before Frank Fahrenkopf, the co-chairman for the Commission on Presidential Debates, told the Brian Kilmeade Show that Scully had been hacked.
"I don't know about this question of whether or not he tweeted something out," said Fahrenkopf. "I do know, and you probably pick up on it in a minute, that he was hacked. There was apparently something now that being was on television and the radio saying that he talked to [Anthony] Scaramucci … and that he's been talking to Scaramucci, he was hacked. It didn't happen."
CSPAN Comment https://t.co/5gP8l6fAfX

— Pat Ward (@WardDPatrick) October 9, 2020
This farcical excuse - instead of just accepting responsibility for your clear anti-Trump bias (see previous "No, Not Trump, Not Ever" tweet) - is truly supposed to placate ''half' of America? It is easy to check...
"If he was really hacked has he called his sources to let them know what the alleged hacker may have seen?" asked Arthur Schwartz.

"Has he called the FBI? Local law enforcement? He just opened a huge can of worms because he didn't want to admit a mistake."
Paging Jack Dorsey?
As Trump 2020's Campaign Comms Director Tim Murtaugh notes:
"It would be a very serious offense indeed if someone hacked the account of a moderator of a presidential debate in an effort to influence the election. We trust Twitter will have a statement on the status of their 'investigation' shortly."
* * *
Update (1135ET): President Trump has jumped into the discussion, and rightly so, blasting Scully as a "Never-Trumper" and calling the debates a "fix"...
Steve Scully, the second Debate Moderator, is a Never Trumper, just like the son of the great Mike Wallace. Fix!!!

— Donald J. Trump (@realDonaldTrump) October 9, 2020
This follows Scully's deletion of his clearly unintended public tweet (which some Democratic operatives have attempted to claim was a 'hack').
*  *  *
As Summit News' Steve Watson noted earlier, Steve Scully, the C-SPAN employee chosen by the Commission on Presidential Debates to moderate the second presidential debate (now in jeopardy), has a long history of anti-Trump tweets and comments. During his college days, he even interned in the Senate office of Sen. Joe Biden.
But in a strange tweet that may have been intended as a direct message, the next presidential debate moderator asked former White House Communications Director Anthony Scaramucci for advice about whether to "respond to Trump."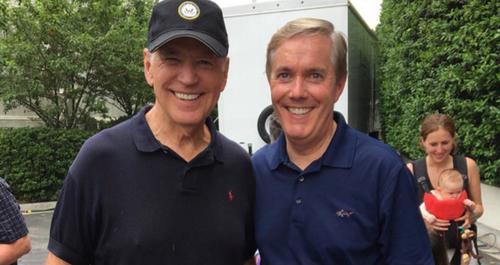 CSPAN's Steve Scully was recently chosen to host the debate, which now won't be happening as scheduled, prompting Trump supporters to monitor his activity more closely.
On Thursday night, Scully tweeted out the weird question directed at Scaramucci, to which the former comms director responded "Ignore. He is having a hard enough time. Some more bad stuff about to go down."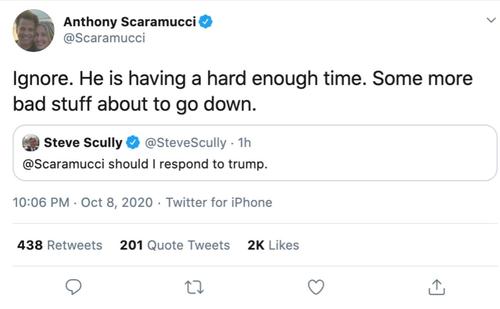 Neither Scaramucci nor Scully have further commented on the tweet at time of writing.
Other Twitter users wondered what the hell this was all about:
Nothing to see here. Just the next debate moderator accidentally tweeting when he meant to send a DM, conspiring against Trump with turncoat Mooch. https://t.co/Dqln0DQir6

— Mark Dice (@MarkDice) October 9, 2020
Susan Page, the moderator of the VP debate, hosted an off record party for Seema Verma

Steve Scully, the moderator of the next debate, is gossiping with Scaramucci on Twitter about Trump.

It's time for a shakeup in debate commission leadershiphttps://t.co/HblUdKOi1q

— Yashar Ali 🐘 (@yashar) October 9, 2020
Interesting tweet from debate moderator Steve Scully to Anthony Scaramucci. https://t.co/3iRN9lidR6 pic.twitter.com/gImyfTCz9C

— Mollie (@MZHemingway) October 9, 2020
The choice of Scully to host the debate has raised some eyebrows, given that he previously served as a Biden intern, and has reportedly criticized Trump on social media.
Gotta love the @VP at the Biden Beach Bash '16 pic.twitter.com/Z9gdC6Cmi1

— Steve Scully (@SteveScully) June 4, 2016
What exactly does the 2nd Debate Monitor Steve Scully mean when he tweeted:

"No, Not Trump, Not Ever" pic.twitter.com/c7BUo3nJsn

— Christi Chat (@ChatChristi) October 1, 2020