---
Nick Sandmann Defamation Lawsuits Against Media Dismissed By Federal Judge
Authored by Katabella Roberts via The Epoch Times,
Libel lawsuits brought by Nick Sandmann against a string of media outlets were dismissed by a U.S. District Court in Eastern Kentucky this week, which ruled that statements that he "blocked" a Native American man were "protected opinions."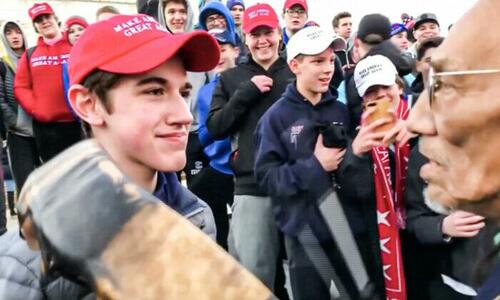 Sandmann filed lawsuits against ABC, CBS, CNN, Gannett, NBC, The New York Times, Rolling Stone, and The Washington Post in 2019 after an incident at a March for Life protest at the Lincoln Memorial in Washington, D.C.
The then-16-year-old Covington Catholic student was seen on camera wearing a MAGA (Make America Great Again) hat and standing opposite Nathan Phillips, a Native American, who was banging a drum while participating in an Indigenous Peoples March.
Sandmann was seen smiling at Phillips and it was alleged at the time that the teenager had harassed 64-year-old Philips.
Lawyers for the then-teenager argued that the news outlets' publications of statements from Phillips claiming that the teen had "stood in his way and blocked" him were false and amounted to defamation.
The lawsuits that were dismissed by federal judge William Bertelsman on Wednesday pertaining to The New York Times, CBS, ABC, Gannett, and Rolling Stone.
"The media defendants were covering a matter of great public interest, and they reported Phillips's first-person view of what he experienced. This would put the reader on notice that Phillips was simply giving his perspective on the incident. Therefore, in the factual context of this case, Phillips's 'blocking' statements are protected opinions. This holding moots all other motions before the Court," Bertelsman wrote in his opinion on Wednesday.
Bertelsman also noted that Phillips's assertions that Sandmann "blocked" him and "wouldn't allow [him] to retreat" are "objectively unverifiable and thus unactionable opinions."
"Instead, a reasonable reader would understand that Phillips was simply conveying his view of the situation," Bertelsman wrote.

"And because the reader knew from the articles that this encounter occurred at the foot of the Lincoln Memorial, he or she would know that the confrontation occurred in the expansive area such that it would be difficult to know what might constitute 'blocking' another person in that setting."
The judge also added that Phillip's statements, which were published in the articles, relied on assumptions concerning both Phillips's and Sandmann's state of mind and that Phillips "had no way of knowing what Sandmann was thinking or intended when he made the challenged statements."
"It has long been established that someone's state of mind is not capable of being proven true or false," the judge wrote.
Sandmann had already reached settlements with NBC, CNN, and The Washington Post for undisclosed amounts.
...