---
Non-Binary Character In New Transformer Cartoon Goes Viral As People Call For "Another Brand Boycott"
Out of the 'woke' indoctrination ovens from studios in Hollywood is a children's computer-animated television show called "Transformers: EarthSpark" that first aired on Paramount+ in November 2022 and has embraced the woke movement. 
Paramount+ might be digging its grave after the show for young kids appears to have recently promoted gender ideology. 
"I know I'm safe when I'm with my friends or other non-binary people," a character named Sam said to Transformer Nightshade. Sam also said her pronouns are "she/they."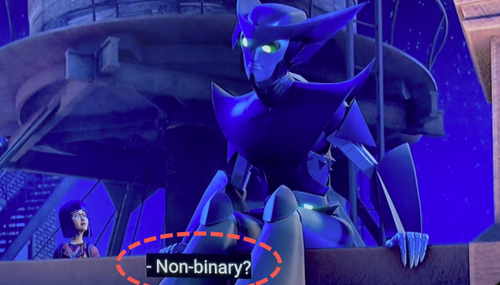 The 1-minute clip tweeted by Libs of TikTok has been viewed 8 million times within 24 hours. Commenting on the clip is Mostly Peaceful Memes, who said, "Really putting the trans in transformers ammiright?"
Recent episode from the kid's show Transformers: EarthSpark. They're after your kids. pic.twitter.com/D7TYsP9Sb0

— Libs of TikTok (@libsoftiktok) May 11, 2023
The cringe-woke cartoon isn't the first. Disney has been pumping woke cartoons for a while, enraging parents. The proliferation of woke cartoons should be a wake-up call for parents and the need to vet kids shows as Hollywood and the left wages a culture war on the youngest generation. Twitter users were appalled by the woke cartoon. 
Woke ruins everything.

— Coco 🇺🇸 (@CoClarified) May 12, 2023
Definition of grooming

— Joel Loua (@joelloua) May 12, 2023
We really went from Transformers: The Movie, where Megatron murdered Ironhide by shooting him in the face with his arm cannon, to Transformers with pronouns.

Woke culture ruins everything.

— Zeek Arkham 🇺🇸 (@ZeekArkham) May 12, 2023
Every absurdity has a champion to defend it.
- Oliver Goldsmith

The left have truly become champions of the absurd. Trying to normalize the absurdity has caused very real harm to out children. This needs to be stopped.

— Belinda (@Cobeekat) May 11, 2023
May 11, 2023
Paramount+ might be walking a fine line as some Americans have been on a roll, boycotting products from corporate America, such as woke Bud Light. 
Good grief, another brand to boycott.

— Raymond P Mucha (@rpmucha23) May 12, 2023
My family will not be watching this series.

— Josh's News, Memes, Photography, & Stuff (@joshbottweet) May 12, 2023
I'm going to throw the whole TV away.

— Emily Rarick (@_emilyrarick) May 11, 2023
Welp. Blocking that one. This is aimed at 5 year old kids.

— JayViper (@JayViperTV) May 11, 2023
Loading...