---
Northern US Border Encounters With Illegals More Than Double In 7 Months
Authored by Steve Watson via Summit News,
Encounters with undocumented illegal migrants have more than doubled in the past seven months on the NORTHERN U.S. border, according to Customs and Border Protection (CBP) data.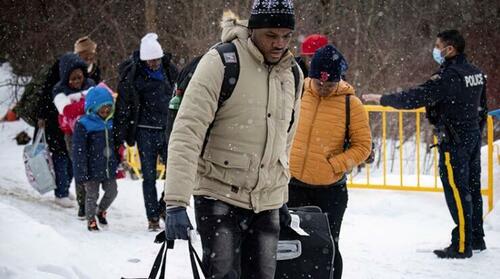 The figures show that Border Patrol agents recorded 4,827 migrant encounters between October 2022 and April along the U.S.-Canadian border.
Through the entire fiscal year 2022, Border Patrol along the northern border encountered 2,238 illegals.
NEW from me: Encounters of illegal migrants crossing the northern border more than doubled in the first 7 months of fiscal year 2023 compared to all of fiscal year 2022https://t.co/l6fDnb75PV @dailycaller

— Jennie Taer (@JennieSTaer) May 18, 2023
The data also shows that of the close to 5000 who have crossed around half were from Mexico. They flew to Canada (no visa required) and then walked across the border there.
Sean Walsh, National Border Patrol Council President for the Swanton sector in Vermont, New York and New Hampshire has noted "The northern border is less secure than it ever has been and the security speaks for itself."
"If we're losing twelve times the amount of people just in this fiscal year alone than in the whole last year, the cartels and criminal organizations have taken advantage and exploited the border and this administration's policies or lack of policies to address security," Walsh added.
In March, CBP transferred agents from the southern border to the Swanton section of the northern border in an attempt to deal with the increased numbers.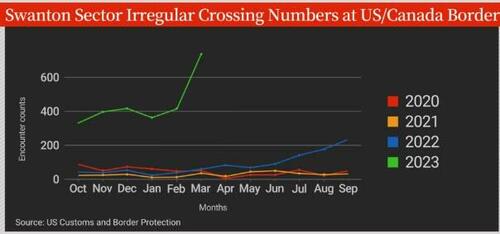 There's a new border crisis off the radar of mainstream news outlets: Illegal crossings surging on the northern border, driven in large part by Mexican nationals flying to Canada and crossing into the U.S. Former Border Patrol Chief Ron Vitiello joins @danabrams.#DanAbramsLive pic.twitter.com/It56cv4a5C

— NewsNation (@NewsNation) February 15, 2023
Meanwhile, on the Southern border…
NEW: CBP reports 16 people on the FBI's terror watchlist were arrested by Border Patrol at the Southern border in April alone.
That single month is more than all four years of FY17, FY18, FY19, and FY20 - combined (11).

— Bill Melugin (@BillFOXLA) May 17, 2023
EXCLUSIVE: We have confirmed a man from Colombia, who is on the FBI's Terror Screening Dataset entered into Yuma, Arizona illegally and was apprehended May 1st.

He is one of at least 105 apprehended (between ports of entry) and on that list since this fiscal year began October… pic.twitter.com/1o8Dl12nZ3

— Ali Bradley (@AliBradleyTV) May 17, 2023
🧵EXCLUSIVE: We obtained the checklist Border Patrol is instructed to use to release migrants onto American streets

Our report comes just a few days after the WH Press Secretary falsely asserted that CBP is NOT allowing mass releases..https://t.co/64uG1UusQB pic.twitter.com/rsdGKbvVfH

— Jennie Taer (@JennieSTaer) May 17, 2023
*  * *
Brand new merch now available! Get it at https://www.pjwshop.com/
In the age of mass Silicon Valley censorship It is crucial that we stay in touch. We need you to sign up for our free newsletter here. Support our sponsor – Turbo Force – a supercharged boost of clean energy without the comedown.
Also, we urgently need your financial support here.
Loading...