---
Not Just Newsom: San Francisco, San Jose Mayors Busted Violating Own COVID Guidelines
The mayors of San Francisco and San Jose both attended gatherings in violation of their own COVID-19 health protocols - and San Jose's Sam Liccardo initially lied about it.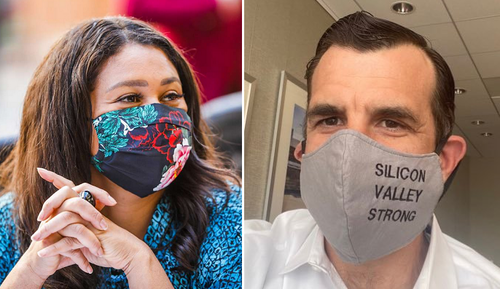 On Nov. 7, the day after California Governor Gavin Newsom (D) was busted dining at the French Laundry, a three-star Michelin restaurant in Yountville, San Francisco Mayor London Breed dined there the very next night with seven other people to celebrate socialite Gorretti Lo Lui's 60th birthday.
It's unclear how many households attended, but state guidelines at the time "strongly discouraged" social gatherings and capped them at three housholds.
"I cannot emphasize enough how important it is that everyone act responsibly to reduce the spread of the virus," Breed said three days later, adding "Every San Franciscan needs to do their part so that we can start moving in the right direction again."
Meanwhile, San Jose Mayor Sam Liccardo apologized on Tuesday for attending a thanksgiving dinner in violation of California health protocols.
"Eight of us representing five households sat around three distanced tables in our own family groups on the back patio," Liccardo said in a statement, adding "We wore masks when not eating."
Just one day prior to attending his family Thanksgiving celebration, Liccardo urged his more than 33,000 Twitter followers to cancel "big gatherings this year" and noted the importance of following safety protocols, even with friends and family.

"Cases are spiking," he wrote. "We're letting our guard (and masks) down with family and friends." -NBC Bay Area
Cases are spiking, in part because we're letting our guard (and masks) down with family & friends. Let's cancel the big gatherings this year and focus on keeping each other safe https://t.co/oHFXb6DZ82

— Sam Liccardo (@sliccardo) November 25, 2020
When a journalist from NBC Bay Area first asked Liccardo about his plans, a spokesperson for the mayor said on Thanksgiving that he was spending the holiday at home. The next day, the Mayor's office reached out to correct the information.
"I understand my obligation as a public official to provide exemplary compliance with the public health orders, and certainly not to ignore them," wrote Liccardo, adding "I commit to do better."
Leading by example apparently isn't in California Democrats' wheelhouse.