---
Nursing Homes Account For 11% Of COVID-19 Cases, 43% Of Deaths In US
43% of all COVID-19 deaths in the United States are residents or employees of nursing homes or other long-term care (LTC) facilities, according to the New York Times (which fails to mention that New York Governor Andrew Cuomo ordered NY nursing homes to accept coronavirus patients from hospitals). Nursing homes, meanwhile, account for just 11% of all COVID-19 cases in the United States.
To date, just over 125,000 people in the US have died of COVID-19, 54,000 of which were linked to LTC facilities.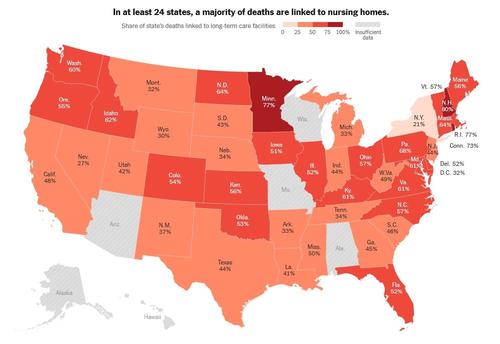 By state, New Hampshire LTC facilities are at the top of the list - accounting 80% of COVID-19 deaths in the state. Rhode Island and Minnesota are tied at 77%, while Connecticut comes in at 73% of deaths linked to nursing homes.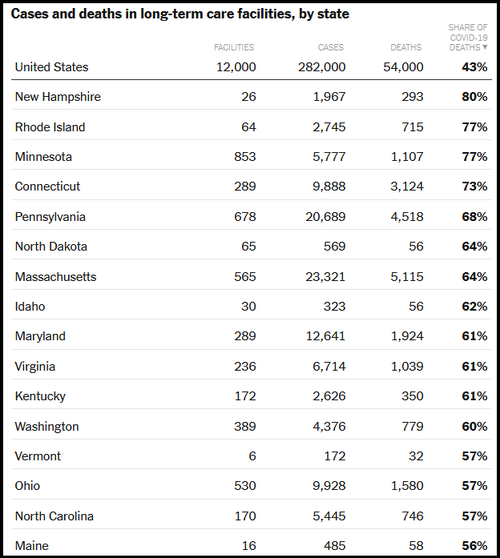 The share of deaths linked to long-term care facilities for older adults is even starker at the state level. In 24 states, the number of residents and workers who have died accounts for either half or more than half of all deaths from the virus.

Infected people linked to nursing homes also die at a higher rate than the general population. The median case fatality rate — the number of deaths divided by the number of cases — at facilities with reliable data is 17 percent, significantly higher than the 5 percent case fatality rate nationwide. -New York Times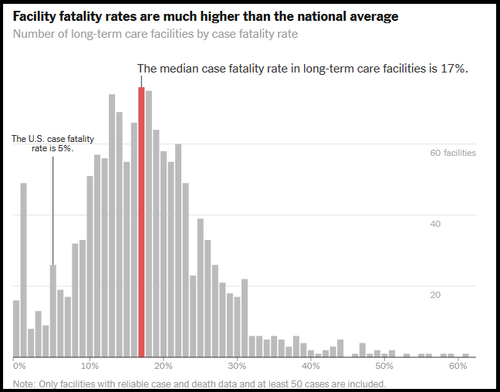 And while New York ranks at the bottom of the pack when it comes to LTC facility deaths as a percentage of overall deaths in the state, New York nursing homes come in 2nd on the list after New Jersey in terms of overall deaths in LTC facilities, at 6,432.
this is horrifying to look at

NYC saw a spike in nursing home deaths to 35X prev year baseline

that's 3X as much as detroit and cleveland barely budged

i'll wager florida looks like cleveland

this really drives home the carnage cuomo's policy of focing NH to take cov+ set off pic.twitter.com/Sz84fJwHoV

— el gato malo (@boriquagato) June 28, 2020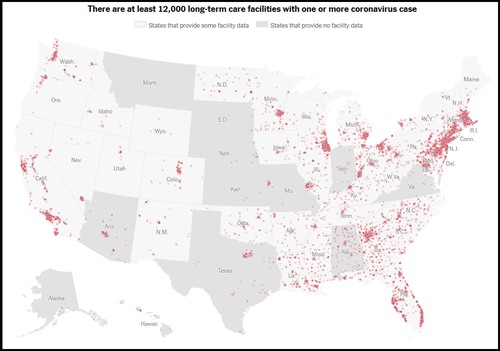 Perhaps protecting the elderly and those with comorbidities would have been preferable to tanking the economy with months-long lockdowns.