---
NYC Firms Hire Off-Duty Police Amid Soaring Violent Crime
Rather than making the borough safer, the newly-elected Democratic Manhattan District Attorney Alvin Bragg (funded by George Soros) has implemented new procedures to keep criminals out of jail and on the streets by downgrading burglary, armed robbery, and drug dealing from felonies to just misdemeanors. New progressive policing has sparked a wave of violent crime this year, forcing businesses to hire more off-duty police officers. 
Bloomberg reports the number of hours off-duty officers standing watch in front of Manhattan office buildings, retail shops, and other buildings has recently soared as crime worsens. 
New York City has long administered its own program for off-duty officers to stand guard outside private businesses — badge, gun and all — and taken a 10% cut of the fees. But after the pandemic hit, spending for the paid detail program shot up to its highest amount in more than a decade. The money New York derives from the program jumped by nearly 70% to $3.2 million in fiscal year 2021 from four years before, according to data from the city's Independent Budget Office. The additional hours standing watch in front of Manhattan office towers like the General Motors building, Duane Reade pharmacies, or Whole Foods supermarkets translated to roughly $32 million in officers' pockets in 2021, given the structure of the fees. -BBG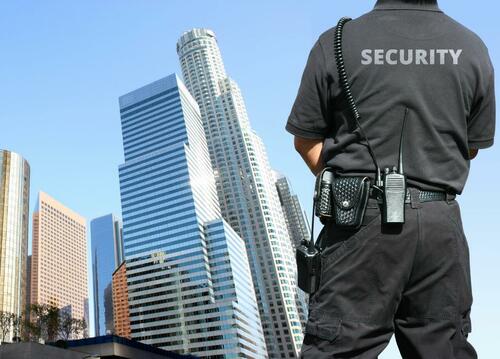 The expanded use of off-duty officers by businesses began after the virus pandemic, then George Floyd protests, and now a progressive DA whose new policing sent robberies and assaults up 42% and 20%, respectively, so far this year. 
Wylde, president of the Partnership for New York City, a business group composed of the city's largest companies, said the wave of retail thefts has led to an exodus of employees. 
"They've got people quitting over this, so they're really concerned with the uptick," Wylde said. "Luxury retailers say 'our products are insured but our people are what we're worried about.'"
There's also been a flurry of violent attacks on Gotham's public transportation network, the largest in the country. In January alone, 57 robberies were reported, more than double the 24 incidents in the same month last year. Total major felonies are also up, to 198 from 114 a year prior. In response, Wall Street firms have paid for car service or shuttles to ferry employees to and from offices. Some firms have told their employees to "dress down" to avoid being targets.  
Meanwhile, the head of the NYPD's largest union expressed serious concerns about the message progressive policing sends to both police officers and criminals.
"Police officers don't want to be sent out to enforce laws that the district attorneys won't prosecute," said Police Benevolent Association president Patrick Lynch. "And there are already too many people who believe that they can commit crimes, resist arrest, interfere with police officers and face zero consequences."
The reality is that Bragg's progressive policing could spark even more violent crime that would force companies to employ more off-duty cops. 
So how many Wall Street firms will leave before law and order is restored in Manhattan?