---
NYC Mayor Slams Cuomo Over Threats To Fine Hospitals During COVID Vaccine Rollout
Even NYC Mayor Bill de Blasio is criticizing Gov. Andrew Cuomo over the latter's plan to fine hospitals that take longer than a week to clear their COVID vaccine inventory - part of an ambitious push to vaccinate all of the state's nursing home residents as quickly as possible (a repeat of the springtime's "grandma killer" episode is the last thing the governor needs right now).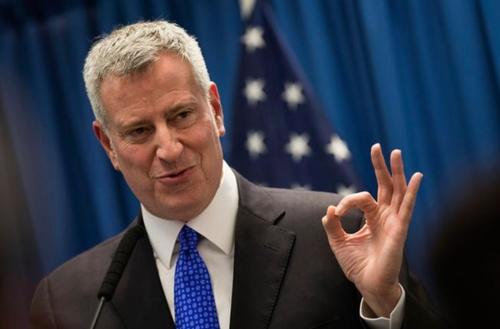 During a press briefing on Tuesday, de Blasio slammed Cuomo for threatening to fine hospitals for moving too slowly one day after the governor announced new restrictions that could leave hospitals open to fines if they move too quickly.
"Why don't we stop talking about fines and start talking about the freedom to vaccinate?" de Blasio said during a Tuesday briefing, sound like he was on the verge of a major mental breakthrough.
According to the latest CDC data, NYC has administered roughly 119K doses out of the 480.55K vaccines delivered. The city began inoculations in mid-December by inoculating some of the first emergency medicine nurses in the country.
While de Blasio says he "takes full responsibility" for failing to accelerate the process of vaccinations, he also pointed out that part of the delay is related to people or patients refusing to take it. Roughly 30% of those who have been offered the shot have refused, de Blasio said.
Meanwhile, Mitchell Katz, president of the city Health & Hospitals system, says everyone in all 11 public hospitals involved in direct patient care has been vaccinated in the past three weeks.
The next goal is to vaccinate all staff, while Cuomo broadens the eligibility criteria to include pretty much all health-care workers (doctors, nurses and others) who deal directly with the public.
In an encouraging sign, data trended lower last weekend, in the city, with the 7-day average of new cases dropping to 4.06K as of Sunday, from 4.4K during the day prior.
Total hospitalized on Sunday was at 210, just 10 above the public health safety threshold, after hitting a two-week high of 243 on Dec. 28. Citywide, the 14-day average positivity rate was 9.03% as of Sunday, down from 9.22%. The rate of hospitalization in the population stood at 4.07 per 100K for the second consecutive day.