---
NYC Principals' Unions Issue Vote Of No Confidence In Mayor De Blasio, Urge State To Take Over Schools
Days after New York City Mayor Bill de Blasio warned about emerging outbreaks in Queens and Brooklyn, advising the city that they demanded "urgent attention", the city's principal's unions have joined together in calling for a vote of no confidence in the bumbling mayor, and for Hizzoner to cede control of the city's schools to the state (aka, to de Blasio's archrival, Gov. Cuomo).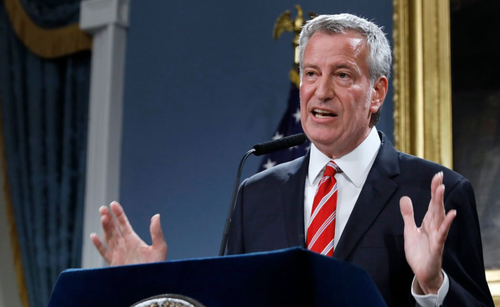 Leaders of the city's principals unions unanimously passed the vote of no confidence in the mayor. School administrators are calling for the mayor to give up control until the pandemic has been brought to heel via a vaccine, something that's not expected until next year.
The votes comes just days before NYC schools are set to return to classrooms on a part-time basis.
Groups of restaurant owners are suing the city for threatening their livelihoods with its enduring ban on indoor dining, which is expected to continue possibly through the winter. It's been reported that 90% of NYC restaurants didn't pay rent last month.
Anger against de Blasio has been mounting since the mayor allegedly ignored the advice of a group of teachers and administrators who issued recommendations to city hall about how the crisis should be handled.
Among the major issues: the need to hire more teachers to compensate for a shortage for the upcoming school year. When Mayor de Blasio claimed during a press briefing earlier this month that the staffing shortage had only just become clear, many union leaders took it as a slap in the face.
A rebellion against the mayor's office is also motivated in part by the fact that the administrator's have political leverage in Albany. After all, the city's schools have operated under what is called "mayoral control" since 2002, when Mayor Bloomberg convinced state lawmakers to abolish the 32 elected community boards that ran the city's schools, resulting in a series of patronage-mill fiefdoms. There was also a central Board of Education with two members who were picked by the mayor and five by borough presidents. Unions, or at least their leaders, have some incentive for trying to revert back to the old system, under which they had more power since the mayor didn't have as much leverage. Most other cities have school boards that control decisions made by the chancellor. NYC doesn't.
"There are no easy answers…but the failure here has been a failure to anticipate the obvious," one former NYC principal told WSJ.