---
NYC Is So Bad That Migrants Are Fleeing To Canada
Migrants living illegally in New York City are so fed up with the Big Apple's crime and filth that they're taking officials up on offers to bus them to Canada on the taxpayer's dime... In the middle of winter.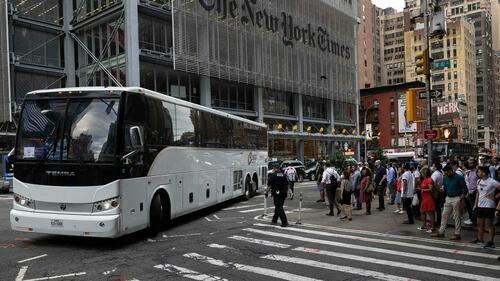 According to the NY Post, the National Guard has been helping distribute tickets at the Port Authority Bus Terminal in Manhattan for migrants who want to travel upstate before crossing into Canada, migrants told the outlet.
"The military gave me and my family free bus tickets," said Venezuelan national Raymond Peña, who arrived at a gas station bus stop in Plattsburgh, NY - just 20 miles south of the Canadian border - at 4 a.m. Sunday. "I am going to Canada for a better quality of life for my family."
A National Guard source confirmed that soldiers at the bus terminal were directing migrants to workers who hand out the free tickets.

Mayor Eric Adams' administration pays various companies that run programs for migrants that include "re-ticketing" so they can travel to other cities, a City Hall source said.

Various nonprofits, including Catholic Charities, also help migrants who want to flee Gotham, the source said. -NY Post
According to Catholic Charities, "thousands of new migrants" have been helped, including some who "reported their desire to relocate to other cities, and Catholic Charities provided some assistance for their travel expenses."
The Post also reports that migrants are tearing up their American immigration documents between Plattsburgh and the Canadian border - leaving scraps of paper from the Department of Homeland Security and Immigration and Customs Enforcement on the floor of a shuttle van which has the word "Frontera" (border) on the side.
Driver Tyler Tambini, whose girlfriend's brother owns "Chad's Shuttle Services," said passengers are arriving 'like clockwork' on five daily buses from New York City to Plattsburgh.
"There's gotta be 100 people a day," said the 23-year-old. ""I do this all day. They get dropped off and I take them the rest of the way."
According to Tambini, the migrants are charged $40 to $50 each, while families are charged $90 for border runs. Taxis, meanwhile, are charging $70 each.
The Post accompanied several groups of migrants who rode Tambini's van from the Mountain Mart gas station to a cul-de-sac at the end of rural Roxham Road, just steps from the Canadian border.

After trudging north along a snow-covered path and through a break in a concrete barrier, the migrants were stopped by Mounties stationed in an elaborate complex of metal sheds. -NY Post
And then they were arrested...
"You have entered into Canada. You are under arrest," said a Canadian Mountie. "Take everything from your pockets and put it in your bags — only 'dinero' [Spanish for 'money'] in your pockets."
The migrants were then escorted up a ramp and into a shed for processing.
When asked for comment on the free tickets, NYC Mayor Adams' press secretary, Fabien Levy, said: "As we have said since the beginning of this crisis, our goal is help connect asylum seekers who want to move to a different location with friends, family, and/or community and, if needed, re-ticket to help get people to their final destination, if not New York City."
Loading...