---
NYPD Puts Down Robot Dog After Backlash 
The New York Police Department (NYPD) will part ways with its controversial robotic dog after mounting uproar from the public and lawmakers. 
John Miller, the NYPD deputy commissioner for intelligence and counterterrorism, told NYTimes that it ended a leasing contract with Boston Dynamics early for the four-legged robotic dog called "Digidog." 
A subpoena from City Councilman Ben Kallos and Council Speaker Corey Johnson revealed the NYPD's leasing contract with Boston Dynamics, amounted to $94,000. The leasing agreement was terminated on April 22. The original lease agreement was through August.
The termination of the lease was due to a series of incidents where the four-legged robot was deployed to a house invasion in the Bronx in February and a low-income housing project in Manhattan for patrol. Critics likened it to a surveillance robo-dog out of the dystopic TV series "Black Mirror."
Miller said the contract was terminated because the police force was improperly using the device to fuel heated discussions about race and surveillance. 
"People had figured out the catchphrases and the language to make this evil somehow," Miller said.
He did not rule out the possibility of Digidog returning to the police force at some future date. 
"But for now, this is a casualty of politics, bad information and cheap sound bytes," he said. "We should have named it 'Lassie.'"
In February, New York Rep. Alexandria Ocasio-Cortez denounced the robot, saying police officers were targeting low-income communities. She also had an issue with the funds spent to lease the device.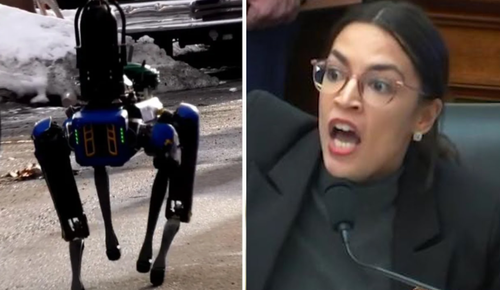 "Please ask yourself: when was the last time you saw next-generation, world-class technology for education, healthcare, housing, etc consistently prioritized for underserved communities like this?" Ocasio-Cortez tweeted at the time.
Bill Neidhardt, a spokesman for New York City Mayor Bill de Blasio, said he was "glad the Digidog was put down."
A spokesperson for Boston Dynamics said Wednesday its robots are not designed to be used as weapons nor used to intimidate people.