---
Obama Turns John Lewis Funeral Into Political Rally
Former President Barack Obama turned a eulogy for the late Rep. John Lewis (D-GA) into a Democratic political rally - urging Congress to pass a series of measures he said would 'continue Lewis' life's work.'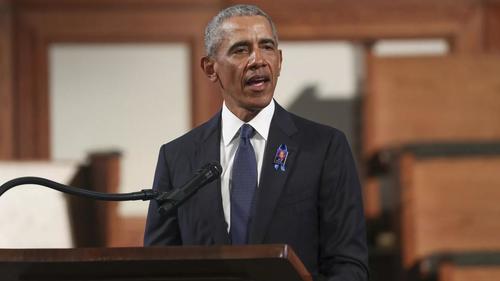 Of all the speakers at the memorial, the former President was the only one to leverage Lewis' death for political purposes.
Obama's proposals included:
- Automatic voter registration.
- Congressional representation for Washington D.C. and Puerto Rico.
- Making election day a federal holiday.
- Ending gerrymandering.
- Replacing the 1965 Voting Rights Act which would restore federal supervision over state efforts to pass election reforms.
- Ending the Senate's filibuster rule (famously used by Hillary Clinton's mentor, Sen. Robert Byrd (VA), against the GOP's 1964 Civil Rights Act).
"You want to honor John? Let's honor him by revitalizing the law that he was willing to die for," Obama said, while later likening President Trump to segregationist Democratic Gov. George Wallace of Alabama, and the police to Civil Rights-era law enforcement officers beating blacks across the South - condemning "sending agents to use tear gas and batons against peaceful demonstrators."
Wow, Barack Obama is delivering Lewis's eulogy & this MF had the nerve to call out federal troops teargassing protestors AS IF HE DIDN'T DO THE SAME THING IN FERGUSON & BALTIMORE LOL

— Patriot J 🔥 (@sirhottest) July 30, 2020
We can only imagine the response if Trump used a Republican's funeral to propose GOP policies.
Watch:
In his eulogy for John Lewis, former Pres. Obama proposed a swath of voting rights expansions, including:

- Automatic registration
- Adding polling places
- Expanding early voting
- Making Election Day a holiday
- Eliminating the filibuster, if necessaryhttps://t.co/sVteeuYRLu pic.twitter.com/sbFTOt1ss6

— ABC News (@ABC) July 30, 2020