---
Obamas Looking To Ditch Spotify Over Joe Rogan Controversy, Other Issues
After more than a week of radio silence, the Obamas are finally reacting to the controversy over Joe Rogan's decision to share his platform with two scientists who question the official COVID narrative: According to Insider, former President Barack Obama and former first lady Michelle Obama have started shopping around for a new deal for their respective podcasts as their three-year deal with Spotify nears its end.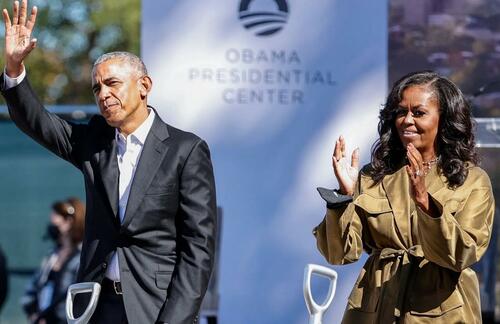 Neither the former first lady nor the former president has posted a new episode in months, and sources say their unhappiness with Spotify started long before Rogan shared his "controversial" interviews with the public last month. The Obama's podcast company, "Higher Ground Audio", has reportedly been pushing to launch a new shows for months, but the Swedes running Spotify have made it too difficult to get the 'greenlight', according to sources close to the Obamas. As a result, the entire team at Higher Ground has become frustrated with the streamer.
The first rumblings of the Obama's dissatisfaction appeared earlier this week when Vanity Fair reported that "even the Obamas are frustrated with their deal."
Now, unlike losing Neil Young or Joni Mitchell or any of the other artists who have pulled their music from the service after Neil Young declared that Spotify could have "Joe Rogan or Neil Young. Not both", losing the Obama's would be a major problem for the streamer and its bottom line. As we have explained, podcasts like JRE and the Obama's shows offer lucrative opportunities for advertising. Rogan's show alone is said to command a minimum $1M ad spend, along with a host of other requirements like guarantees that adertisers will buy ads on other of the podcast' platforms.
MIchelle Obama's show has garnered a particularly large audience especially among women. Losing her would result in a loss of potentially hundreds of millions of dollars in advertising revenue. Amusingly, her husband's show, which he hosts alongside Bruce Springsteen, has (perhaps not unsurprisingly) proved less popular.
Are the Obamas leaving Spotify? Barack and Michelle are 'preparing to shop for a new podcast partner' amid frustration with the platform and outcry over Joe Rogan as their three-year-deal nears end
https://t.co/oioWaGyFcX

— IntoTheMystic (@Mystic_Sailor) February 4, 2022
According to Insider, the Obama's would like to focus on bringing on younger, lesser known voices to their podcasting platform, something that Spotify has responded to with trepidation, since the Obama's themselves were intended to be the big-money draw from their deal.
Spotify has spent $1 billion buying up podcasting talent from Rogan, to Kim Kardashian to the Obamas. With the Obamas out the door, how much longer until the exodus of musicians (on whom Spotify actually loses money because it needs to pay musicians every time a user streams a song) metastasizes into an exodus of far more lucrative podcasting hosts.
Shares of the company slumped to a 21-month low earlier this week after sharing uncertain earnings guidance - which they hilariously tried to pin on COVID - that left Wall Street with an uneasy feeling, even as billionaire CEO Daniel Ek has been appearing on CNBC and elsewhere in the business press to try and do damage control.