---
"Obstructionist And Unacceptable": House GOP To Hold FBI Director In Contempt Of Congress
Authored by Jackson Richman via The Epoch Times (emphasis ours),
FBI Director Christopher Wray has refused to comply with a May 30 deadline to hand over a document alleging that then-Vice President Joe Biden and a foreign national were allegedly involved in a criminal scheme, announced House Oversight Committee Chairman James Comer (R-Ky.)
"Today, the FBI informed the committee that it will not provide the unclassified documents subpoenaed by the committee," said Comer in a statement. "The FBI's decision to stiff-arm Congress and hide this information from the American people is obstructionist and unacceptable."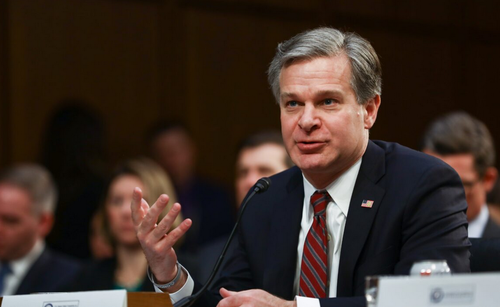 Comer is scheduled to have a phone call with Wray on May 31. Nonetheless, said Comer, the Oversight Committee will move forward to hold Wray in contempt of Congress.
"While I have a call scheduled with FBI Director Wray tomorrow to discuss his response further, the committee has been clear in its intent to protect Congressional oversight authorities and will now be taking steps to hold the FBI Director in contempt of Congress for refusing to comply with a lawful subpoena," said Comer.
"Americans deserve the truth, and the Oversight Committee will continue to demand transparency from this nation's chief law enforcement agency."
Earlier on May 30, House Speaker Kevin McCarthy (R-Calif.) said the House would hold Wray in contempt of Congress if the FBI did not comply with the subpoena.
"I personally called Director Wray and told him he needs to send that document; today's the deadline," he said on Fox News. "Let me tell Director Christopher Wray right here, right now: If he misses the deadline today, I'm prepared to move contempt charges in Congress against him."
In a May 3 letter to Wray and Attorney General Merrick Garland, Comer and Sen. Chuck Grassley (R-Iowa) wrote that they "have received legally protected and highly credible unclassified whistleblower disclosures."
"Based on those disclosures, it has come to our attention that the Department of Justice (DOJ) and the Federal Bureau of Investigation (FBI) possess an unclassified FD-1023 form that describes an alleged criminal scheme involving then-Vice President Biden and a foreign national relating to the exchange of money for policy decisions. It has been alleged that the document includes a precise description of how the alleged criminal scheme was employed as well as its purpose."
The May 3 subpoena required the FBI to hand over any FD-1023 forms—which note information from confidential human sources—with the word "Biden" in them.
The FBI refused to comply with the subpoena's initial May 10 deadline.
Read more here...
Loading...