---
Ohio House Speaker Arrested In $60M Bribery Scheme Which Added New Fee To Every Electricity Bill In State
A massive corruption scandal being described as the "largest bribery, money-laundering scheme ever perpetrated against the people of the state of Ohio" — to the tune of $60 million, has just rocked the Buckeye state.
On Tuesday the Republican Ohio House Speaker Larry Householder along with four others were arrested for being allegedly part of a scheme to pass legislation for a billion dollar bailout of two failed Ohio nuclear plants which were on the brink of permanent closure. Householder is widely looked upon as Ohio's third most powerful and influential lawmaker. 
Federal agents raided his farm Tuesday morning and made the arrest. The AP has described the top Ohio lawmaker as a "driving force" behind the uphill battle to controversially bail out the state's two nuclear power plants at a significant expense to taxpayers.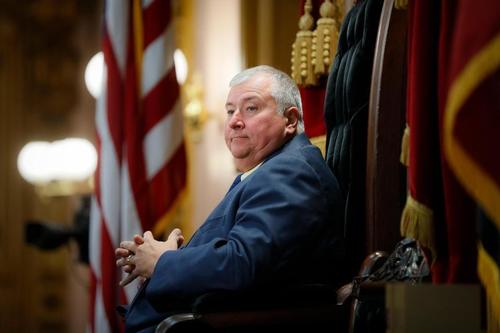 Householder's adviser Jeffrey Longstreth was also arrested, as well as lobbyist Neil Clark, and former Ohio Republican Party Chairman Matthew Borges and Juan Cespedes of Columbus-based consulting firm The Oxley Group.
It appears a classic pay-to-play scandal, but in this case so vast that it is sure to enrage every single Ohioan that pays an electricity bill, considering, according to Axios that—
"Householder was one of the driving forces behind the nuclear plants' financial rescue, which added a new fee to every electricity bill in the state and directed over $150 million a year through 2026 to the plants near Cleveland and Toledo."
Ohio Gov. Mike DeWine has called on Householder to resign immediately given the enormity of the charges against him. The linchpin in the government's case against the five is incriminating statements made during a sting while meeting with undercover agents. 
House Bill 6 was nasty, expensive fight even as feds investigatedhttps://t.co/iJE9a8jEoP

— Randy Ludlow (@RandyLudlow) July 21, 2020
An 80-page criminal complain involving a large-scale FBI investigation details the schemers were engaged in an enterprise which shuffled millions into Householder's pockets to assist in his bid to secure his position as Ohio House speaker.
In turn he helped push through "House Bill 6, a billion-dollar bailout that saved two failed, Ohio nuclear power plants from closing," according to the criminal filing.
Tens of millions were funneled via the "dark money enterprise" over a total of at least three years, from March 2017 to March 2020.
Given that much money and the significant length of time, it's clear it must have involved many more players; indeed, the FBI says more arrests are coming as part of the probe.
The reality is this: Ohioans will not see this as somehow "remote" - given that not only through state taxes, but especially through the "added fee" to each electricity bill as a result of House Bill 6's passage, they'll be on the hook for this for years to come.