---
Ohio Sen. JD Vance Suggests PPP-Style Program For East Palestine Residents After Toxic Train Derailment
Authored by Katabella Roberts via The Epoch Times (emphasis ours),
Sen. J.D. Vance (R-Ohio) has proposed that a Paycheck Protection Program, also known as PPP, be rolled out for residents of East Palestine, Ohio following the recent train derailment and a wave of deindustrialization.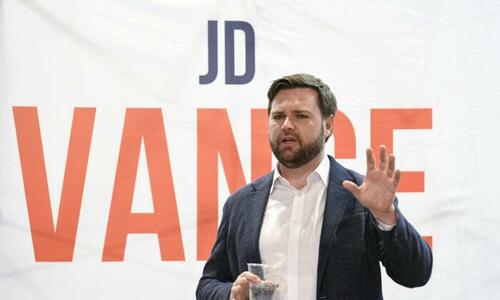 In an op-ed for The Washington Post published on Feb. 26, the Republican senator noted that East Palestine is a small town of about 5,000 people with a median income of $44,498.
"Like many towns near Youngstown, Ohio, it has suffered substantially from the wave of deindustrialization that saw millions of jobs leave for China, Mexico, and other countries," Vance wrote.
"Because of this, the concerns of residents have focused on economic development questions over the past several years," Vance penned. "Every one of those challenges has gotten much more difficult."
Vance pointed to the recent derailment of a Norfolk Southern-operated freight train on Feb. 3 that led to a spill of toxic chemicals and a burn of chemicals that left a black plume of smoke over the area. This has led to concerns over the long-term health impacts for residents.
This, Vance said, has added to an already stressed local economy that "drives people and capital away" from the town, impacting local businesses.
Thus he proposed introducing a pandemic-era style PPP-style program that would grant businesses the resources they need to stay afloat, enabling them to pay employees and rent.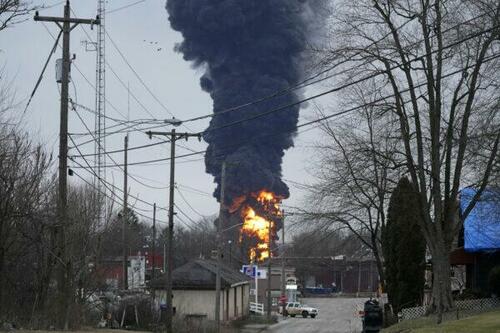 'Town of Good People Will Suffer Mightily'
He also noted that the small community needs long-term investment from both the federal government and Norfolk Southern Railway.
"Without special refinancing, homeowners will be underwater as flight from the community drives home prices lower, decimating the tax base on which local schools and public services rely. Farms will require direct support," Vance wrote. "Underfunded schools will need help. East Palestine will need its own version of the Paycheck Protection Program to protect workers and businesses who lost their livelihoods because of the decisions of others."
"Otherwise, an entire town of good people will suffer mightily through no fault of their own," the senator concluded.
The PPP program was established under the CARES Act in March 2020, at the height of the COVID-19 pandemic, to help keep Americans afloat during the pandemic and subsequent lockdowns.
However, while the program did save around 3 million jobs at its peak in the second quarter of 2020, according to researchers at the Federal Reserve Bank of St. Louis, it was also rife with fraud.
Read more here...
Loading...