---
$1.7 Trillion Omnibus Spending Package Passed By Senate
Update (1430ET): The Senate on Thursday voted to pass a $1.7 trillion omnibus package that had previously hit a snag over immigration reform.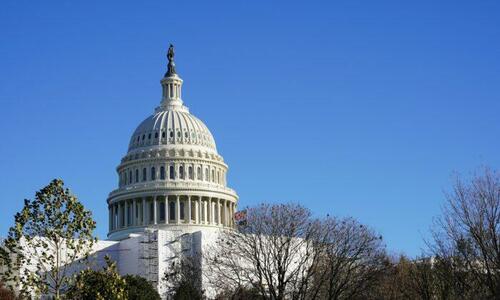 The passed legislation provides Ukraine with $45 billion in additional military and economic aid, and sets aside $38 billion for emergency disaster assistance, The Hill reports.
It also includes reforms to the Electoral Count Act in response to the Jan. 6, 2021, attack on the U.S. Capitol, clarifying that the vice president does not have the power to overturn the results of a presidential election. 

The package passed with a large bipartisan majority, 68-29, wrapping up the Senate's legislative business in the 117th Congress a few days before Christmas. 

The omnibus bill represents one of several major bipartisan legislation accomplishments of President Biden's first two years in office, along with the $1 trillion Infrastructure Investment and Jobs Act; the Bipartisan Safer Communities Act, to address gun violence; and the $280 billion Chips and Science Act, to improve U.S. competitiveness with China. -The Hill
The bill also spends $858 billion on defense - a 9.7% increase, as well as $772.5 billion on non-defense - a 5.5% increase.
There is also a 22% increase, or $118.7 billion, for Veterans Affairs medical care, and $59 billion for programs which last year's bipartisan infrastructure bill cover.
"The world's greatest military will get the funding increase that it needs, outpacing inflation. Meanwhile, non-defense, non-veterans spending will come in below the rate of inflation, for a real-dollar cut," said Senate Majority Leader Mitch McConnell (R-KY), who hailed the bill as a victory for Republicans due to the increase in defense spending. 
Senate Majority Leader Chuck Schumer warned that a failure to pass the bill would have risked freezing federal funding levels well into 2023 - or potentially even a government shutdown.
"To go to a [continuing resolution] or even worse, a government shutdown, would be a huge disservice at any time, and particularly at holiday season, to the American people," he said.
Some key Democratic initiatives were left out of the final version, including a proposal to extend the pandemic-era enhanced Child Tax Credit and the SAFE Banking Act, which would protect financial institutions which do business with cannabis-related businesses.
*  *  *
Update (0953ET): Senate Majority Leader Chuck Schumer (D-NY) says the chamber has finally reached a deal to move the omnibus forward.
"It's taken a while but it is worth it," said Schumer, who says that while timing is unknown, he hopes to get a line of amendments through the voting process quickly. "We will vote on all of the amendments in order and then vote on final passage."
WE HAVE A DEAL. Senate has a time agreement to get to the Omnibus. There is a line of amendments and Schumer is hoping to get through the votes quickly. Final timing still not 100%.

— Lisa Desjardins (@LisaDNews) December 22, 2022
It appears Schumer's savior came in the form of one Sen. Kyrsten Sinema (I-AZ), who on Thursday introduced an amendment to beef up border funding and resources for communities and to extend Title 42, the health policy which allows border agents to quickly deport migrants seeking asylum.
Senate about to do 18 votes https://t.co/Bk1ms5Xa3a

— Erik Wasson (@elwasson) December 22, 2022
*  *  *
A Trump-era border policy that allows immigration officials to turn quickly expel migrants without processing during a public health crisis is currently holding up passage of the omnibus spending package.
The effort, led by Sen. Mike Lee (R-UT), would keep Title 42 in place - and would cut funding for the office of Department of Homeland Security chief Alejandro Mayorkas unless the Biden administration reinstates the border control policy.
"We have a difference of opinion on immigration policy. We're not going to solve that in this budge," said Sen. Chris Murphy (D-CT), chair of the Senate Appropriations Homeland Security Subcommittee, who took aim at Lee's immigration efforts. "And to let that disagreement take down aid to Ukraine to keep people alive during a cold winter, especially tonight, is pretty unthinkable."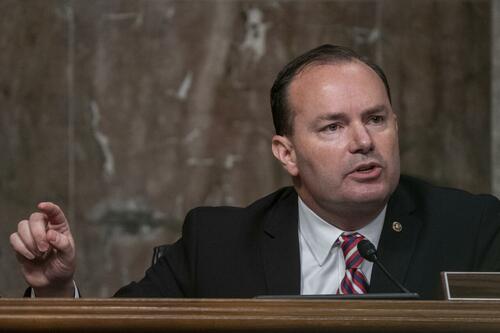 Lee, meanwhile, told Fox News on Wednesday night "I insisted that we have at least one amendment, up-or-down vote, on whether to preserve Title 42. Because Title 42 is the one thing standing between us and utter chaos. We already have mostly chaos. This would bring us to utter chaos if it expires, which it's about to."
The effort to maintain Title 42 has scuttled hopes that lawmakers could vote on the omnibus overnight, however on Wednesday evening, Senate Minority Whip John Thune (D-SD) said he thought they might be able to move forward on Thursday morning.
"There's been some progress made. … I wouldn't say breakthrough yet," he said.
The Biden administration has sought to end the practice since the spring, arguing that the pandemic health emergency it was based on has subsided (despite extending the emergency last month). A group of GOP-led states has sued the administration in federal court to block him from ending the policy.
Title 42 was ruled "arbitrary and capricious" by a district court judge, and ordered the Biden administration to end it on Wednesday, but Supreme Court Justice John Roberts halted that deadline on Monday after the court was asked to intervene. On Tuesday, the Biden administration asked the court to end the program, but, asked for an extension until at least Dec. 27 to allow immigration officials time to prepare for a wave of illegal immigrants at the southern border.
While border agents are already encountering thousands of immigrants every day, the number is expected to rapidly spike when the program ends. Notably, the Biden administration has already minimized the use of Title 42 - instead processing immigrants under Title 8, which allows officials to screen for asylum claims, the Washington Examiner notes. Title 8 also allows border officials to refer migrants for criminal prosecution for repeat illegal entries.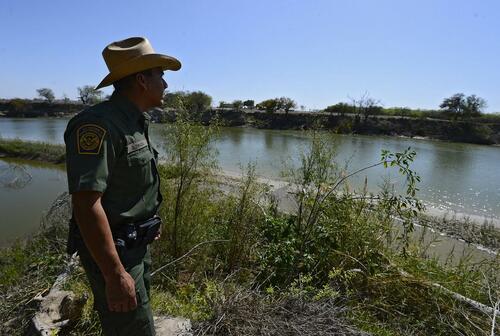 US officials have expelled around 2.5 million migrants under Title 42, nearly two million of which have been carried out by the Biden administration.
A Democratic Senate aide told Punchbowl News that Lee's insistence on Title 42 is a "poison pill". If Lee's amendment passes, Democrats say the omnibus bill would be "dead on arrival" in the house, which votes after the Senate. Democrats are reportedly circulating a competing amendment on Title 42 aimed at attracting centrists, and dissuading them from voting on Lee's amendment.
"We have a difference of opinion on immigration policy. We're not going to solve that in this budget," said Sen. Murphy. "And to let that disagreement take down aid to Ukraine to keep people alive during a cold winter, especially tonight, is pretty unthinkable."
Talk about a guilt trip...
According to Senate Majority Leader Chuck Schumer (D-NY), the chamber will work until 2am on Thursday. "It is my expectation that we will be able to lock in an agreement on the omnibus later this morning. We are very close, but we're not there yet," he said, asking members to stay near the chambers to "minimize any delays."
Loading...