---
One Of The Biggest Organizations Helping Democrats Win Elections
Authored by Katie Spence via The Epoch Times (emphasis ours),
The election of state supreme court justices doesn't always garner national attention. But Judge Janet Protasiewicz's win in Wisconsin earlier this year hit the spotlight with a campaign that shattered previous national fundraising records, and flipped the Wisconsin Supreme Court to the left for the first time in 15 years.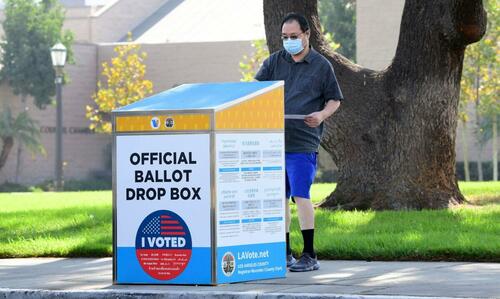 Judge Protasiewicz's win against former state Supreme Court Justice Dan Kelly on April 4 also set the stage for more significant Democratic victories in Wisconsin and beyond.
Republicans hold six out of eight Wisconsin U.S. House seats, but a liberal court majority will likely consider a lawsuit to overturn Wisconsin's Republican-drawn legislative maps. Nicole Safar, the executive director of Madison-based law firm Law Forward said her firm plans to file a lawsuit once Justice-elect Protasiewicz is sworn in on Aug. 1.
Additionally, Wisconsin is expected to again be a pivotal swing state in the 2024 presidential election.
In 2016, Donald Trump beat Hillary Clinton by 0.7 percent in Wisconsin, or 22,748 votes. But in 2020, Joe Biden narrowly beat Mr. Trump by 0.62 percent, or 20,682 votes.
If election lawsuits are filed in Wisconsin after the 2024 election—like they were after the 2020 election—Ms. Protasiewicz will be one of seven justices to decide the case.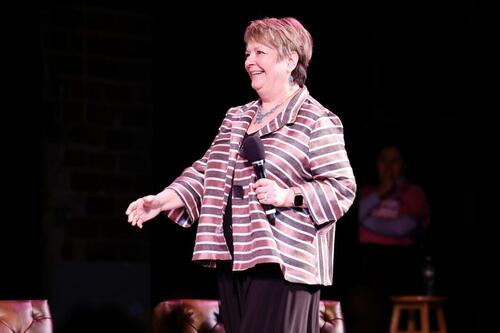 "By electing Judge Janet Protasiewicz, Wisconsin voters have sent a clear message about the kind of state they want to live in," the America Votes Wisconsin director and senior leadership team said in a press release.
"For the first time in 15 years, progressives will lead this highly influential court. The Badger State resoundingly voted for a court majority that will protect the fundamental freedoms of abortion and voting rights, the rights of workers, [and] the LGBTQ+ community."
America Votes was crucial to Ms. Protasiewicz's win. Its Wisconsin coalition said it knocked on more than 535,000 doors, made 678,000 phone calls, and, with its partner organizations, delivered nearly 2 million pieces of mail and sent over 4 million text messages.
The organization credits its efforts for helping to "deliver historic turnout and a critical progressive win in Wisconsin's Supreme Court election."
The win in Wisconsin is just the latest victory for America Votes, and a stepping stone for what it hopes to achieve in the future across several key states.
And thanks to the backing of mega-donors like George Soros' Open Society and the liberal "dark-money" behemoth Sixteen Thirty Fund, its political sway is substantial.
America Votes
Initially designed to get Democrats elected by reducing duplication and wasted resources, America Votes is a 501(c)(4) organization founded in 2003 by Democratic activists and liberal political operatives, including Ellen Malcolm, the founder of pro-abortion Emily's Group, former Clinton administration official Harold Ickes, Sierra Club Executive Director Carl Pope, Partnership for America's Families President Steve Rosenthal, and Andy Stern, the president of Service Employees International Union.
The organization was initially led by Cecile Richards, who went on to become president of Planned Parenthood Federation of America.
Since launching, America Votes has become the "coordination hub of the progressive community," according to its website. It currently has more than 400 state and national partner organizations that it works with to "advance progressive policies, win elections, and protect every American's right to vote."
Its partners include the American Federation of Teachers, the Black Voters Matter Fund, the Democratic Governors Association, the Environmental Defense Action Fund, the League of Conservative Voters, the LGBTQ Victory Fund, NAACP, NARAL Pro-Choice America, the National Democratic Redistricting Committee, the National Education Association, Planned Parenthood Action Fund, the Sierra Club, and numerous others.
America Votes' 501(c)(4) status means it's a social welfare organization, which permits it to engage in "some" partisan activity, but that can't be its "primary" purpose.
In keeping with that requirement, America Votes claims on its site that it carries out "non-partisan, education-focused programs to engage voters." It also admits it focused on helping Democrats in 2022 to counteract the increase in GOP voters.
"GOP primary turnout sharply increased over 2018 in states like Arizona (+60 percent), Georgia (+98 percent), Michigan (+9 percent), Nevada (+42 percent), Pennsylvania (+84 percent), and Wisconsin (+52 percent)," America Votes President Greg Speed wrote on Medium.
"To meet the looming MAGA Surge, America Votes and our state partners are building on our successful Get Out and Spread Out the Vote strategy that worked in 2020. That election was a turning point for elections in America," he said.
During the pandemic many states rapidly expanded mail-in-voting and early voting, which Speed said "opened up access to the ballot" and "put Joe Biden in the White House and gave Democrats control of Congress."
During the 2022 midterms, America Votes zeroed in on Arizona, Georgia, Michigan, Nevada, Pennsylvania, and Wisconsin, stating that they knocked on over 17.1 million doors in those states.
"Our coalition is executing in the largest, most-coordinated midterm voter mobilization effort we've ever seen," Mr. Speed said in a press release. "Midterm elections especially are determined by turnout, and in 2022 America Votes is positioned to mobilize the largest, most diverse midterm electorate ever."
Four days before the 2022 election, Emerson Morrow, the communications manager for America Votes, said the efforts employed by America Votes resulted in "over 32 million Americans casting their ballots already, including high numbers of first-time voters, young voters, and voters of color in many key states."
The result, according to America Votes, was that progressives outperformed expectations in "nearly every battleground state."
Money and Power
In addition to being the "coordination hub" for the progressive community, America Votes labels itself the leader of the largest coalition of progressive organizations. It says its coalition "represents the permanent campaign infrastructure built to withstand more than any single election"—meaning they work year-round to advance progressive policies, especially at the state level.
For example, America Votes details how during the "2018-2019 legislative session" it had teams of advocates working to influence legislators and election reform policy in Colorado, Florida, New Hampshire, and New Mexico.
Read more here...
Loading...