---
Only A Quarter Of Americans Want Major Involvement In Ukraine/Russia War
Authored by Steve Watson via Summit News,
An Associated Press poll has found that just 26 percent of Americans believe their country should be playing a major role in the conflict between Ukraine and Russia.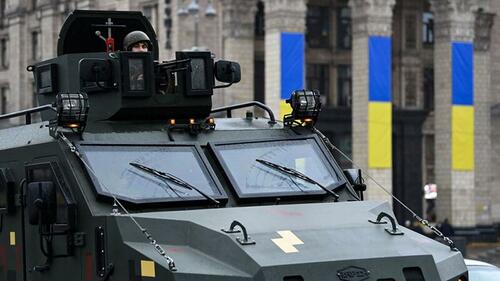 A small majority, 52 percent, said the U.S. should take a minor role in the unfolding war, while 20 percent don't want America involved in any way.
Meanwhile, a Gallup poll found that only 36 percent of Americans think Joe Biden is doing a good job on the "situation with Russia," while 55 per cent disapprove of his performance.
Only 64 percent of Democrats approve of the way Biden has handled the situation, with just 35 per cent of independent voters expressing approval.
Only 11 percent of Republicans offered the same support. 
The polls were conducted before Russia launched a barrage of missile attacks on areas of Ukraine in the early hours of Thursday morning.
JUST NOW
Explosions were heard in #Kyiv.#Ukraine #Russia 🇺🇦🇷🇺 pic.twitter.com/nqCXxbDjvU

— CN Wire (@Sino_Market) February 24, 2022
House Republicans accused Biden of "appeasement" Wednesday night, following another confounding performance at a press conference where Biden sarcastically laughed at reporters who asked questions and walked away without answering.
🚨🚨🚨MUST READ🚨🚨🚨

House Republican Leadership's Statement on Russia's Invasion of Ukraine: pic.twitter.com/T3MiOEAqAt

— House Republicans (@HouseGOP) February 22, 2022
This is what weakness on the world stage looks like. pic.twitter.com/0Krq48gbIy

— House Republicans (@HouseGOP) February 22, 2022
Republicans also charged that Biden's sanctions on Russia are too little too late.
GOP NE Sen Sasse: Today's sanctions are too little, too late. First, these sanctions should have happened before Putin further invaded Ukraine — not after. Second, economic sanctions now need to more aggressively target Putin's oligarchs to make sure they feel real pain.

— Chad Pergram (@ChadPergram) February 22, 2022
President Trump, meanwhile, pointed out that Biden is "probably sleeping right now" as it was announced that the president would address Russia's attack on Ukraine "tomorrow in the early afternoon."
Trump went on to claim that the invasion of Ukraine by Russia is due to Biden's "weakness," "incompetence" and "stupidity," charging that Biden "doesn't know what the hell he is doing."
BREAKING: Trump LIVE on Fox News on the Ukraine/Russia News: "This would not have happened during my administration" pic.twitter.com/5NoKbbCC6j

— Benny (@bennyjohnson) February 24, 2022
*  *  *
Brand new merch now available! Get it at https://www.pjwshop.com/
In the age of mass Silicon Valley censorship It is crucial that we stay in touch. We need you to sign up for our free newsletter here. Support our sponsor – Turbo Force – a supercharged boost of clean energy without the comedown. Also, we urgently need your financial support here.