---
Outrage After Police Use Bystanders As "Human Shields" In Florida UPS Truck Shootout
Miami police and other officers appear to have used surrounding bystanders as "human shields" when they responded to the the hijacked UPS truck following an armed heist of a jewelry store Thursday. After suspects led police on a two-county rush-hour chase through Miami which ended in a hail of gunfire in the middle of crowded traffic on Miramar Parkway and Flamingo Road, hundreds of police bullets from 19 officers firing on the truck brought it to an end.
As we reported earlier, four people have been confirmed dead, including the robbers and the UPS driver, since identified as 27-year-old Frank Ordonez, who unluckily had been taken hostage on a day he was reportedly filling in for another driver. Some of his own family members are blaming the "trigger happy" Florida police for killing him in their overeagerness to stop the criminals.
An investigation is underway which will also focus on the other innocent bystander that died — an unidentified person shot while trapped at the intersection in one of the many surrounding vehicles. 
Cops just unloaded on an innocent UPS driver that was hostage in an armed robbery. You can watch the video for yourself pretty graphic.

This happened in Miami. pic.twitter.com/OB3W35D3Dz

— Kluebtorious (@rklueber28) December 5, 2019
"In addition to the UPS driver - who was on his knees - the innocent bystander was shot while sitting in a car waiting at the stop light in the intersection," CBS4 News in Miami reporter Jim DeFede has confirmed.
"The number of shots fired by the officers is not currently known but my source said it could exceed 200 rounds," he reported. The deceased bystander had been "inside an idle car at the scene."
7:30 p.m. update: Reports say four people were killed — the two robbers, the abducted UPS driver and a bystander who was inside an idle car at the scene. https://t.co/lHdXO2wknb

— South Florida Sun Sentinel (@SunSentinel) December 6, 2019
DeFede concluded that though police were facing a "chaotic situation" it remains that "innocent people are dead" and "questions need to be asked". 
A number of online commentators noted the dramatic scene of police immediately rushing into stalled traffic on foot and emptying their weapons in return fire appeared something more from a Hollywood action movie. 
3. I count at least five instances of cops firing on the vehicle *with the hostage* while using occupied civilian vehicles as *human shields.* This is shocking and deplorable police work. Everyone should have their badges and guns taken away. pic.twitter.com/frU5tUSVvM

— Brandon Friedman (@BFriedmanDC) December 6, 2019
Viral video shows the UPS truck stopped amid heavy traffic with bystanders in their vehicles on either side. But the police response is now under criticism given that instead of hanging back and waiting for fewer civilians to be in the line of fire, or even establishing contact through a police negotiator, officers rushed the UPS truck in a blaze of bullets.
Police had the other option of backing off the easily identifiable and trackable large brown UPS truck in order to engage with it in a more open area. 
When the cops shoot you dead in the street your boss will thank the cops https://t.co/mHR0EBjGfl

— Dennis Hogan (@dennismhogan) December 6, 2019
It is as yet unclear whether a police bullet or one of the robbers actually killed Ordonez. But what is clear from overhead video is that some among the responding officers actually hid behind vehicles with bystanders and families in them, who were trying to flee as gunfire rang out.
Though in the initial press conference in the immediate aftermath the issue wasn't raised, national media is beginning to acknowledge the growing public outrage. NPR reports:
Former [U.S. Department] Department of Housing and Urban Development official Brandon Friedman described the shootout as "appalling." He said the department should be held accountable for "choosing to assault the vehicle in the middle of stopped rush hour traffic" and using occupied vehicles as "human shields."
From one of the overhead news chopper videos, one panicked blue SUV is seen attempting to ram its way out of being in the direct line of fire, between the suspects shooting at police and the police themselves.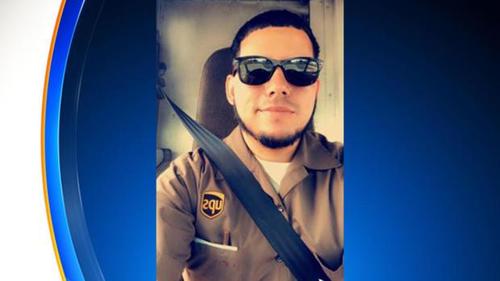 A family member who set up a GoFundMe page on behalf of the UPS driver victim Frank Ordonez's children and for funeral expenses, which has raised nearly 100,000 in 24 hours, had this to say:
"They [the robbers] kidnapped my brother and took him on a high speed chase, when they came to a stop he was gunned down like a criminal by the Florida police, he didn't deserve to die the way he did..."
1. This absolutely appalling highway shootout yesterday encapsulates the under-trained, military-cosplaying, Punisher-wannabe cops who permeate America's police departments.

They killed both the hostage and a bystander, then bragged "no LEOs were harmed."pic.twitter.com/jNFvkNyAPI

— Brandon Friedman (@BFriedmanDC) December 6, 2019
The former State Department of Housing and Urban Development official also had this to say of the botched police response: "Here are a few things that those in charge of this disaster should be held accountable for"— 
Choosing to assault the vehicle
Choosing to assault the vehicle in the middle of stopped rush hour traffic
Using civilian cars with people *in them* as human shields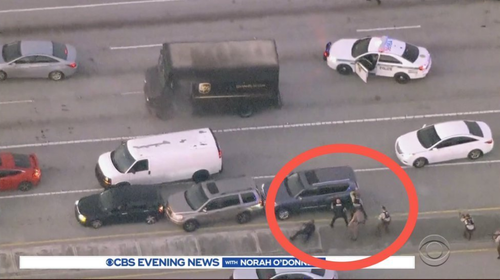 Astoundingly, about a half-dozen police are seen crouching behind and shadowing the vehicle for protection despite what appears to be bystanders inside trying to get away.
It is unknown at this point which among the vehicles had an innocent passenger shot and killed, or if it had been a police bullet or gunfire from the robbers inside the UPS truck.
The FBI is currently assisting an investigation into the incident, which involved officers from five different responding departments and agencies, most reportedly from Miami-Dade police department.